Archer uses lockdown for a cause, digs well in parched Pinderbera
From scaling school walls to long walks to the tubewell, he hopes to strike water in his courtyard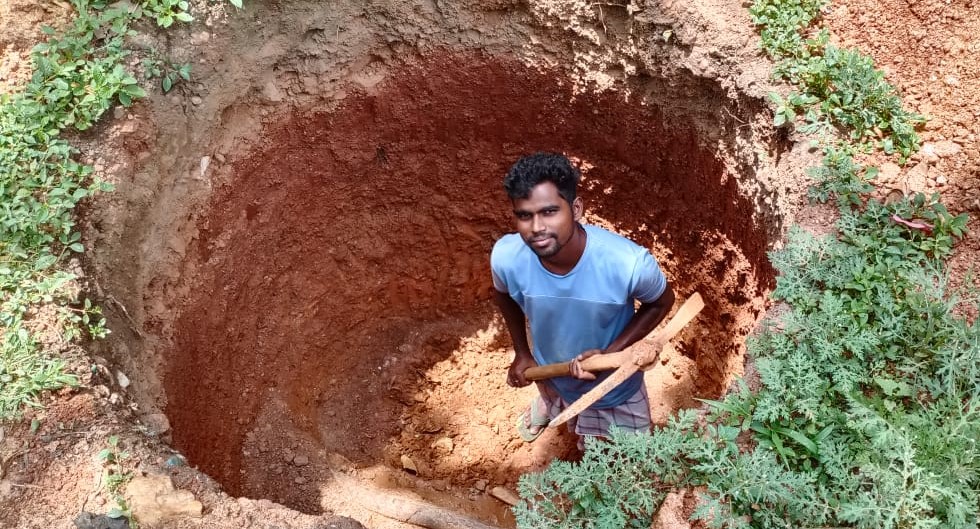 ---
---
Arrows no longer whizz from Anil Lohar's skillful bow. Instead, his hands are busy digging a well at the courtyard of his home, in hope of finding water someday.
The 23-year-old from Pinderbera village in Gamharia, Seraikela-Kharsawan, has so far dug over 15ft in vain. However, Lohar is continuing with his effort since he seems to have no other option.
Pinderbera, some 35 km from Jamshedpur, is facing an acute water crisis. Its four wells and few tubewells exist at a distance from the young archer's home, and it is not practically feasible to fetch water daily by walking the distance.
"I started digging the well over a month back. I was sitting idle at home due to the lockdown. I thought of using my time for an important cause. I have to sustain my family," Lohar told The Telegraph Online over phone from his village.
Lohar, who claimed gold in the Indian round of the Senior National Archery Championship in Cuttack in March last year and placed in a school national in Hyderabad in 2014, added that his daily practice sessions have taken a backseat due to the lockdown.
"I find myself out of shape now. Archery needs perfection and that comes with regular shooting," he said.
Asked how he managed water all this while, the archer said he used to fetch tap water from a nearby government school.
"The school is closed due to lockdown but I have made a ladder out of bamboo to scale the boundary wall. I also used to walk a distance to fetch water from a tubewell, which is time consuming and labour intensive. It is better to find a solution by digging up a well in my courtyard," said Lohar.
Lohar also started a small poultry business about two weeks back.
"I used to sell chicken at Gamharia market. But that too has stopped due to police action. I had invested Rs 5,000, but now have no money to start business again. I am somehow managing things," Lohar, who stays with his wife Chandni, infant son and elderly father, said.
His elder brother Sunil is a truck driver and lives separately.
Lohar had to quit archery after the death of his mother in 2014.
"I had to quit archery since the load of the entire family fell on me. My father used to work as a mason. The family would somehow manage expenses. I chipped in with minor work," he recalled.
"I made a comeback in archery in 2019 as I could not stay away from it. I claimed gold for Jharkhand in the senior nationals in Cuttack in my comeback year," Lohar said.