Security tightened at rail stations, bus stands to ensure Covid positive patients don't flee
At least 90 police personnel deployed at Ranchi and Hatia, 40 at Khadgada, ITI bus stands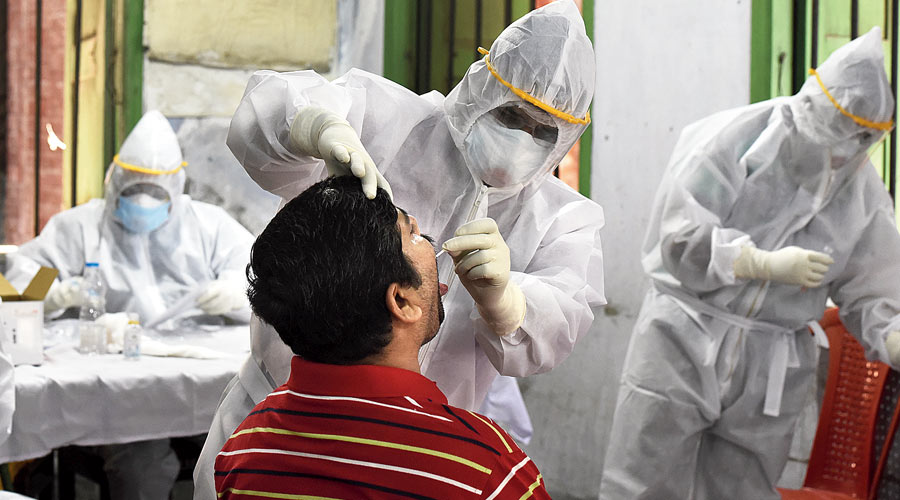 A person being screened for Covid-19
File Picture
---
Ranchi
|
Published 27.10.21, 06:26 PM
|
---
Ranchi district administration has beefed up security at railway stations and bus stands to stop passengers who test positive for Covid-19 upon arrival from fleeing, officials said on Wednesday, a day after at least 17 passengers fled the Hatia station after a positive rapid antigen test.
Ranchi Sub Divisional Officer Deepak Dubey said that following Tuesday's incident, the district administration sought deployment of additional security personnel at railway stations and bus stands in a letter addressed to the Senior Superintendent of Police SK Jha.
"We have been assured deployment of at least 120 police personnel at bus stands and railway stations across Ranchi to stop Covid positive passengers from running away," said Dubey, adding that at least 90 police personnel will be deployed at Hatia and Ranchi stations, while the remaining 40 will be deployed at Khadgada Bus Stand and ITI Bus Stand.
Several passengers travelling to Ranchi from other states by train have tested positive for Covid-19 in the past couple of weeks and some of them managed to dodge quarantine by providing wrong addresses and contact details. However, Tuesday's incident triggered panic as all the 17 passengers who tested Covid positive upon arrival at Hatia fled despite the deployment of magistrates at the station. Some of these passengers even switched off their mobile phones to avoid any communication with the district administration.
"We have been requesting passengers to cooperate with us. It takes hardly 10 minutes to get rapid test results, but many passengers do not want to wait," said Dubey.
Even though many passengers who tested Covid positive in Rapid Antigen Test did not test positive for Covid-19 in confirmatory RT PCR tests, all passengers testing positive in rapid tests should be isolated until their RT PCR test results arrive in order to protect other people in the city, officials said.
As per government data, there were as many as 190 active Covid cases in Jharkhand on Wednesday morning, and more than half of them were from Ranchi alone. Ranchi civil surgeon Dr. Vinod Kumar has said that interstate travellers were contributing to the spike in cases here, and screening them was an important part of keeping Covid-19 under check.