Scramble to ramp up coronavirus tests in Jharkhand
Strategy tweak by Indian Council of Medical Research prompts urgency in novel coronavirus fight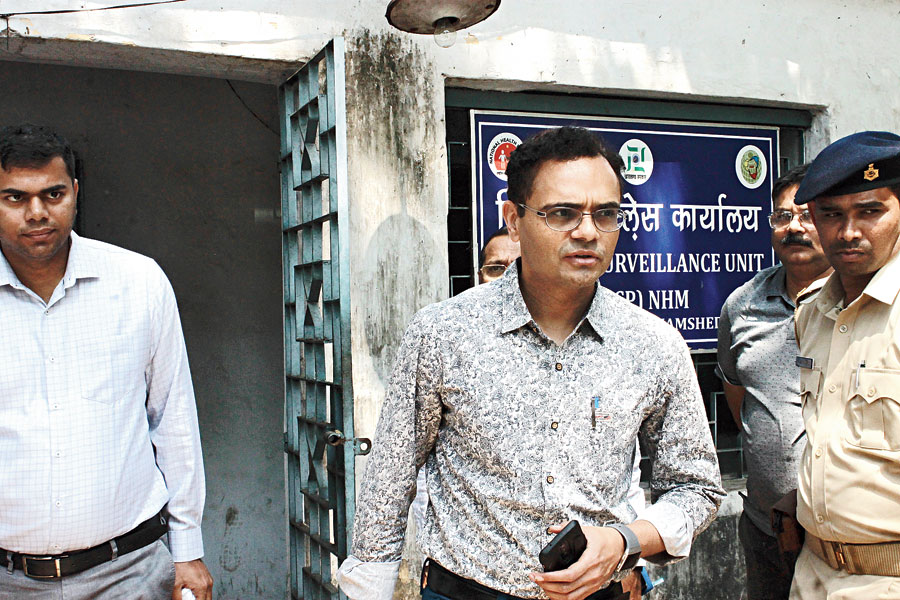 ---
|
Ranchi
|
Published 21.03.20, 07:05 PM
---
The state health department is desperately trying to ramp up testing facilities for novel coronavirus after the Indian Council of Medical Research (ICMR) revised its strategy to fight the global pandemic in the wake of a spurt of Covid-19 cases in India on Friday.
Principal health secretary Nitin Madan Kulkarni on Saturday said serious attempts were being made to increase testing facilities in the state.
He was speaking to the media after reviewing facilities at the state's lone testing facility for Covid-19 at viral research diagnostic laboratory (VRDL) at MGM Medical College and Hospital in Dimna, Mango.
Kulkarni said so far none of the samples had tested positive in Jharkhand.
"But we should increase our alertness and awareness," he said. "The VRDL facility at MGM Medical College in Dimna will soon have another RT-PCR (reverse transcription –polymerase chain reaction) machine in addition to the existing one. We also discussed increasing manpower including lab technicians and scientists at the Dimna facility. We will soon have the Covid-19 testing facility at PMCH Dhanbad. RIMS in Ranchi has already applied for permission from the ICMR (for testing) and we are expecting it to be functional in a week."
He added: "We also have asked (corporate-run) Tata Main Hospital in Jamshedpur, which has a state-of-the-art microbiology unit, to apply to the ICMR for Covid-19 testing facilities."
East Singhbhum deputy commissioner (DC) Ravi Shankar Shukla said that the nearly 1,000-bed Tata Main Hospital would soon have the RT-PCR facility and the hospital had applied to the ICMR for its nod to start testing Covid-19 cases.
The health secretary also said Rs 50 lakh had been given to each of the 24 deputy commissioners for contingency measures to tackle Covid-19 cases.
ICMR gudelines
The urgency of the state government is understandable as the ICMR, the apex body for biomedical research in the country, revised its strategy in view of a spurt in coronavirus cases in India this week.
In a directive issued on Friday to fight the spread of the novel coronavirus, the ICMR said all hospitalised patients with severe acute respiratory illness, shortness of breath and fever and cough will now be tested for COVID-19 infection.
Quarantine rules
The ICMR also said that asymptomatic individuals who have travelled abroad in the last two weeks should stay in home quarantine for 14 days, and that they will be tested only if they become symptomatic (symptoms include fever, cough, difficulty in breathing). All family members living with a confirmed case should be home quarantined too, according to the guideline.
Symptomatic contacts of confirmed cases, symptomatic healthcare workers, and all hospitalised patients with severe acute respiratory illness (fever and cough and/or shortness of breath) will be tested.
Persons who are asymptomatic, but direct and high-risk contacts of a confirmed case, will be tested once between day five and day 14 of coming in his/her contact, the notification added.
In addition, direct and high-risk contacts include those who live in the same household with a confirmed case, and healthcare workers who examined a confirmed case without adequate protection as per World Health Organization recommendations, will be tested.
"A directive has been issued to all the hospitals (government and private) to inform our respective district surveillance unit about any hospitalised patient with breathing distress," said Kulkarni.
The VRDL facility at MGM Medical College can efficiently conduct viral test using RT-PCR technique for 40 samples daily.
Kulkarni expressed satisfaction over East Singhbhum's quarantine arrangements.
"East Singhbhum has nearly 1,500-bed quarantine facilities at its centres, and isolation wards have been set up at MGM Hospital, Sadar Hospital and various private hospitals," said Kulkarni.