Schools publish admission lists
Some schools published the lists on the school notice boards, others uploaded them on the school website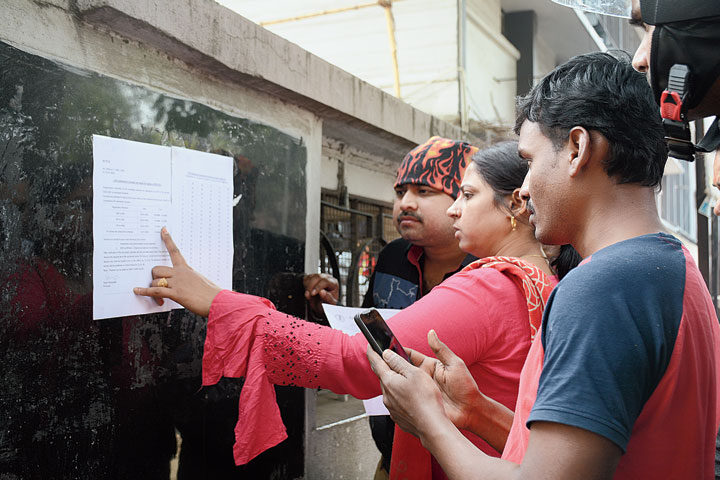 Parents check the Lkg admission list at Rajendra Vidyalaya in Jamshedpur on Saturday.
Picture by Bhola Prasad
---
Jamshedpur
|
Published 18.01.20, 06:37 PM
|
---
About 58 English medium schools in the steel city announced their entry-level admission lists on Saturday.
While some published the lists on the school notice boards, the others uploaded them on the school website.
Parents who could spot their child's name on the list were a relieved lot.
Those who couldn't were visibly upset and were seen cursing the lottery system.
"I had bought admission forms from 10 schools, but my daughter's name did not appear in any one of them. This is why people who can afford good education for their children never supported the lottery system. We will wait for a second list now and then plan out next move. If my daughter's name doesn't appear anywhere, government schools are the only option," said Asrarul Haque outside JH Tarapore School in Dhatkidih.
Asrarul works in Dubai and is here to ensure his daughter's admission.
Trader Sandeep Goyal was spotted outside Chinmaya School in South Park, Bistupur, looking a bit dejected.
"I will have to wait for a second list. My son's name doesn't figure anywhere in the lists published by the nine schools whose forms I had bought. It is so painful to not see your child's name anywhere. All parents want to give good education to their wards," Sandeep added.
Parents whose children turned out lucky looked ecstatic.
"Luck is a major factory in the lottery system. Thankfully, I saw my son's name on the school website," said Nikhil Chandra Saha, whose son Aayansh made it to the list announced by DAV Public School Bistupur.
Most of the schools will start the admission process from January 20.
"We have uploaded the results on the website and had displayed it on the notice board. Uploading it on the website makes it easy for parents, too. We will start our admissions on January 20 and the process will conclude within a week. Children will begin classes in April," said Rakhi Banerjee, principal of Rajendra Vidyalaya.
After the lottery, the schools had to submit all the details, including names of selected students and the admission through quotas (management, sibling, staff and corporate) to the East Singhbhum district education office.