Schools cannot hold on-campus exams except boards
Govt issues notification on unlock guidelines, coaching centres, cinemas can function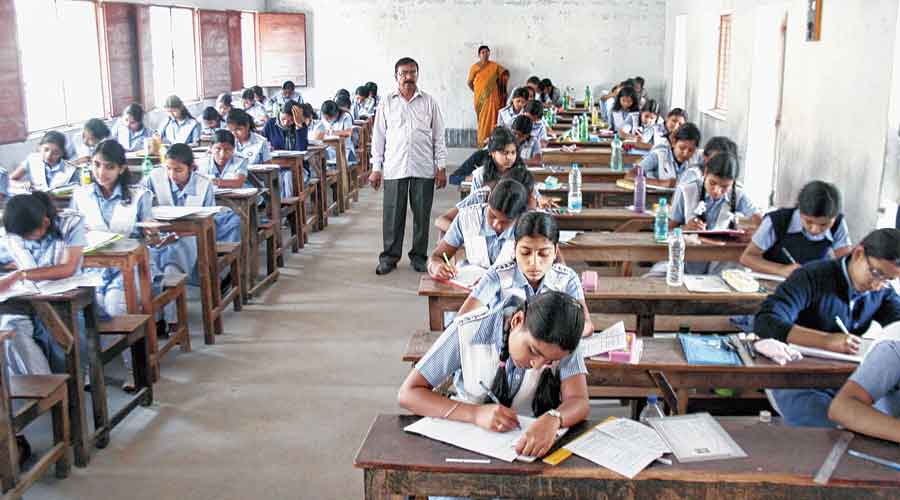 ---
|
Ranchi
|
Published 23.02.21, 09:46 PM
---
Schools across Jharkhand will not be allowed to hold on-campus examinations for students other than those appearing for board exams until further notice, a directive from the Home, Prison & Disaster Management Department stated on Tuesday, further clarifying that schools have to continue offering online classes even after on-campus classes resume on March 1.
The examinees appearing for board exams as well as other exams will be exempted from restrictions enforced on containment areas, the notification from the government stated, adding that the admit card of examinees will be treated as their entry pass outside containment zones.
The Government has also allowed colleges, skill development centres and coaching institutes to resume regular classes, but they must adhere to the rules set by the University Grants Commission (UGC) and the concerned Jharkhand departments as precautionary measures against the spread of Covid-19 virus.
The decisions regarding relaxations provided to Jharkhand residents were taken during a meeting of the State Disaster Management Authority (SDMA) last week, but the official notification was issued by the government on Tuesday.
Congregations of a maximum of 1,000 attendees will be allowed in open spaces from March 1, keeping the size of the ground in mind in order to ensure social distancing, the notification stated, adding that in closed areas, only 50 per cent of the accommodation capacity would be allowed.
Besides, all cinema halls across Jharkhand will also be allowed to reopen with only 50 per cent capacity from March 1. This decision comes as a major relief for cinema hall owners in the state even though the Centre has allowed movie theaters to run at 100 per cent capacity across India.
Fairs and exhibitions have also been allowed, but only with 50 per cent accommodation capacity.
All amusement parks, entertainment parks, swimming pools will also reopen on March 1. However, swimming pools will be open only for sportspersons for training purpose, the notification stated. This means that swimming pools in clubs and hotels will remain closed.
The government has allowed Anganwadi centres to open on March 1, provided all the Anganwadi sevikas get vaccinated before coming in contact with the children. Anganwadi centres are government run facilities that address nutritional needs of children below the age of six years in a bid to address malnutrition – a major challenge in Jharkhand.