SBI organises special training for visually impaired students in Jharia
The programme was held for 10 children on the occasion of World Braille Day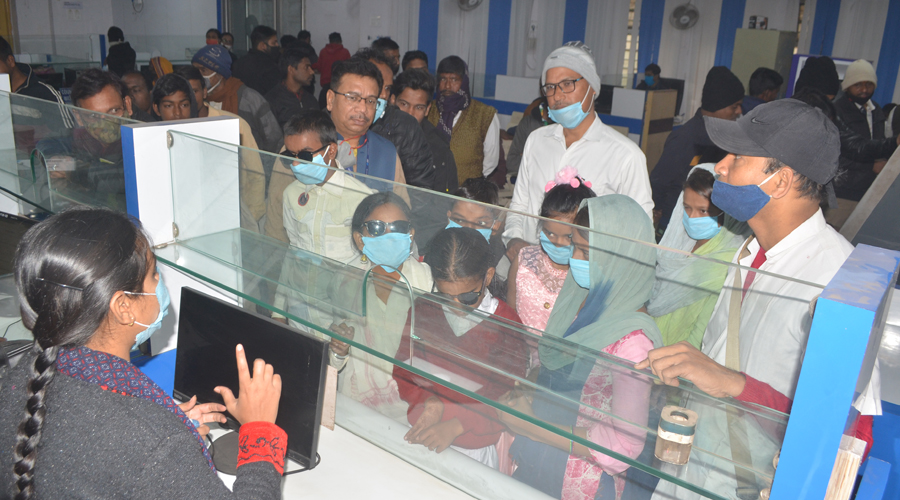 Bank Manager of State Bank Of India, Satya Prakash Akhauri (blue bandi) addressing visually children's at Bihar building branch of SBI in Jharia on Monday.
Picture by Shabbir Hussain
---
Dhanbad
|
Published 04.01.21, 04:20 PM
|
---
The State Bank of India, Jharia branch organised a one-hour special training on its premises for 10 special children including four visually challenged students on Monday. The children are students of the state government-run resource centre for the specially-abled children of Jharia who came to know about the different aspects of banking, including account opening, passbook updation, and withdrawal of money through ATMs.
During the event, the students were also provided with gift hampers comprising of biscuits, chocolates, sweets along with a school bag.
Talking to The Telegraph Online on Monday, Manoj Singh, senior faculty cum physiotherapist of Jharia resource centre, who accompanied the students during the one-hour training said, "The programme was organised on the occasion of World Braille Day in order to sanitise masses in general about the significance of braille for the blind and visually impaired people."
Special educator cum speech therapist of Jharia based resource centre, Akhlaque Ahmad said, "The scholarships provided by the state social welfare department as well as the education department to these students are directly transferred into the joint bank account with their parents. The children can operate the account under the supervision of their parents or on their own."
"If the children themselves can operate the account it will be very convenient for their parents who have to accompany their children every time at the bank," said Ahmad and added that majority of the automated deposit cum withdrawal machine of the banks are enabled with Braille script so the visually challenged students can operate the machine under the guidance of the bank officials. The branch manager of SBI Jharia branch, Satya Prakash Akhauri, who was present during the special training programme, also instructed the bank staff including the accountants to extend all help to such children when they visit the bank and also provided his mobile number to all the students so that they can directly contact him if any inconvenience caused during the bank account operation.
Talking to the Telegraph Online on Monday, Satya Prakash Akhauri said, "The special training was jointly organised by the bank in association with the resource centre on the occasion of the World Braille Day to raise awareness about the fact that how braille plays a significant role in complete realisation in human rights in the lives of blind and partially sighted people," and added that all the bank staff have been instructed to avoid discomfort to such students.
Talking to The Telegraph Online after the training programme, Kajal Kumari (17), a visually challenged student of the resource centre, daughter of a construction site worker, Kallu Ram and house maker Hira Devi said, "The experience at the bank was quite memorable as all the bank staff and officers patiently listened to our queries and explained the minutest details and also guided us to find the Braille script on the automated deposit and withdrawal machine."