Sarna Code: Tribals sit in dharna to demand inclusion in census
Representatives include activists from Jharkhand, Chhattisgarh, Odisha, Bengal and Assam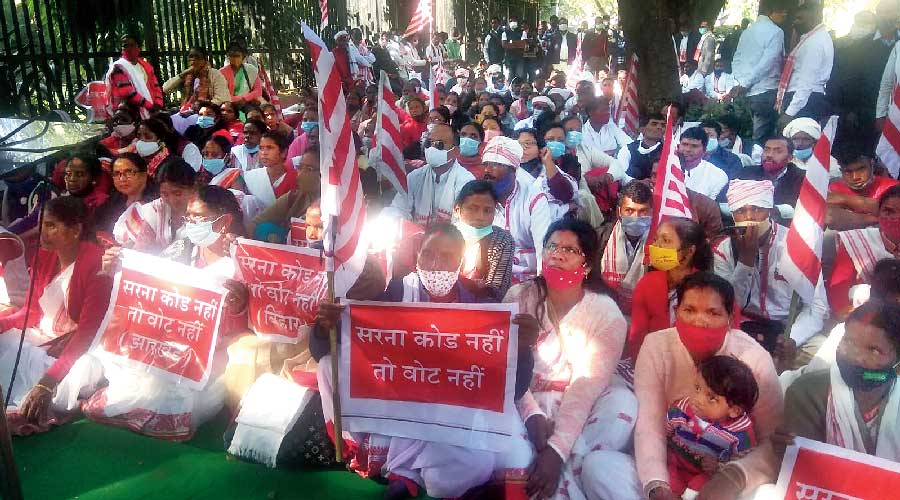 Tribal leaders at the protest at Jantar Mantar in New Delhi on Tuesday
The Telegraph Picture
---
Jamshedpur
|
Published 08.12.21, 02:40 AM
|
---
Nearly 500 tribal men and women in traditional attire sat on a fast and staged a dharna at Jantar Mantar in New Delhi for inclusion of the Sarna code in the religion column in the next census.
The four-hour-long agitation which began at 11am is under the aegis of Rashtriya Adivasi Samaj Sarna Dharma Raksha Abhiyan culminated with memorandum given to President Ram Nath Kovind, Prime Minister Narendra Modi, Union home minister Amit Shah, Union tribal affairs minister Arjun Munda and registrar general and census commissioner of India Vivek Joshi.
There were tribal representatives from Jharkhand, Chhattisgarh, Odisha, Bengal, and Assam during the dharna.
"We have requested the authorities to include Sarna as a religion in the upcoming Census by showing sensitivity to the sentiments of tribals across the country. The inclusion of separate Sarna religion code would help in the preservation of separate tribal identity both culturally and in terms of religion," said the former head of anthropology department in Ranchi University and advisor, Rashtriya Adivasi Samaj Sarna Dharma Raksha Abhiyan, Karma Oraon.
"It was unanimously decided during the agitation to hold another meeting of tribal bodies at Ramlila Maidan in Delhi in February-March. We have mentioned in the memorandum too that authorities should consider our demand and take a positive decision in this regard. Otherwise, we will decide on the future course of agitation during our meeting in New Delhi in February-March," said Karma Oraon.
The memorandum also warned that if no decision is taken the tribal outfits would be forced to undertake social agitation which would have its bearing in the political sphere too.
"If no favourable decision is taken on our demand then tribal outfits in tribal-dominated states will be forced to undertake social agitation. We would also be sending representation before the tribal-dominated state government to take a stand on the issue of separate religion code for tribal, failing there would be widespread agitation in all the tribal-dominated states which would have its bearing in the elections too. We have decided to give a call of 'no code, no vote' if our demands are not met," warned Oraon.
Incidentally, the Jharkhand assembly had in November 2020 unanimously passed a resolution for a 'Sarna Adivasi' religion code in the 2021 Census in a special one-day session and sent it to the Governor.
The leaders also decided to resort to an economic blockade if the demands are still not met despite agitations.
"If still the authorities in power do not accede to our demands then we would be forced to launch violent agitation in forms of economic blockade in mineral-rich tribal areas," Oraon said.
Significantly, tribal groups of Jharkhand have been staging agitation for more than two decades and have threatened to boycott the census if Sarna as a separate religion code is not included in the Census claiming that with the Centre dropping the "Others" option from the religion column for Census 2021, Sarna adherents would be forced to either skip the column or declare themselves members of one of the six specified religions: Hindu, Muslim, Christian, Buddhist, Jain and Sikh and in the process damaging the separate identity of the tribals.
Tribals in Jharkhand are Sarna followers and are worshippers of nature and do not consider themselves Hindus. Only small numbers of people from Jharkhand's 32 tribal groups — who make up more than 26 per cent of the state's population — identify themselves as Christian, Hindu, or Muslim. Implementation of a separate Sarna religious code in census surveys would allow the tribals to be identified as followers of the Sarna faith during Census 2021.