Sanitizer bath for Dalma elephants
The three mahouts make it a point to wash their hands with sanitizer before handling the elephants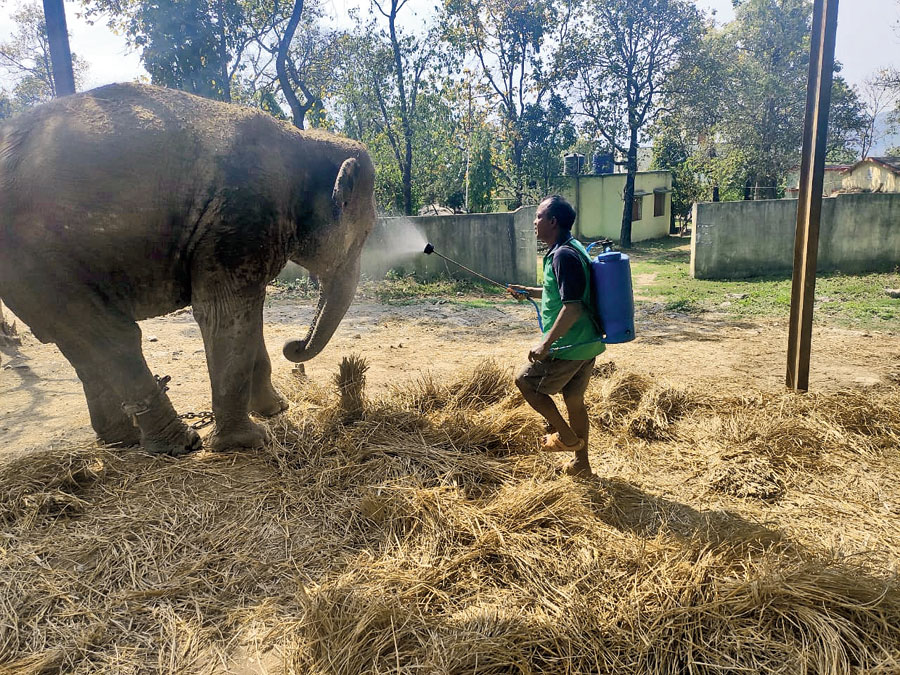 A mahout sprays sanitizer on Champa at Dalma Wildlife Sanctuary on Sunday.
Picture by Bhola Prasad
---
Jamshedpur
|
Published 22.03.20, 06:53 PM
|
---
The novel coronavirus outbreak has brought a unique change in the bathing routine of the three domesticated elephants at Dalma Wildlife Sanctuary.
Sanitizers are being sprayed on Lakshmi, Champa and Rajni, who live under a shed at Makulakocha near the main entrance to the sprawling 192sqkm sanctuary, 30km from the steel city.
However, the daily healthy bath has nothing to do with keeping coronavirus at bay. It is just a step to keep the female jumbos in good shape.
Remaining healthy is important for the 60-plus Lakshmi and Champa who are weak due to their advanced age. While Lakshmi is suffering from a weak eyesight, Champa has a muscle pull on her left hind leg. But the special liquid spray is a bonanza for the 11-year-old Rajni.
The three mahouts spray sanitizer on the jumbos every afternoon. They also make it a point to wash their hands with sanitizer before handling the elephants.
The exercise stretches for nearly half-an-hour in front of villagers who gather near the shed. Daily fogging is also conducted to deal with the mosquito menace.
Dinesh Chandra, Dalma (West) range officer, said: "We thought of spraying sanitizer on the elephants to keep them healthy. Following the coronavirus pandemic, we are organising free health camps in villages under the sanctuary and distributing handbills."