Saffron party in pro-CAA fight
Jharkhand & neighbour on the boil over new laws polarising the country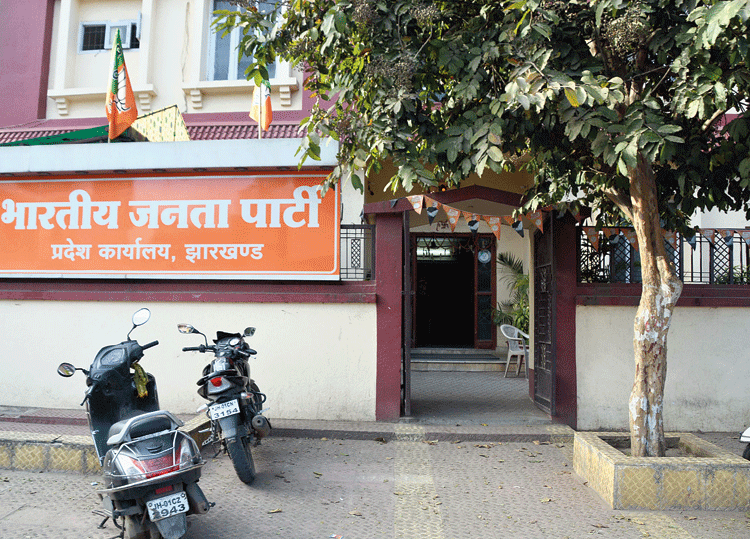 The state BJP headquarters at Harmu in Ranchi
Telegraph picture
---
Ranchi
|
Published 04.01.20, 06:36 PM
|
---
The state BJP is set to flag off a massive campaign to mobilise public opinion to support the controversial Citizenship (Amendment) Act (CAA) in Jharkhand from Sunday.
The BJP will hold a daylong workshop at the state party headquarters in Harmu on Sunday to brief workers and leaders on the CAA so that they can tell people about the law and counter Opposition parties. After the workshop, a group of BJP cadres will go to certain localities on a door-to-door campaign.
Union minister of skill development and entrepreneurship Mahendranath Pandey will take part in the workshop.
All elected MLAs, MPs, leaders and workers of the party have been asked to take part.
State BJP general secretary Deepak Prakash
"This is a part of national-level campaign launched by the BJP to expose the (anti-CAA) narrative set by the Opposition parties. The central government and Prime Minister Narendra Modi have on a number of occasions categorically clarified what the CAA means, a humanitarian law," he said. "The CAA aims to provide citizenship to minorities of three neighbouring countries Pakistan, Bangladesh and Afghanistan who have taken shelter in India owing to being persecuted in their countries over religion. But Opposition parties like the Congress are misleading minorities (in India) that this is anti-minority."
Prakash said that they would launch a door-to-door campaign.
Union minister Pandey will lead one such door to door campaign scheduled in Harmu and Argora.
The party will arrange street plays, signature campaign and missed call campaign and pamphlets to let people know about "the merits of the CAA".
As part of the programme, the party will hold rallies at the divisional level and a massive rally will be held in Ranchi for which schedules will be released soon.
The BJP had made the CAA an election issue in the recently held Assembly election of Jharkhand where PM Modi and Union home minister Amit Shah as well as other central leaders spoke in favour of the amended citizenship law. However, the speeches failed to mobilise votes for the BJP, which was ousted from power.
A BJP office-bearer said that after an election defeat, "everyone in the party was demoralised". "This massive organisational exercise to popularise the CAA will rejuvenate party leaders and cadres again," he said.