Rural life depicted in coal town Saraswati Puja pandal
Pastoral economy is the backbone of our country, says organising member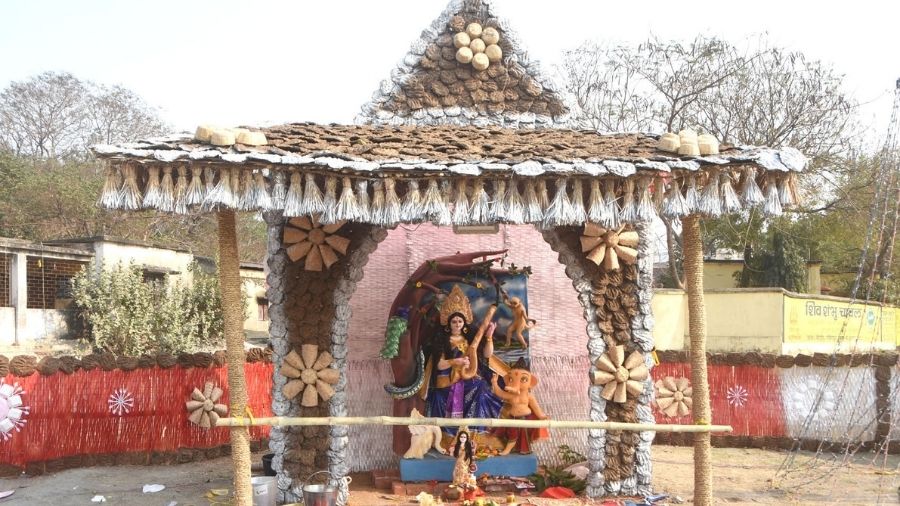 The idol of goddess Saraswati in a pandal decorated with cow dung cakes at Jharkhand Maidan in Dhanbad on Tuesday.
Picture by Gautam Dey
---
Dhanbad
|
Published 16.02.21, 05:14 PM
|
---
Cow dung cakes, bamboo baskets, canal, culvert, spades, huts and models of several other rural articles were put up as decorations at the Saraswati Puja pandal organised by a group of students at Jharkhand Maidan in Dhanbad, in a bid to highlight the importance of rural life.
Visitors thronged at the site on Tuesday to take a look at this unusual display meant to show the significance of villages in our life, which provided refuge, bread and butter to the vast majority of migrant workers who had to go back to their native places during the lockdown.
Santosh yadav, one of the organisers of the puja, said they tried to create an entire traditional village scene in the 30x30 feet pandal. 
"The basic aim behind highlighting rural life is to drive the message of maintaining a balance between rural and urban life as the rural economy is the backbone of our country, which has been proved during the lockdown.," Yadav, a member of the Satyam Shivam Sundaram Committee that organised the puja, said.
Nitish Kumar, another organiser, said that the spade, furrow and canal have been made to show that there is no need to rush to urban areas, which are already congested. "The worst hit  section of society due to the economic slowdown is the youth working in the corporate sector. Many have lost jobs all of a sudden and burdens like paying EMIs of loans have been increased," he added.
Vikas Sao, a member of the committee, said that they have been organising Saraswati Puja every year since 2002 but their primary aim was to organise Durga Puja. "We have provided an opportunity to the students to create the scene of our theme and have also constructed a five-feet high idol," Sao said.