Rs 100cr 'wasted' in hospital upgrade
PMCH authorities has no utilisation plan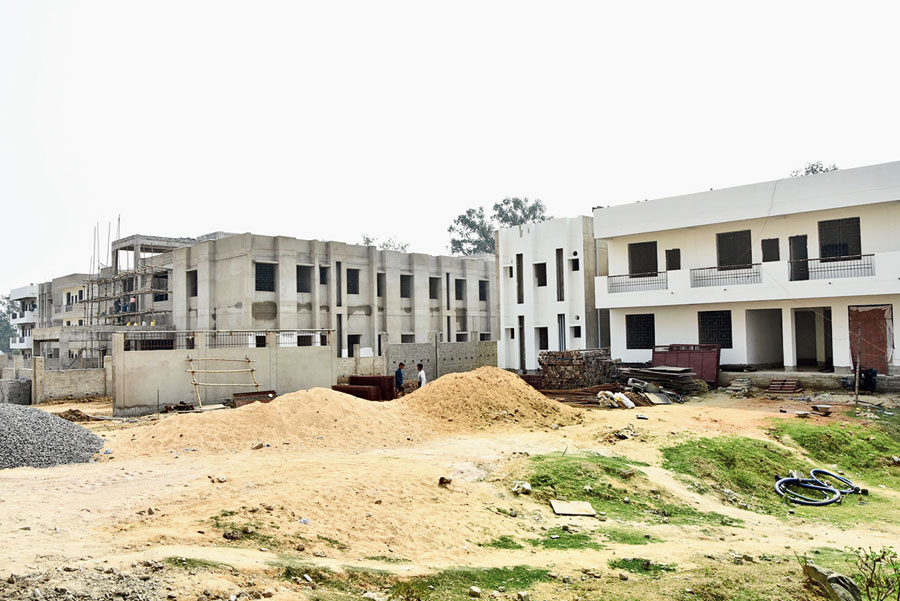 ---
|
Dhanbad
|
Published 13.02.20, 06:52 PM
---
Several buildings such as a cath lab, a super-speciality wing and four postgraduate students' hostels, cumulatively costing over Rs 100 crore, have been either constructed or are nearing completion at the Patliputra Medical College and Hospital (PMCH) here though the hospital administration has no utilisation plan for the buildings.
The PMCH authorities are not even aware of the department or scheme through which the four-storey cath lab has been constructed.
The wastage of public money in the name of infrastructure development comes at a time when several departments at the hospital are compelled to operate from the existing building and are facing acute space shortage. The cath lab building, constructed for Rs 15 crore in 2017, has not yet been inaugurated because of lack of manpower or facilities at the hospital.
PMCH superintendent Arun Kumar Chaudhary told The Telegraph: "How can we operate the cath lab meant for advanced treatment of cardiac patients when we are not aware which department and under which scheme it has been constructed? We don't even have papers of the building nor has anyone handed us over the building. We lack experts in cardiology to run the cath lab."
He added that they could shift some of the existing departments to the new cath lab building if it was handed over to them.
Similar is the story of the five-storey, super-speciality hospital building being constructed for Rs 86 crore since 2016 under Phase-III of the Centre-sponsored Pradhan Mantri Swasthya Suraksha Yojana that is aimed at correcting regional imbalances in availability of affordable/reliable tertiary healthcare services and augment facilities for quality medical education in the country.
The super-speciality hospital building, aimed at providing specialised treatment in neurology, neurosurgery, cardiology, burns and plastic surgery, is being built by Delhi-based HR Builders. It is yet to be handed over to the hospital because of a dispute with residents over land.
PMCH principal Shailendra Kumar said: "We don't have manpower, including specialised doctors and technicians, to operate the super-speciality hospital. It would be difficult to operate the facility at present even if the building is handed over to us because we have an acute shortage of doctors even in running the existing hospital and undergraduate classes."
The four three-storey postgraduate students' hostel building being constructed for Rs 4.12 crore by the building division of the state government is being built even before the launch of postgraduate courses at the hospital.
"The super-speciality hospital and the hostels are being constructed quite far from the main hospital and unless a subway or an overbridge is constructed it would be very difficult to shift patients or move doctors from the main hospital to the super-peciality wing," said a senior doctor.
A source said even the burn unit, built for Rs 45 lakh, is unutilised as it has not been constructed as per specifications and norms.