Routes for electric buses finalised
RSCCL has drawn up two circular routes in such a manner that they cover most parts of Ranchi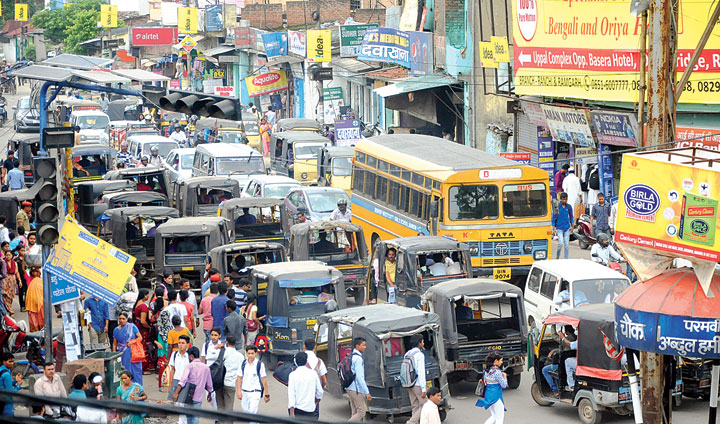 Kantatoli Chowk, which will be one of the start-and-terminal points of the electric bus service that is expected to roll by October this year.
Picture by Manob Chowdhary
---
Ranchi
|
Published 17.01.20, 07:32 PM
|
---
Get ready for shuttle service on electricity powered mini-buses in the state capital by October this year.
Ranchi Smart City Corporation Limited (RSCCL) has drawn up two circular routes for the shuttle services initially.
"Acting on the directive of the principal secretary of the state urban development department Ajoy Kumar Singh, we have finalised two routes for the 14+1-seater (14 passengers plus driver) electric bus shuttle services and bids will be invited for service providers soon," a senior RSCCL official said on Friday.
"We are hopeful of starting the bus service before the festive season in October this year on these two routes. The routes have been drawn up in such a manner that they cover most parts of the city. Depending on the response, we will be increasing the routes later on," the official added.
The buses will have low-floor configuration, which are easy to get on or disembark from.
The first round-trip route will start and end at Kantatoli and cover a distance of more than 10km. "The Kantatoli shuttle services will begin from Kantatoli Chowk and cover Bahu Bazaar roundabout, Munda Chowk, railway station, Patel Chowk, Sujata Talkies Chowk, Ratan Talkies Chowk, Sarjana Chowk, Subhash Chowk, Main Road (Mahatma Gandhi Chowk), Albert Ekka Chowk, Kutchery Chowk, Jail Chowk, Lalpur Chowk, Circular Road, and Dangratoli," the source informed.
The other route of the shuttle service will begin from Booty Mor and cover Khelgaon roundabout, Kokar Chowk, Kantatoli Chowk, Bahu Bazaar, Munda Chowk, Sujata Chowk, Rajendra Chowk, Hinoo Chowk (near Ranchi airport), Birsa Chowk, Satellite Chowk, Argora, Harmu, Sahjanand Chowk, Ratu Road, Kishore Yadav Chowk, Suchna Bhavan, Machhli Ghar, and Bariatu Road.
"The second route will cover a distance of nearly 29 km," the RSCCL source said. "The objective of introducing such buses — both fuel driven and battery operated — which have more seating capacity than the auto-rickshaws is to decrease traffic congestion caused by such auto-rickshaws as people will opt for such buses. We plan to roll out nearly 150 such buses."
Urban development department spokesperson Amit Kumar said the routes had been planned carefully.
"The environment-friendly battery operated buses will ply on the two routes selected based on traffic density and cover most of the capital," he said.
The existing fuel driven city buses (29-seater) will be made to ply on the six-lane ring roads outside the city touching the national highways. "The hybrid or CNG buses with better seating capacity (29-seater) will be made to ply on more routes which do not witness traffic jams," Amit said.