Room for more planes at Birsa Munda Airport
Soaring passenger footfall behind additional apron, DGCA inspection before May launch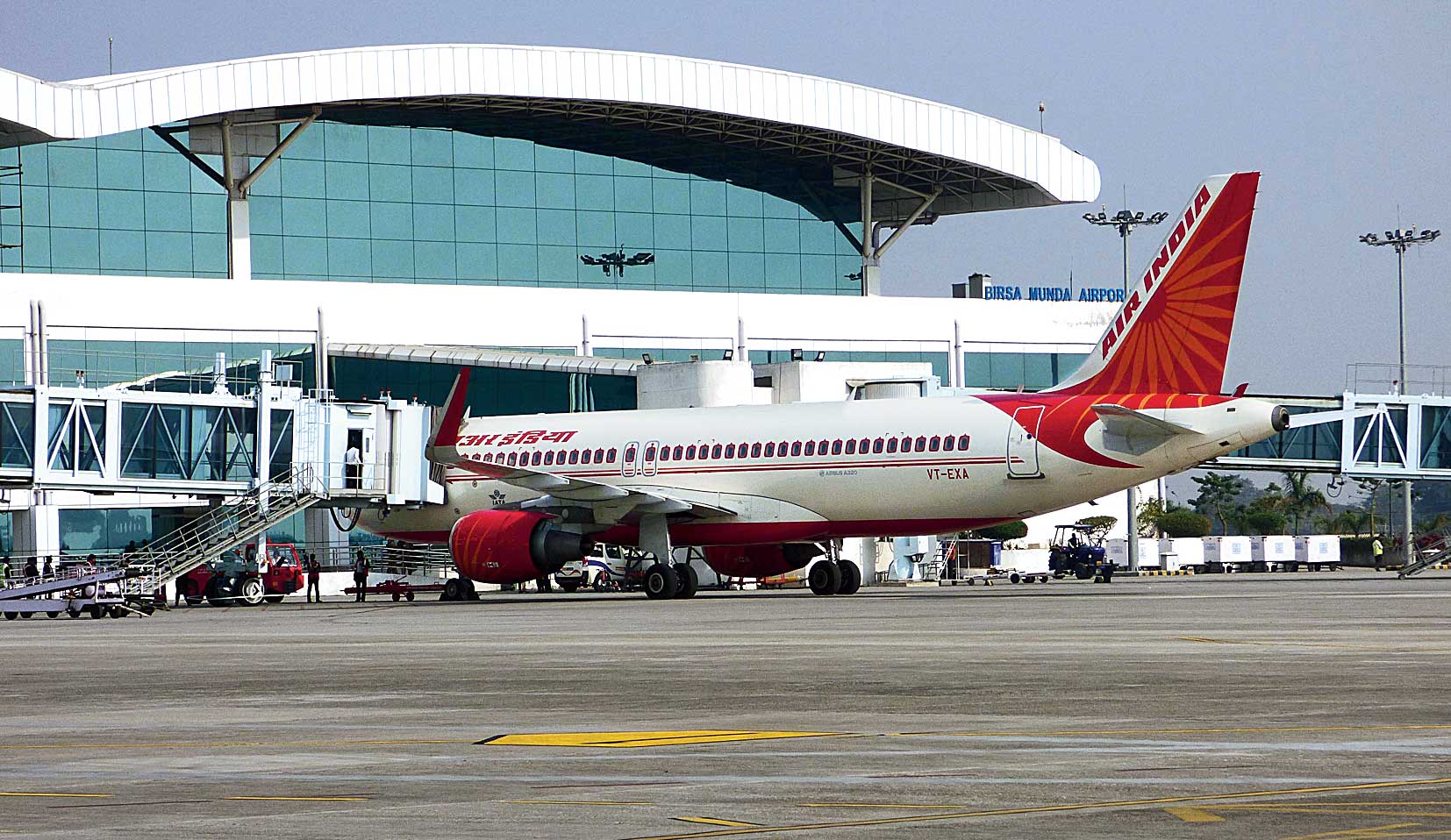 ---
---
Birsa Munda Airport, which has witnessed a passenger surge over the past five years, will be able to accommodate more aircraft from May.
Airport director Pravat Ranjan Beuria said groundwork for an additional apron (tarmac) had been completed and they were waiting for a nod from the Directorate General of Civil Aviation (DGCA).
"We have completed markings and lights have been installed at the designated site. The DGCA has been informed and an inspection will follow. After the inspection and subsequent approval, we will make the apron operational. The whole procedure is expected to take three months at most," Beuria told this newspaper.
Technically speaking, an apron or a tarmac is the area of an airport where an aircraft is parked, loaded or unloaded, refuelled and boarded.
The 1,568-acre Ranchi airport currently has one apron that can accommodate three Airbus A320 planes and two 19-seater ATR planes. The additional facility will boast a capacity of four more Airbus aircraft and another ATR plane, taking the total count to seven and three, respectively.
A senior airport official said increased passenger footfall had made a new tarmac necessary.
Data from the transport department show the airport handled 6 lakh passengers in 2014-15, 10 lakh in 2015-16, 13 lakh in 2016-17 and 16 lakh in 2017-18. In 2014, there were only 11 flights. The number increased to 30 in 2018. And, the projected passenger footfall for 2018-19 is 22 lakh.
"Once the apron becomes operational, we expect more planes to and from Ranchi, which in turn will lead to more passengers. The apron will make possible nearly 80 flights a day," an airport official said.
Frequent fliers, however, would have to bear with the shortage of aerobridges for at least a year.
"We currently have two jet bridges while work on installing two more has been delayed owing to technical reasons. We have floated tenders. Construction of the new aerobridges is expected to commence from June and be completed by December," airport director Beuria said.
The existing aerobridges, also called sky bridges, which offer passengers an enclosed, suspended portal directly from the waiting area to the aircraft, had debuted at Birsa airport in 2013 along with the launch of the international terminal building.
A senior official maintained that the two aerobridges were not enough to handle the increasing load of passengers. "We immediately require more at the airport. In addition to the two planned, we will require at least two more, taking the number of jet bridges to six," he said.