Robbery at Dhanbad jewellery shop
STATE DIGEST: JMM-BJP spat over power facility; son kills father in fit of anger; 17-year-old commits suicide;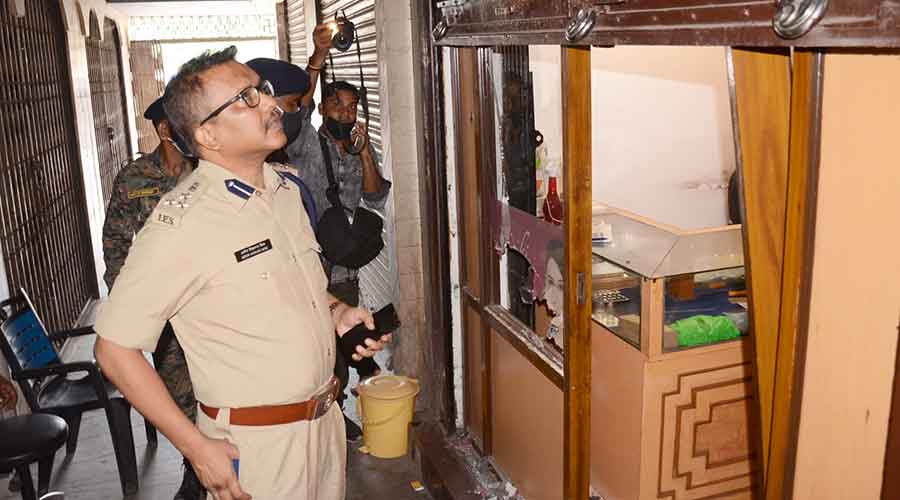 ---
---
Armed assailants robbed jewellery worth over Rs 15 lakh from Jewar House in Dhanbad on Saturday.
The owner Tripurari Barnwal and an employee were cleaning the shop in the morning after its opening when eight to ten assailants entered the shop, held the owner at gunpoint and robbed it. Before fleeing, the criminals took the CCTV footage tapes too.
SSP, Asim Vikrant Minz said, "it is too early to say who were involved but some local criminals may be involved in the incident and we are in process of identifying those involved in the incident."
17-year-old commits suicide
A 17-year-old intermediate student of S.B. Patel inter college committed suicide by hanging herself from the ceiling fan of her room in Hazaribagh on Saturday.
The body was sent for post mortem to Hazaribagh medical college and hospital.
Police officials did not find any suicide note.
Photo webinar of Dhanbad Camera Club
Dhanbad Camera Club on Saturday conducted a webinar as part its fortnightly series during which legendary photographer from Ireland Brian Hopper presented his award winning photographs.
Mukesh Srivastava, president of the club, interacted with Hopper and put forth a set of questionnaire.
Mukesh said that the aim of organising the webinar is to make people aware about the nuances of photography.
Over 100 photographers of Dhanbad and other parts of the country took part in webinar.
Counselling session for De Nobili students
Dhanbad faculty members of Art of Living, including Sonali Singh and Mayank Singh on Saturday conducted an online interactive session with Class IX and X students of De Nobili School, Sindri on dealing with Stress, how to set goals in life and work towards achieving them.
The members asked the students to never get upset over failures as failures provide opportunities to learn.
JMM-BJP spat over power facility
The disagreement between Bokaro BJP leader Biranchi Narayan and state education minister Jagarnath Mahto over delay in commencement of Phudnidih Power Sub-Station operations intensified on Saturday.
JMM leaders of the district unit organised a press conference and termed Narayan a 'liar' and also targeted BJP, MP of Dhanbad, P.N.Singh by calling him the most "helpless" leader.
Mahto has ordered the electricity department to ensure the power sub-station is functional in the next 15. He stated that Hemant Soren had announced a sum of Rs 2 crores to DVC as security deposit to start Phudnidih power station.
Narayan on Friday said, "If he manages to start the Phudnidih power sub-station within 15 days I will take retirement from politics."
Narayan said it was under the BJP government that four power sub-stations have been installed, but not yet started by the JMM government.
Son kills father in fit of anger
An unemployed 24-year-old killed his father when he refused to give him money to start his own business on Saturday in Koderma.
Rajkumar Singh, 46, was working as a private driver in Delhi. He had returned home 15 days back to meet his family. His son, Bablu Kumar Singh was pressuring him to give him a sum of Rs 2 lakh.
A verbal altercation between the duo led to Bablu hitting his father with a wooden log on his head. Rajkumar died on the spot.
Markachcho police have arrested Bablu.