Onion retail price around Rs 60 per kg in Jamshedpur, could rise further
Onion tears, from kitchens to minister Saryu Roy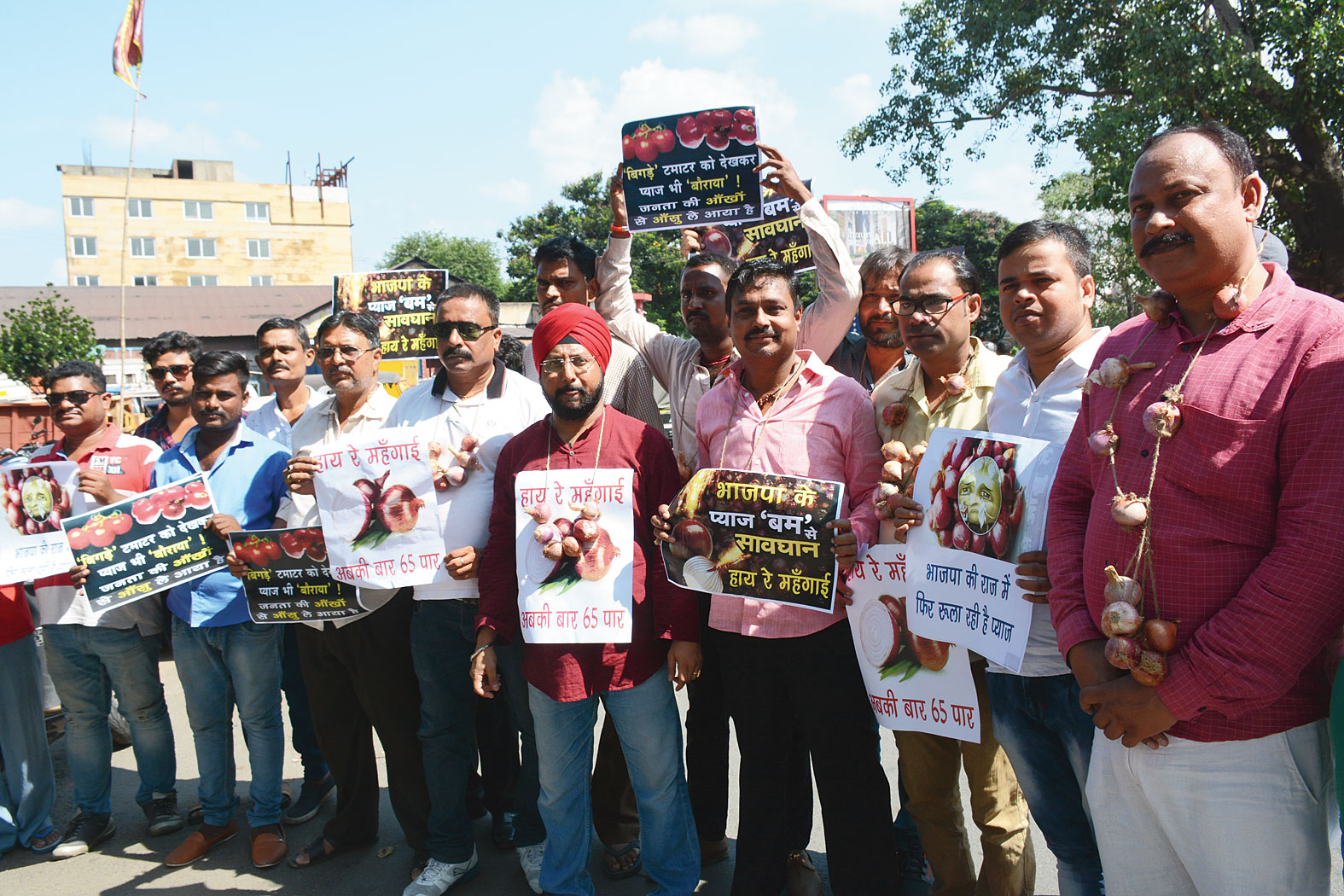 Congress workers protest against steep onion prices outside the district collectorate in Jamshedpur on Sunday.
(Bhola Prasad )
---
Jamshedpur
|
Published 22.09.19, 07:05 PM
|
---
It's a familiar tear-jerker; onion prices are once again making steel city homemakers weep. The saga, however, is so bad this time that state food and civil supplies minister Saryu Roy called a news meet on Sunday evening and said that he had asked the secretary of his department to find a happy ending.
On August 21, the wholesale price of onion was Rs 18 per kg and the retail price was Rs 25. The staple, which sold between Rs 35 and Rs 40 a kilo in the retail market here even a week ago, is now at Rs 60 while pushcart vendors in some pockets are flaunting a price tag of Rs 65 per kg.
The worse news? Traders here are anticipating a further rise in price — because it is all quiet on the western front.
"Onion production in Nashik, from where onions come to the steel city, was badly hit this time because of rains. Wholesalers are themselves selling at a very high rate. How can one can expect a price buffer so soon," said Santosh Kumar, a wholesaler at Sakchi market.
He said the rate would come down only after fresh stocks arrive by the end of next month.
Basant Sahu, a member of the Krishi Bazar Samiti in Parsudih, said: "Under normal circumstances eight to 10 loaded trucks roll into the steel city every day. Now, there are only two. This was resulting in a demand-supply gap, and hence the price hike."
Minister Saryu Roy said it was a veritable crisis, and that he had ordered steps to combat it.
"The price of onion is rising steadily. It rose by over two-and-half times in the last one month. Now, onion is selling at Rs 60 per kg in the retail market while wholesalers are selling at Rs 45 per kg. This is more than the price in Nashik from where the consignment comes to Jharkhand. At Nashik, onion is now sold at Rs 45 in the retail market while wholesalers are selling at Rs 33 per kg. We need to reduce the price and hence I have asked the secretary of the department to take necessary measures," Roy said.
The minister has asked the secretary of his department to immediately hold a meeting with onion dealers and fix a ceiling on the stock at their disposal. This, he said, will prevent artificial hoarding.
Roy said his department would also ask deputy commissioners and sub-divisional officers to get in touch with various trade bodies to check the spiralling price of onion.
He said that as an "extraordinary measure" the state government will also go for price stabilisation; the government will sell onions at a subsidised rate by involving agencies including NGOs who have direct interface with the public.
Roy said that his department is also finding out whether there are any transportation related glitches that have resulted in the skyrocketing price of onion.
Mukesh Kumar, an onion vendor at Bistupur market, said the price rise was bad for business too. "Till September first week, I used to get regular customers every day. But for the last two weeks people are hesitant to buy," he said.
Rajesh Vajpayee, a schoolteacher who lives in Sonari, agreed. "We have had to squeeze our budget. My wife is rustling up recipes that do not require onions," he said.