Residents breathe uneasy
Fears that entry of private miners will lead to pollution spike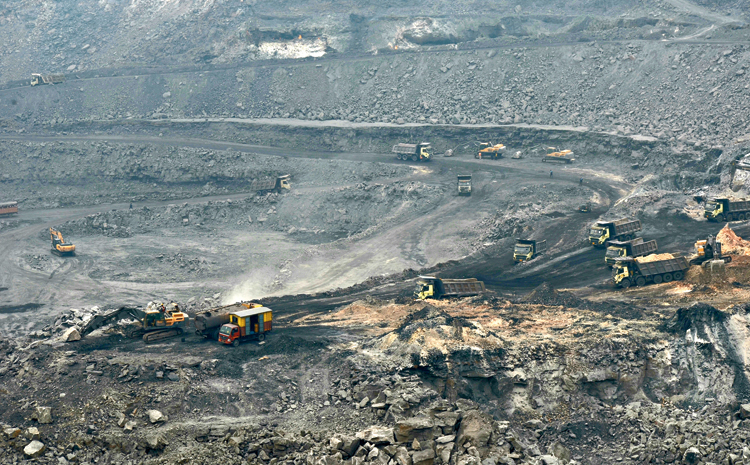 ---
|
Dhanbad
|
Published 17.05.20, 08:06 PM
---
Rajendra Paswan, 48, a resident of the underground-fire-hit Mohri Bandh in Jharia has not been able to sleep after hearing Union finance minister Nirmala Sitharaman's announcement of allowing private players in the coal sector.
Paswan, a tutor, isn't worried that private firms would mine recklessly leading to more coal dust in the air, leading to a spate of ailments.
According to the latest Greenpeace India report released on January 22, Jharia ranked 1 and Dhanbad 2 among the most polluted among the list of 287 cities and towns. The Centre had selected Dhanbad among the 102 non-attainment cities under the national clean air programme launched in 2019 according to which the pollution level in these towns/cities was to be reduced by 30 per cent by 2024.
Paswan said he, his wife and their six children were happy with the slight decrease in pollution during the lockdown. "But our bliss is surely short-lived. We are now feeling threatened over the prospect of more and more pollution if private companies engage in irresponsible mining," said Paswan.
He added that in the past, Mohri Bandh used to be one of Jharia's densest forest areas. "It used to be so cool that people used to come here for summer breaks. But because of rampant mining, especially after the growth of open-cast mines and allotment of mine patches to private parties working on behalf of the BCCL since 2005, the situation has only worsened. Allotment of mines to private parties will be catastrophic now," he said.
Vinod Kumar, 42, the owner of a medicine store at Chouthai Kulhi in Jharia, said all the ills of pollution here was because of private mining in violation of basic safety and green norms.
"Announcing incentives to those companies completing work on time will further incite the coal companies to carry out coal mining without caring about the environment to mint money," Kumar said.
He added that he used to live in Chouthai Kulhi in Jharia near his medical store but the area was so polluted that his wife Mamta developed asthma and dust allergies.
"For the sake of her health, we decided to shift to Kolakusma in Dhanbad about six months ago. The new place is comparatively greener," he said. "Do you know, most of the customers coming to my medicine shop in Chouthai Kulhi complain of breathing problems?" he asked.
Dr Manoj Singh, a reputable environmentalist of Jharia, who with the help of NGO Green Life and Youth Concept, has planted thousands of saplings in the town, said: "We had been waiting for the implementation of the district-level environment committee led by deputy commissioner Amit Kumar on intensive tree plantation and other measures such as sprinklers in the area to reduce dust but I don't know whether private miners will do such things. I am now apprehensive that all these decisions will only remain on paper."
President of Jharia Chamber of Commerce and Industry Amit Sahu said they rejected the privatisation plan of the government. "It will revive the horrors of pre-nationalisation era of mines. Prior to 1970s private companies were engaged in unscientific mining that led to an increase in mine fires and subsidence," he said.
Rajiv Sharma, a member of the state-level pollution regulator Jharkhand State Pollution Control Board and a resident of Dhanbad, however, differed. "I don't think coal sector privatisation will increase pollution in Dhanbad because whether it is a private mining company or a public sector undertaking such as Coal India, each has to abide by the rules."