Repair deadline for mishap-prone Tata-Kandra Road
Over 100 died in accidents on the Tata-Kandra Road in the past one year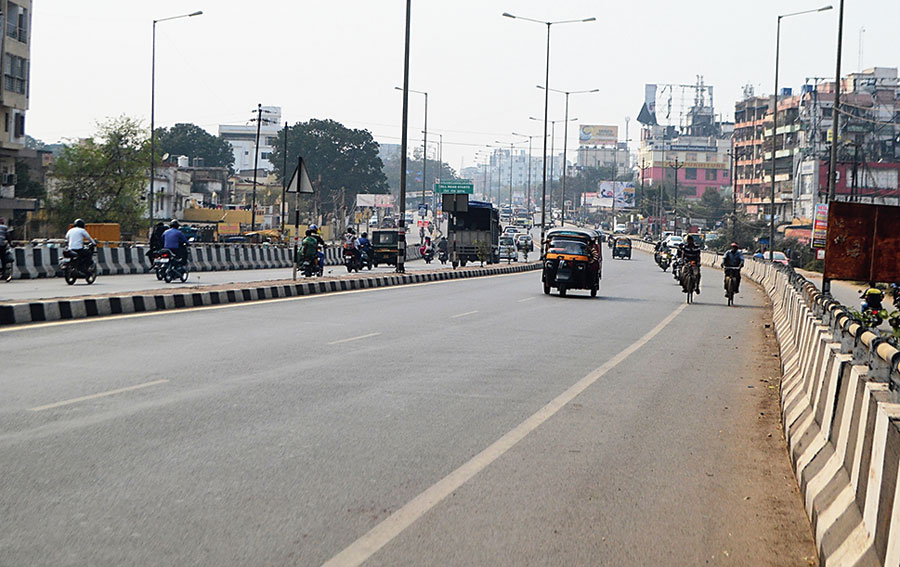 The Tata-Kandra Road in Adityapur, Jamshedpur, on Saturday.
(Animesh Sengupta)
---
Jamshedpur
|
Published 22.02.20, 07:20 PM
|
---
Mishap-prone Tata-Kandra Road that links Jamshedpur with Adityapur in Seraikela-Kharsawan will be repaired within a month by Jharkhand Accelerated Road Development Company Ltd (JARDCL), the state road construction department's private agency that had built the road in 2012.
The JARDCL promised to repair the road, footpaths and streetlights, after a local NGO, Jan Kalyan Morcha, which has been flagging the dangers of this road since months, declared to launch a protest from Sunday.
Over 2,000 heavy vehicles cross the Tata-Kandra Road daily. Over 100 died in mishaps here in the past one year.
Om Prakash, president of Jan Kalyan Morcha, had on February 1 declared they would stage a dharna at Patel Chowk along Tata-Kandra Road on February 23 to protest against the frequent fatal road mishaps on the 15km road.
Highlighting the callousness of the JARDCL and road construction department, Om Prakash said mishaps were regular as most streetlights along Tata-Kandra road stay unlit. "Drivers, including those of heavy vehicles, drive in the dark. They miss the stationary trucks and trailers on the road while driving through the road during the night," Prakash said.
He stated though Rs 185 crore were spent on the road , faulty construction led to evident undulations on the surface. "Simply speaking, driving is very tough on the four-lane road," he said. "Even service lanes on either side of the road are incomplete. Commuters have to ride on the main road and risk their lives. The absence of reflectors is another big risk. That's why we proposed a protest from Sunday. Blood can't be allowed to spill."
The Seraikela division of the road construction department, which had taken note of the Jan Kalyan Morcha's protest threat issued on February 1, had contacted the JARDCL management which sent the company co-ordinator from New Delhi to Adityapur on Friday evening.
JARDCL coordinator Chandra Shekhar inspected the road and promised the NGO the same day that they would repair the road in a month and requested the NGO not to resort to any agitation.
"Chandra Shekhar met us with the executive engineer of road construction department's Seraikela division, Nirmal Kumar, and promised that the road will be repaired and streetlights looked into. We have postponed our protest," Om Prakash said.