Red Paws makes the best of Sunday helping strays
Anti-rabies vaccine and reflective collars for 100 street dogs of steel city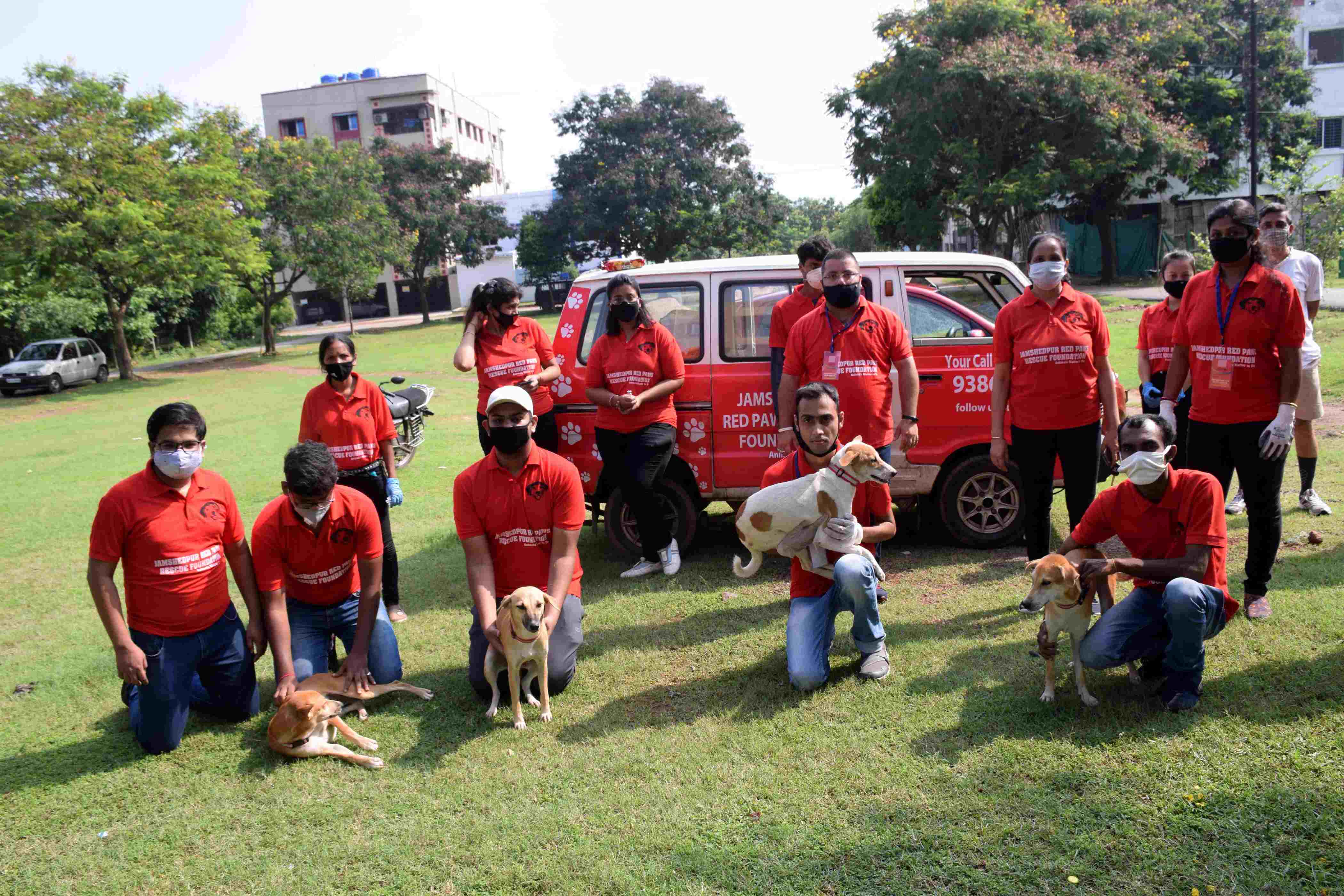 Members of Jamshedpur Red Paws Rescue Foundation with the vaccinated strays in Jamshedpur on Sunday
Bhola Prasad
---
Jamshedpur
|
Published 26.07.20, 05:40 PM
|
---
Strays are likely to be better looked after, thanks to a bunch of dog lovers of the steel city whose efforts will likely to ensure that there are fewer instances of dogs getting injured or meeting a painful death in road mishaps.
Jamshedpur Red Paws Rescue Foundation (JRPRF), an NGO established in 2018, launched a drive to administer anti-rabies vaccine on strays and put reflective collars around their necks across the city on Sunday.
The members of the NGO started near the post office in Sonari at 8.30 am. "We administered anti-rabies vaccines and placed reflective collars around the neck of 100 dogs," said the foundation's founder Aniz Patel.
He added they targeted 100 stray dogs and are happy to have achieved it. "The anti-rabies vaccines and reflective collars were procured from Dinky Mart, a New Delhi-based NGO," Patel told The Telegraph Online. Besides Sonari, the drive was conducted in Kadma, Bistupur, Sakchi, Sidhgora, Baridih, Agrico and Telco. "Twentyfive members of our foundation were part of the drive," said Patel, adding that one of the members administered the vaccines.
"Dogs usually don't attack… But we did the job very carefully. The reflective collars have a unique ID and phone numbers of our members. We can keep a tab on the canines through the ID numbers. The phone numbers will be handy as we will be informed about any emergency involving the dogs," he explained.
Patel said they would be tracking the vaccinated dogs from next month, in the second phase of the drive. "In the third phase, we will use nets to vaccinate unfriendly dogs," said Patel, adding there are approximately 1,000 stray dogs in and around the steel city.
Patel said each anti-rabies vaccine cost them Rs 40, while a reflective collar came for Rs 250. "We pooled in funds from members. We all are dog lovers and cannot see animals in pain," he said.
Rash driving, especially at night, is not new to Jamshedpur and reflective collars on dogs can help. A good number of strays get severely injured while some die in road accidents in the night. "An injured dog suffers immensely," noted a member of the foundation.
Chandu Jha, Rajshri Pandey, Sushmita Mukherjee, Kunal Venkat, Sourav Sen, Tanya Dave, Aakash Sinha and Sunita Zarika were among the members of the foundation who were part of Sunday's drive.