Rebel den Latehar witnesses Taiwan papaya farm
Commerce graduate Ujjawal Lakra has 600 plants in his one acre of land at Mahuadanr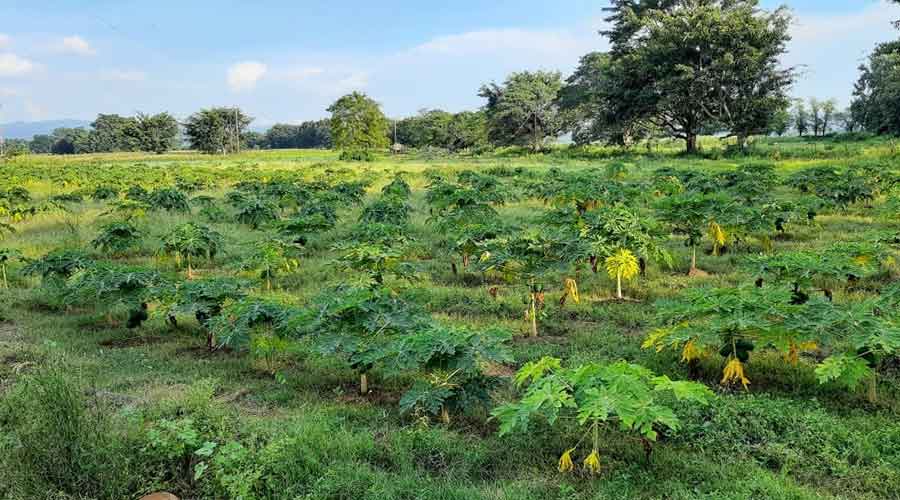 ---
Daltonganj
|
Published 11.09.21, 07:46 PM
|
---
Mahuadanr in Latehar, infamous for rebel activities and known for its wolf sanctuary, is witnessing a novel and progressive farming of the Taiwan papaya.
The initiative is being done by a young intermediate commerce graduate Ujjawal Lakra. 
Lakra told The Telegraph Online that he first searched on the internet as to what to grow and then fell in love with the Taiwan papaya for its exotic name like Red lady 786.
786 has been a popular Hindi film heroes badge like Amitabh Bachchan in his film Coolie and Govinda wears it in the film Coolie Number One. 
For Ujjawal Lakra 786 has clicked too, he said. 
"I am growing Red lady 786 Taiwan papaya in my one acre of land at Baira Toli in Mahuadanr just 5km away from the Mahuadanr block and 110km away from Daltonganj," said Lakra.
"I did my intermediate commerce course from the prestigious Marwari college Ranchi and then I decided to build a house on this one acre of land when someone told me about Taiwan papaya and its good market value," he said.
Lakra got Taiwan papaya saplings from West Bengal at Rs 60 per sapling. 
Taiwan papaya plants last for 18 months which means fruits will be coming for eighteen months only in one Taiwan papaya plant before it has to be uprooted for new ones to be sown there. 
"Taiwan papaya is tasty and grows as little as a papaya plant of three to five feet in height," he said. 
Lakra has 600 papaya plants in his one acre of land and one plant can give little over one quintal of papaya. 
Sources said the papaya has a great market in Lohardaga in Jharkhand and Lakra is too happy to sell his papaya consignment there. 
A noted physician Anand Kumar here said intake of papaya in everyday meals is good for people of all ages especially in this time of Covid 19.
He said there is a misconception that costly fruits give energy only whereas papaya, guava,banana etc a regular use of them can do wonders. 
About irrigational constraints Lakra said he faced water crisis before, but now with MGNREGA he has a deep well and has started drip irrigation too.