Ration woes spill over at special camps under 'Aapki sarkar, aapke dwar' initiative
A total of 2,77,170 applications seeking redress of grievances of citizens were received at 1,370 such camps organised across the state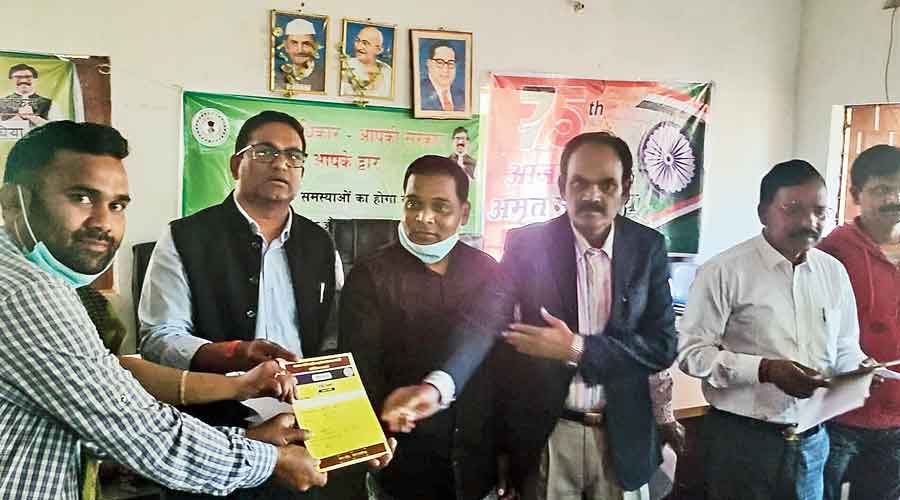 A beneficiary receives his ration card at one of the camps organised under the "Aapki sarkar, aapke dwar" campaign at Bero in Ranchi on Wednesday.
Manob Chowdhary
---
Ranchi
|
Published 27.11.21, 12:13 AM
|
---
The residents of Jharkhand have maximum grievances in respect of pension schemes and ration entitlements under the Jharkhand food security rules.
This was revealed at the special camps organised across the state under the "Aapki sarkar, aapke dwar (Your government at your doors)" initiative that was organised with a renewed vigour since November 16.
A total of 2,77,170 applications seeking redress of grievances of citizens were received at 1,370 such camps organised across the state in nine days till Wednesday and 36.90 per cent of those were disposed of, the government informed in a release issued that evening.
Of those, the Ranchi district alone received 33,938 applications, the maximum in the state, followed by Hazaribagh (30,038) and Palamau (20,568) of which 66.25 percent, 33.80 per cent, and 34.33 percent were disposed of respectively.
Of the total applications received at those camps, 55,720 (20.10 per cent) were grievances related to pension schemes. While 27.78 per cent of those were sorted out at the camps, the rest remained pending. This was followed by 44,843 grievances or 16.17 per cent of the total related to food security and 35.94 per cent of those were solved locally, the release added.
Another set of 36,196 applications or 13.05 per cent of the total received at those camps related to health and nutrition issues and 76.86 per cent of those were solved then and there, the release further said.
"People came up with their long-standing grievances related to various issues and many of those were addressed instantly," informed an official of the state information and public relations department that compiled the figures, adding the rest were being looked into and would be solved soon.
Bhekraj Kumari, a disabled person of Jharpo village in Hazaribagh got an Aadhaar card issued to her for which she was trying for the past eight years, the official said, giving an example.
The local administration had sent a vehicle for her so that her biometric details could be recorded, she added.
Similarly, Shashi Devi, a 79-year-old from Ranchi, got her ration card and Sajani Bala Mahato of Palashdih village in East Singhbhum who would sell hariya (local rice beer) for eking out a living got an interest-free loan if Rs 10,000 for goat rearing, she added.
"Despite the chief minister declaring that pension would be made universal, the lower functionaries at block level would often raise various objections on Aadhaar and death certificates or affidavits (of husbands in case of widow pension) which the poor villagers can't produce instantly," Asharfi Nand Prasad, state convener of Right to Food Campaign said when asked why so many grievances were related to food and pension issues.
Similarly, many well-off people didn't surrender their ration cards, new cards were yet to be issued to deserving people and the ration dealers manipulated the number of grains, he added to explain food-related grievances.