Ranchi Xavier's fest gets flak over Pulwama
Right wing protesters object to "high-decibel fun and frolic" at a time of mourning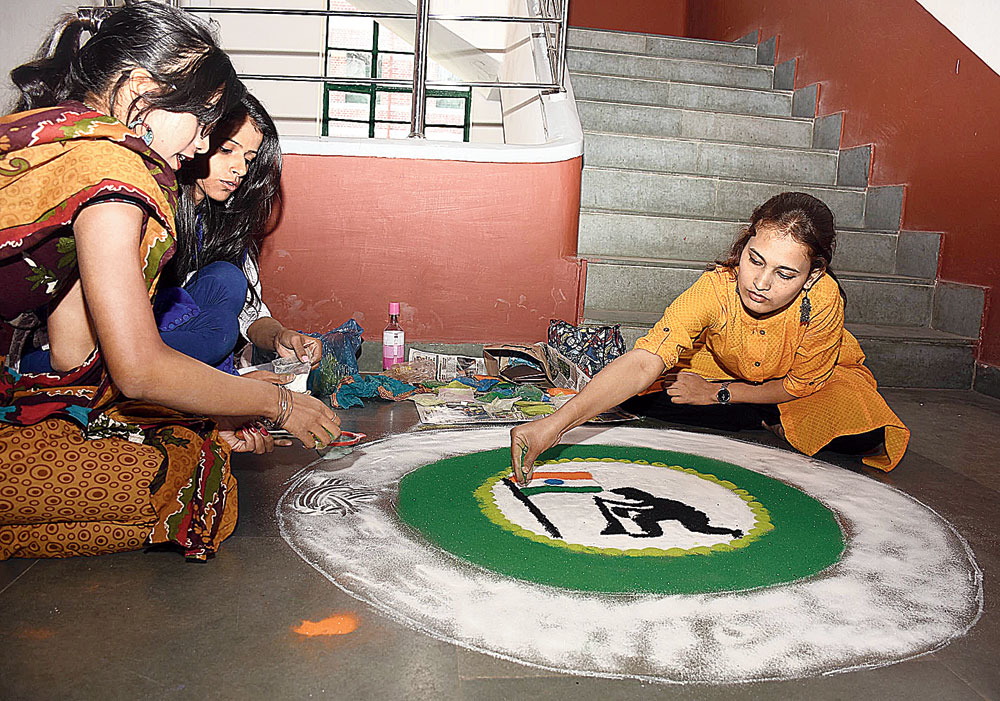 ---
|
Ranchi
|
Published 18.02.19, 06:50 PM
---
Around two dozen youths from rightwing groups outside St Xavier's College here on Monday demanded the college postpone its annual fest in the wake of the national outrage over the Pulwama attack, prompting its principal to tone down celebrations but also underline that he did not need to learn nationalism from protesters.
Sloganeering protesters from 1.30pm onwards thronged outside the college gates on Purulia Road with flags, demanding Xavier Utsav be held later or continue without song-and-dance and publicity. Protests stopped before 4pm, when college principal Emmanuel Barla agreed to remove publicity material and stop song-and-dance events, but also said the three-day annual fest that started on Monday would continue.
Scolding protesters, principal Barla also said he doesn't need to learn nationalism from them. "We have paid tributes to (Pulwama victim, slain CRPF cop from Gumla) Vijay Soreng and we have also promised free education for his children at our institute. What have you done for them? You people are unnecessarily creating an issue," he said.
Protester Sanjay said they objected to "high-decibel fun and frolic" at a time like this. "Good if they carry on with their debate, speech and painting contests, but not loud singing and dancing."
Another protester Deepak Kumar added, "This is one of Jharkhand's best academic institutions and it is not expected that they be insensitive towards our brave security personnel. No razzmatazz please."
The capital's premier college, which was supposed to hold a four-day annual fest from February 16, had postponed the event to Monday and pruned one day in deference to public sentiment after the Pulwama attack. Principal Barla said they held a condolence meeting and candle march on February 15, a day after a terrorist suicide bomber lunged his explosives-laden vehicle at a bus that was part of a CRPF convoy in Pulwama, killing at least 40 paramilitary personnel, including Soreng.
To prevent Monday's protest from snowballing into a law-and-order situation, OCs of two police stations, Kotwali and Lalpur, were present at St Xaviers campus with their personnel. Kotwali OC S.N. Mandal said the dispute had been amicably resolved. "The fest is on. But the college administration has removed banners, posters and the like. They also said they have no plan for any pomp and show during the fest," he said.