Students of the tribal and regional languages (TRL) department of Ranchi University will now have access to proper classrooms and seating facilities, courtesy a new building that was inaugurated by Governor Droupadi Murmu on Sunday.
Murmu, who is chancellor of all state universities, also inaugurated a newly constructed basketball court at the Morabadi campus in the presence of vice chancellor Ramesh Kumar Pandey, pro-VC Kamini Kumari, among others.
University officials said the three-storied building, built at a cost of Rs 3.25 crore, has nine classrooms and a large AC auditorium.
Expressing her happiness over the developments, Murmu said that the department was extremely important for Jharkhand. "The tribal and regional languages department is a significant component of Ranchi University which has the mandate to groom future scholars and academicians. I hope the spacious building will now enable the department to provide a better academic ambience to students," she said.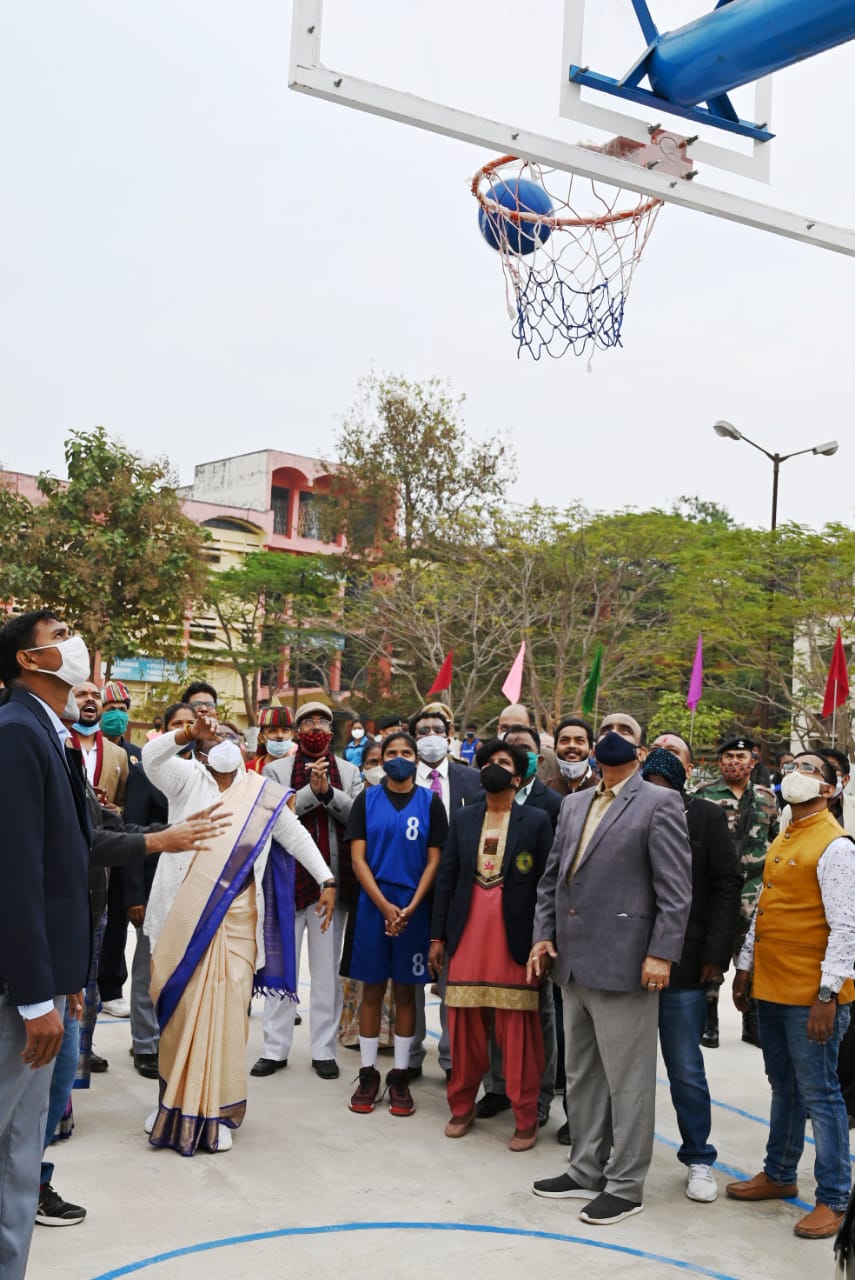 Governor Droupadi Murmu tries her hand at basketball after inaugurating a new court at the Ranchi University campus at Morabadi on Sunday. Telegraph picture
Set up in 1980, the tribal and regional languages department is one of the oldest of Ranchi University. It was set up to preserve the rich cultural traditions of Scheduled Tribes and other communities inhabiting this part of the country.
Currently, it has over 400 students pursuing courses in five tribal and four regional languages. The tribal languages on offer include Mundari, Santhali, Ho, Khadia and Kuruk. The department also offers four regional languages, namely, Kurmali, Khortha, Nagpuri and Panchpargania.
Head of the department Hai Oraon said the university had developed all the syllabi and teaching materials in the languages offered. "The new building was long-awaited. Now, we can have subject-specific classrooms for students. Also, we can host literary meets, our own festivals and activities at the new auditorium," he said.