Ranchi to get traffic cameras from new year
Cameras that can recognize number plates placed at strategic locations for test run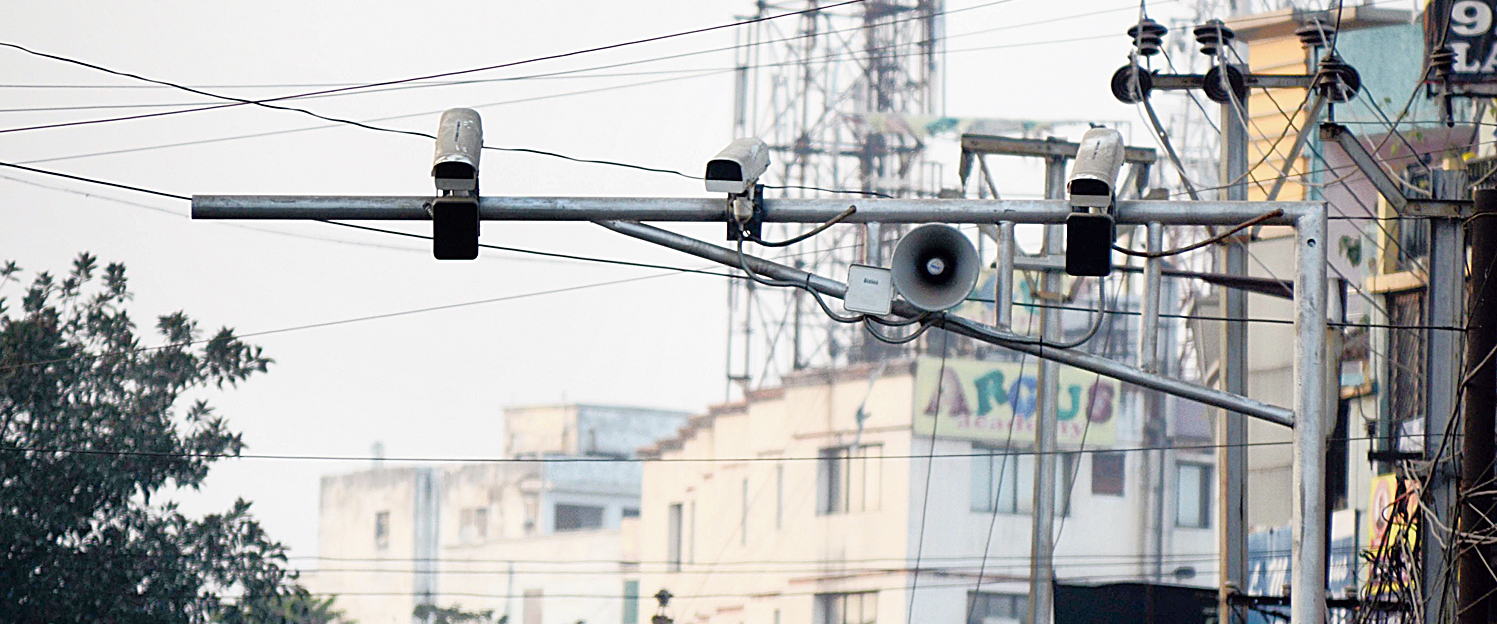 Automatic Number Plate Recognition cameras at Lalpur Chowk in Ranchi on Friday.
(Manob Chowdhary)
---
Ranchi
|
Published 07.12.18, 08:44 PM
|
---
Punishing red-light violators and managing traffic in strategic locations of the city will get automated from January 1 with the cops getting ready to test the high-tech cameras that have been installed across the city.
"Under Jharkhand Police's modernisation plans, Automatic Number Plate Recognition (ANPR) detection cameras have been put up at 16 strategic locations. We will test these gadgets from December 10 to December 31. This will help us in understanding whether the camera positions need adjustment," said city traffic SP Ajit Peter Dungdung on Friday.
"The photographs taken by the cameras will be checked by technicians. We will not impose red-light fines on defaulters during this period. But from January 1, offenders will be penalised," he added. Dungdung, however, made it clear that helmet-less and triple riders won't be spared during trial period.
The cameras have been placed at Birsa Chowk, Ram Mandir Chowk on Kanke Road, Sujata Chowk, Jail Chowk, Argora Chowk, Chandni Chowk (Kanke Road), Sarjana Chowk, Karamtoli Chowk, Shahjanand Chowk, Hinoo Chowk, Kutchery Chowk, Booty More Chowk, Ratu Road Chowk, AG More Chowk, Siromtoli Chowk and Lalpur Chowk.
The device, which is connected to a server, can capture pictures of bikes and cars along with the number plates. It can also enhance poor quality images. But these cameras are not meant to detect speed violations.
The ANPR cameras are powered by Optical Character Recognition technology to read the number plates of violating vehicles. The system will automatically generate challan for payment of a fine which will be sent to the violator.
"Speeding and rash driving are two kinds of traffic violations. Soon, the district administration will issue a circular notifying speed limits in different roads. There is also proposal to purchase handheld speed guns. Currently, cops manning control room are being trained on what is rash driving, wrong parking, dangerous overtaking and wrong U-turn," said an official of Ranchi traffic police.
It will be interesting to see the efficiency of these gadgets on the first day of 2019 when revellers will hit the streets on their vehicles in top gear.