Ranchi Smart City offers land at Re 1 for educational enterprises
Hemant govt hosts investors' meet, health sector players ask state to revise land rates for them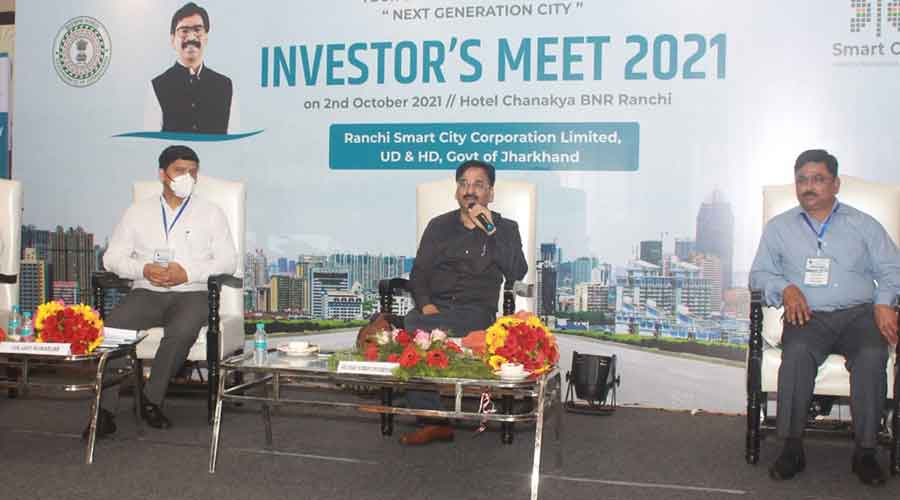 Officials brief propective investors.
The Telegraph picture
---
Ranchi
|
Published 02.10.21, 08:09 PM
|
---
Top ranking educational institutions of the country that would like to set up a campus at Ranchi Smart City, a project coming up in the HEC area of the state capital, will be given 25 acres of land at a token price of Re 1, Jharkhand government officials announced on Saturday at an investors' meet held here.
The meeting, which was piloted by the Ranchi Smart City Corporation (RSCCL) under the state urban development department and was held to brief prospective investors about the second phase of e-auction of plots , was  attended by about 100 people from real estate, hospitality, medical and education sectors.
 As many as 42 plots comprising institutional (10), commercial (16), public/semi-public (02) and mixed use (14), covering a total area of 218.03 acres, will be put for auction. A similar auction in the first phase was initiated in December last year which got completed in early 2021 during which 9 plots were sold.
CEO of RSCCL Amit Kumar spoke about the project in detail. "Everything starts with a vision. When we began this project, the state government's vision was to make it an educational hub. This is also the vision of the chief minister Hemant Soren. Therefore, we have decided to offer 25 acre land to educational institutions ranked 500 and below as per QS ranking of universities. In Bangalore, which is considered as an educational hub, the entire socio economy of the city hinges around this concept. Ranchi too has immense potential."
State urban development department secretary Vinay Kumar Choubey said besides education, medical infrastructure too was a priority. Highlighting why the smart city site would be the best bet for any investor, he said, "The existing city is saturated and the government is putting all its projects in this region, like, a new secretariat building, an IIM, host of banking entities, a mega residential project of 15,000-plus houses by the state housing board, among others."
Ranchi is among 100 cities selected by the Centre for India's Smart City Mission. In 2017, vice president M Venkaiah Naidu had laid the foundation stone, but work on the ground to set up basic infrastructure began only in 2019. The state urban development department, so far, has invested around Rs 800 crore for constucting facilities like a drainage system, command and control system and a  convention centre.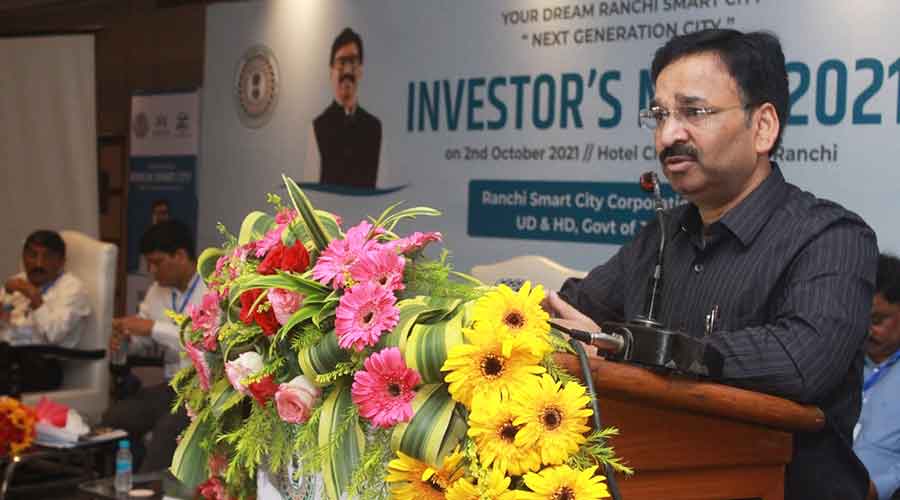 The entire project is set up across 657 acres in the HEC area of which 37 per cent has been earmarked for greenery and open spaces in the master plan. About 278.52 acres of land covering around 51 plots of various dimensions are initially being auctioned in various phases, said officials.
A few attendees, mainly from the medical sector, had some suggestions to offer. Dr Jogesh Gambhir, owner of Raj Hospital in Ranchi, advised the government to consider revising the land rates to encourage investments for hospitals. "For the medical sector, one of the terms for participating in the auction for plots is that the project should be of 500 beds. No hospital in Jharkhand is of 500 beds. This apart, making a 500-bed hospital viable isn't easily. A 300-bed hospital can be viable with an investment of Rs 60 crore initially. However, the plot rate here starts at Rs 70 crore, which needs serious reconsideration," he said.
Dr Suhas Chaturvedi, director of Harmu Hospital, criticised some aspects of the Smart City Plan. "A plot size of 11 acre is proposed for a medical college. But whoever prepared the plans should have known that at least 25 acre is mandated for a medical college by National Medical Commission (NMC). I have serious doubts... no private player will not want to come at a time when the state government is struggling to run its own medical colleges," he observed.