Ranchi's new buses turn old parked in terminus
RMC looking for operator, but no one wants to run buses with current fares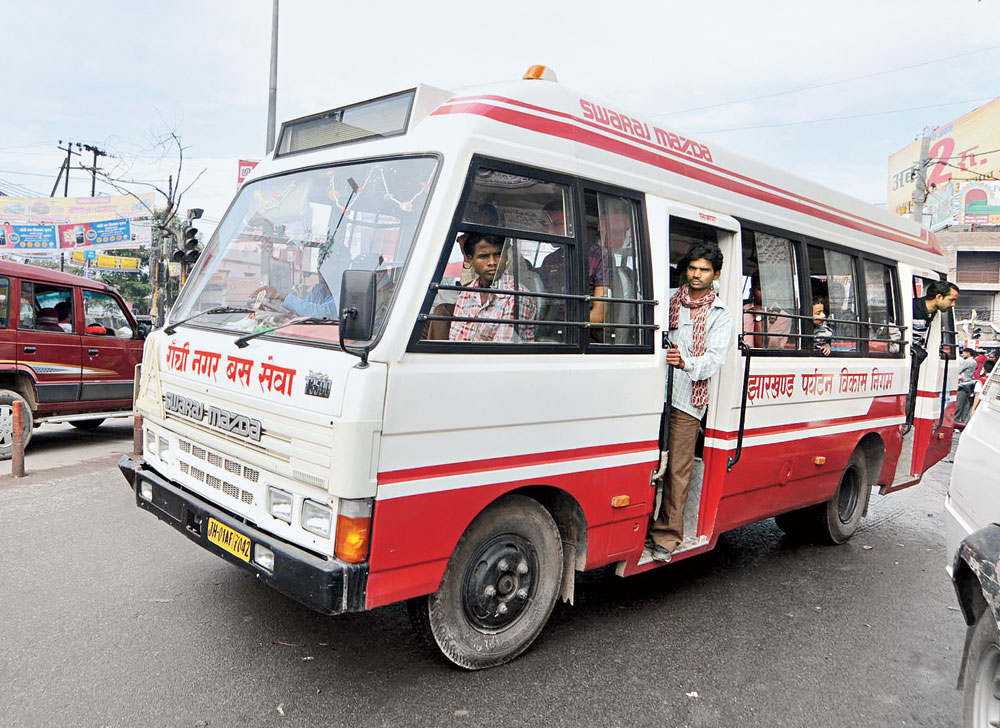 Load of losses: A city bus, which is among the fleet of 25 still plying on Ranchi roads, at Kantatoli earlier this month.
Telegraph picture
---
Ranchi
|
Published 27.11.18, 05:51 PM
|
---
As many as 26 city buses bought by Ranchi Municipal Corporation (RMC) and rolled out in June 2017, are lying idle at the Birsa Munda Bus Terminus at Khadgarha for over four months now as there are no operators to run them.
Prolonged disuse has meant that the diesel city buses, bought at a cost of Rs 3 crore from the left over funds of the 2009-10 urban transport scheme, Jawaharlal Nehru National Urban Renewal Mission (now AMRUT), have developed snags.
Also, the buses, flagged off in June 2017 by state urban development minister C.P. Singh and meant to augment the existing fleet of city buses, are falling prey to thieves who take advantage of lax vigil at the bus stand and take away tyres and other parts.
The RMC fleet of city buses has 91 vehicles. Apart from the 26 buses that are idling at Khadgarha, another 40 bought in 2010, when JNNURM was launched, were lying unused at the RMC depot that caught fire on November 20. Three of those buses were gutted, while a fourth one was partially burnt.
On road, there are only 25 buses now.
"The 26 city buses are lying at the Birsa bus terminus since May-June, eating into space meant for long-distance buses. We have no option but to park our buses on roads," said Krishna Mohan Singh, president of the Ranchi Bus Owners Association.
"It is usual for diesel buses to develop mechanical problems if they are left parked for months. We have also heard that miscreants are taking advantage of defunct CCTV cameras at the bus stand and entering the place at night to steal tyres of such buses," Singh claimed.
Significantly, the 26 new buses, each with 28 seats, plied primarily on three routes: Nagri to Ormanjhi via Bariatu, ITI bus stand to Dhurwa Golchakkar via Harmu bypass and ITI bus stand to Ranchi station via Circular Road.
But private transporter Suresh Singh, who had been contracted to run them, gave them up in early 2018, handing over 26 new buses and an equal number of old buses.
"Since then we have tried to invite tenders for running the buses several times, but none has turned up to operate the buses. We have kept the buses at a secured place at the Birsa Munda terminus," said RMC city manager (transport) Saurabh Kumar Verma.
He admitted they were idling, but said they had not received complaints that tyres were being stolen. "I will look into the issue," he, however, said when pressed for a comment.
Verma said RMC would zero in on an operator soon to run the new buses as well the other buses. That's because the operator running the 25 buses on the road has also refused to run them unless the RMC agrees to hike fares.
"We will soon hold a meeting. At the moment only 25 old city buses are running on the road. The existing operator, Kishore Mantri, has also threatened to handover the buses if his problems aren't addressed. The matter is being discussed at a higher level and a solution will be found soon," Verma said, adding that contract clauses were likely to be made lucrative to attract private operators.
Mantri said he was helpless. "I have no other alternative. I had planned to hand over the buses in the first week of November. But continued the service on the request of RMC officials. But my patience is wearing thin and if nothing happens within a week, then I will hand over all the 25 buses to RMC," he said.
The transport operator, who wants fares to be increased at least by Rs 2 in each slab, claimed there had been no revision since 2015 when he took over the city bus service. "But diesel prices have risen substantially," Mantri said, adding that he was unable to sustain the operation due to losses.