Ranchi protest plan against atrocities on Christians, church vandals
District administration is providing all essential items to the over 110 people staying at the indoor stadium, says Narayanpur collector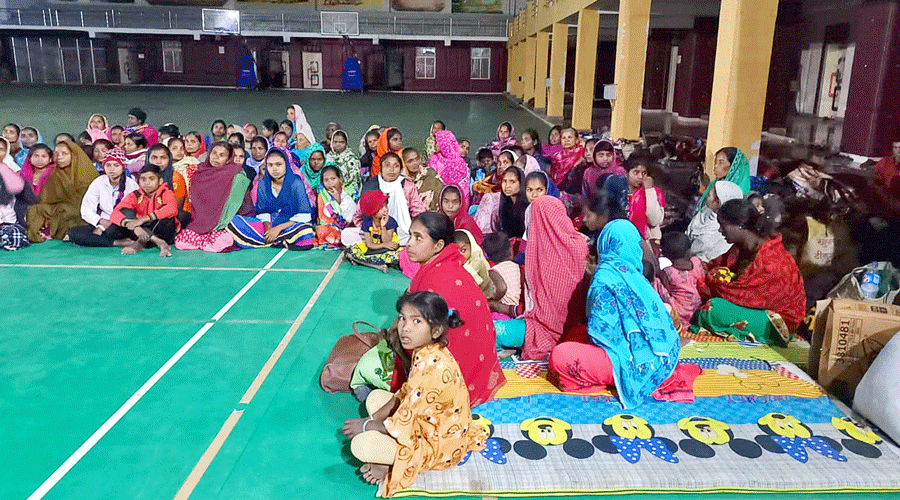 Villagers at the indoor stadium in Narayanpur, Chhattisgarh.
The Telegraph
---
Jamshedpur
|
Published 15.01.23, 02:46 AM
|
---
Christians and people from other communities will stage a protest rally on January 15 in Ranchi against atrocities on Christians and vandalism of churches in neighbouring Chhattisgarh.
The rally to be taken out under the aegis of the Jharkhand Christian Youth Association Kendriya Samity will begin from the GEL Church Compound and end at the Morabadi ground. An effigy denoting the Chhattisgarh government will be burnt before the protesters hand over memorandums to Jharkhand governor Ramesh Bais and chief minister Hemant Soren.
"We deliberately waited for a few days before taking out the protest rally so that things settle down a bit in Chhattisgarh as we did not want to add fuel to the heated situation. However, the manner in which the administration ignored pleas of Christians and churches since early December about plans to attack community members and their places of worship shows that the administration has developed weak knees before those groups who indulged in violence on January 2 and January 3 at Narayanpur in Chhattisgarh. We want to register our protest against such an attitude of the district administration and the Chhattisgarh government in a peaceful manner," said the president of the Samity, Kuldeep Tirkey.
He said that even after an FIR was lodged, only five persons had been arrested. Groups of tribals have been targeting Christians in Chhattisgarh, with allegations being raised that the tribals had been instigated.
"We have come to know that the local police were even hesitant to lodge an FIR and it was registered only after a senior police officer got injured in the scuffle (between church vandals and cops at Narayanpur on January 3). So far only five persons have been arrested. This is the reason we are going to burn effigies of the Chhattisgarh government and the Narayanpur administration at Morabadi," Tirkey said.
The Samity will also send a team to Narayanpur with relief materials.
"A team will leave for Narayanpur after the rally with whatever contributions we can collect from sympathisers of those people staying at the camp in the indoor stadium at Narayanpur," said Tirkey. Many Christians have fled their homes in Narayanpur and have been put up at a camp by the administration.
The Samity members said invitations had been sent to all religious leaders and social organisations in Ranchi to attend the rally.
"The rally will be attended by members from churches of all denominations and also from other religions who express solidarity with the atrocities committed against Christians during the festive season of Christmas," Tirkey said.
Narayanpur collector and district magistrate Ajeet Vasant said over 110 people were staying at the indoor stadium in Mahaka.
"The district administration is providing all essential items to the over 110 people staying at the indoor stadium. We have held several rounds of discussions with village elders and tribal chiefs of the local villages...," Vasant said.