Ranchi police lapses led to Lalu getting a phone, says jail probe report
Cops at RIMS did not frisk visitors, notes Birsa prison superintendent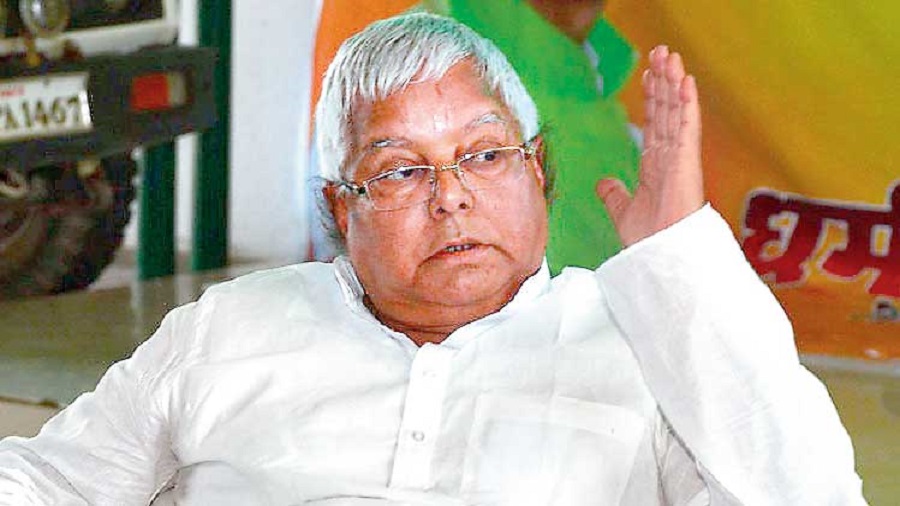 RJD chief Lalu Prasad who is now at the centre of controversy over an alleged phone call.
Telegraph picture
---
Ranchi
|
Published 29.11.20, 07:29 PM
|
---
Birsa Munda Central Jail authorities have blamed policemen deployed RJD chief Lalu Prasad's security at Rajendra Institute of Medical Sciences (RIMS) for violating the jail manual, which eventually led to Lalu gaining access to a mobile phone while in judicial custody.
However, the jail authorities did not specify if the voice in the viral audio clip released by BJP leader Sushil Kumar Modi was that of Lalu.
Birsa jail superintendent Hamid Akhter submitted a report to Ranchi deputy commissioner Chhavi Ranjan on Sunday, basically saying that Lalu may have got access to a mobile phone due to lapses in his security – a responsibility of Ranchi police.
None of the jail officials was willing to speak to the media about the issue on Sunday, claiming the matter was "sensitive" and under investigation. However, a senior jail official, requesting anonymity, said the mobile phone reached Lalu exactly the way mobile phones reach jail inmates across India. "It is mostly due to poor checking by security guards that mobile phones reach jails in India. The same thing happened in Lalu's case as well," he said.
The Ranchi deputy commissioner had on Friday sought a report from the jail superintendent within 24 hours on the circumstances under which Lalu got access to a mobile phone. As per the jail manual, a prisoner is not allowed to use mobile phones while he or she is in judicial custody.
The jail superintendent's report states that the policemen deployed for Lalu's security should have frisked all visitors properly. Cops deployed at the gate of Kelly's Bungalow, where the former Bihar CM was staying, should have also kept an eye on the activities of those visiting Lalu, the report further states.
A controversy over alleged phone calls by incarcerated Lalu Prasad to BJP MLAs in Bihar was triggered after former Bihar deputy chief minister Sushil Modi released a purported audio clip alleging that one of the voices in it was that of Lalu.
In the audio clip, one person is heard making assurances of a ministerial berth to BJP MLA Lalan Paswan in return for support to the RJD during voting for the Bihar Assembly Speaker. "Be absent from the Assembly on the day the Speaker is chosen. Tell people that you have Corona," the voice in the audio clip says. "If the speaker is on our side, then we will topple the government," it further states.
A PIL was also filed against Lalu in Jharkhand High Court over the audio clip. The next day, the high court deferred the hearing for Lalu's bail plea to December 11.
A CBI court on December 23, 2017, convicted Lalu in a fodder scam case related to fraudulent withdrawal of Rs 89 lakh from the Deoghar treasury between 1991 and 1994 and sent him to jail. A month later, he was convicted in another fodder scam case and sentenced to five years of imprisonment.
Lalu was admitted in the cardiology wing of RIMS the next year after he complained of discomfort while serving imprisonment in the Birsa Munda Central Jail in Ranchi. Since then, he has been undergoing treatment at the hospital. In 2018, he was referred to All India Institute of Medical Sciences (AIIMS) in New Delhi from where he was later discharged and sent back to Ranchi.