RMC rap on errant trash truck drivers
Many tractors carrying lesser quantity of garbage than the stipulated 800kg, hence payment withheld by RMC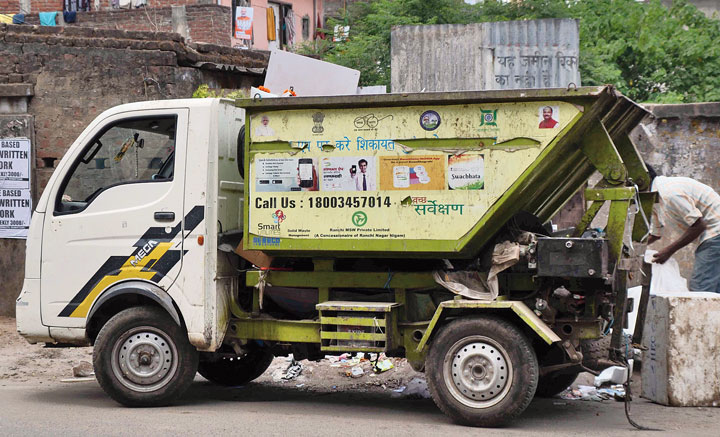 ---
|
Ranchi
|
Published 15.12.19, 09:42 PM
---
Ranchi Municipal Corporation (RMC) has withheld the payments of 28 tractor drivers who were found to be transporting less than the mandated 800kg of waste per trip to the disposal site at Jhiri in Ratu every day.
"According to the rule, a tractor has to carry at least 800kg of trash in one trip. But it was found that many tractors were carrying lesser quantity of garbage and hence their payments were withheld," a senior official of RMC said.
A tractor driver is paid Rs 333 for carrying 800kg of trash, collected from both households and public places, to the dumping site.
RMC deputy municipal commissioner Shankar Yadav confirmed the development and said the civic body had also warned the tractor drivers to improve their service.
The civic body owns 14 tractors and has outsourced 150 more from private owners.
"Usually, each tractor driver makes two trips to Jhiri per day and get Rs 333 for each trip. We had conducted a random check and found out that some of the tractor drivers were carrying less quantity of garbage per trip," Yadav said.
The deputy municipal commissioner said some tractors were found to be smaller in size or damaged.
"Their owners have been asked to replace the vehicles and given time to improve their service. Our objective is to ensure the collection garbage from at least 90 per cent households on a daily basis for which strict monitoring is required," Yadav added.
Ranchi generates nearly 700 tonnes of solid waste per day.
RMC commissioner Manoj Kumar has recently taken strong measures to ensure proper garbage collection.
Earlier this month, unimpressed by the RMC health section's claims of collecting trash from 90 per cent houses under 53 wards daily, Kumar had decided to withhold the salaries of ward supervisors till they met the target.