Ranchi, Jamshedpur zoos on bird flu alert
According to the Birsa zoo vet, they have been on alert since suspicions of bird flu surfaced at Patna zoo last Thursday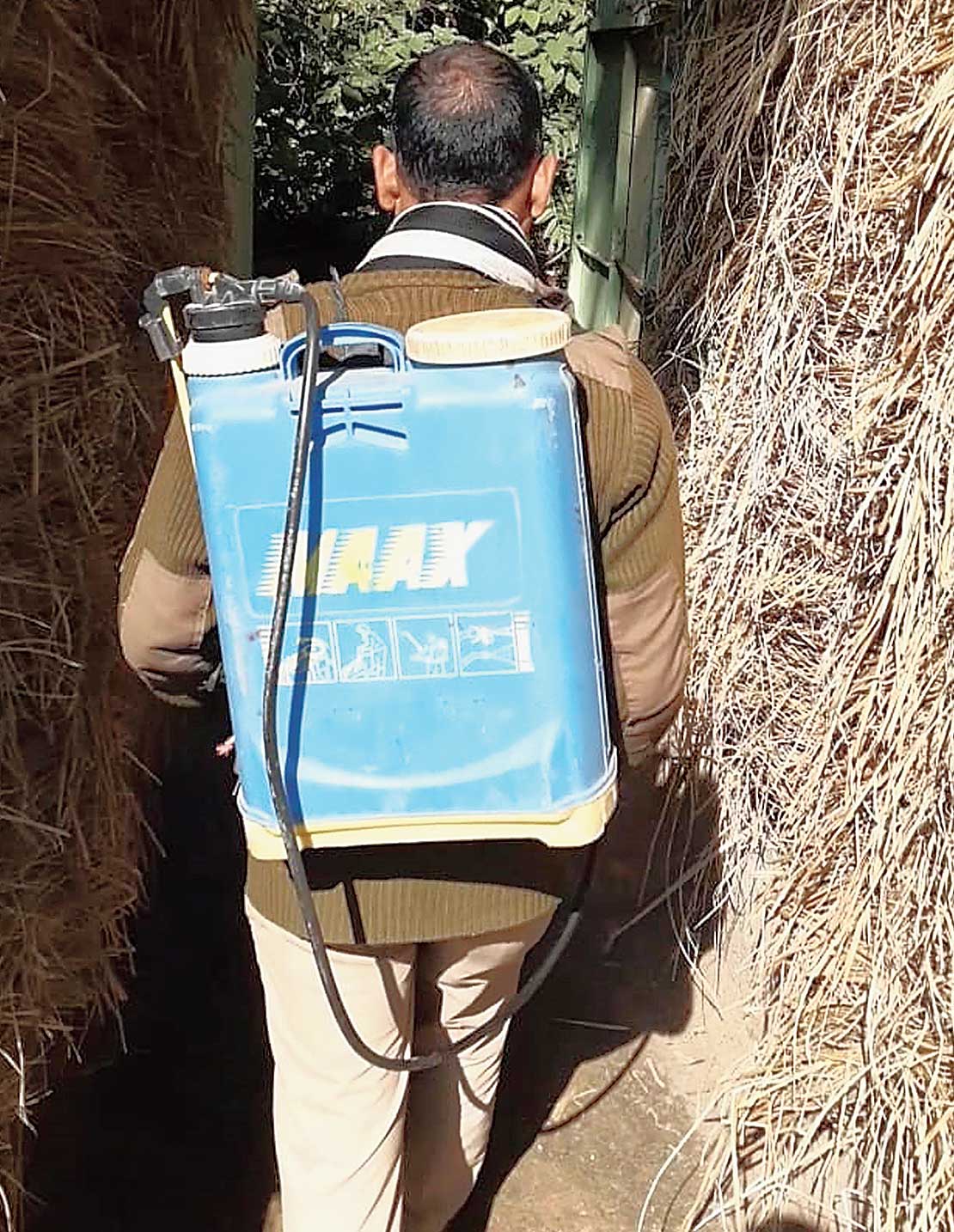 A worker sprays disinfectants at Birsa zoo in Ranchi on Wednesday.
Telegraph picture
---
Ranchi
|
Published 26.12.18, 07:36 PM
|
---
Bird flu confirmation in the death of six peacocks at Sanjay Gandhi Biological Park in Patna, Bihar, has prompted authorities at Birsa zoo in Ormanjhi, 20km from here, to step up vigil against the H5N1 virus responsible for avian influenza.
Veterinarian Ajay Kumar said they were sprinkling hydrated lime (chemically calcium hydroxide) and spraying herbal disinfectants as precautionary measures.
"We have 600 birds of various species, and all are safe as of now. But, we are not going to risk a chance. Besides disinfecting the aviary premises, we are assessing health of inmates on a regular basis," Kumar said, adding that he had doubled the frequency of his visits.
The Patna zoo was closed to visitors from Tuesday, a day after the National Institute of High Security Animal Diseases (NIHSAD) in Bhopal determined avian influenza in the samples of peacocks sent. The dead birds have been buried and the remaining ones quarantined.
According to the Birsa zoo vet, they have been on alert since suspicions of bird flu surfaced at Patna zoo around last Thursday. Earlier, he visited the aviary once a day. Now, he visits twice.
"Hydrated lime, also called slaked lime, is a good chemical disinfectant. It is being sprinkled on walkways accessible to zoo visitors. The herbal disinfectant, on the other hand, is being used inside enclosures where visitors cannot go. Earlier, disinfectants were used once a week. Since December 20, they are being sprinkled and sprayed every alternate day," Kumar said.
The vet has tweaked the avian diet plan too. "We have started giving vitamins A, D3 and E, besides immune modulators. Immune modulation is more than just boosting the body's immunity. It involves bringing the ratio of different immune cells back into balance to enable the immune system to function correctly," he explained.
Tata zoo in Jamshedpur on Wednesday launched preventive care for animals in the wake of the bird flu.
Zoo deputy director and vet Manik Palit said they usually took disease preventive measures from time to time, but had started giving boiled chicken to carnivores as a precautionary measure.
This is the first incidence of bird flu at Patna zoo. Government guidelines designate any area within a kilometre's radius from the bird flu site as "infected zone" while the stretch between 1km and 10km is marked as "surveillance zone".
The 153-acre Patna zoo shares its boundary with the Raj Bhavan. It is also located across the road from Bihar chief minister Nitish Kumar's 1 Aney Marg official residence, besides being close to the airport.