Ranchi-Delhi Rajdhani express escapes narrowly after landslide
No passenger hurt, train stays on track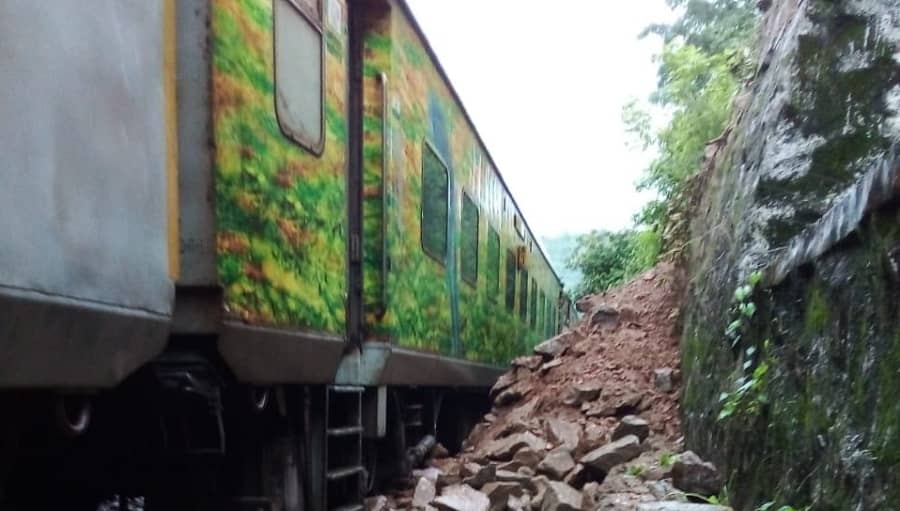 ---
Dhanbad
|
Published 19.06.21, 12:18 PM
|
---
Passengers of New Delhi Ranchi Rajdhani Special (02242) Express had a narrow escape this morning at around 5.17 am when a landslide and resultant movement of boulders on track damaged the engine of the train halted its movement.
The incident took place at Baskatwa hut-Nathganj section of Dhanbad division, around 140 km away from Dhanbad station
Though neither the train got derailed nor any passenger was injured in the incident, the movement on the track remained suspended for more than three hours and resumed only after Dhanbad Division authorities cleared the rubbles from track at around 8.05 am.
Movement of two other trains, including New Delhi Sealdah Rajdhani special (02314)  and Ghazipur City-Kolkata Express (03126)  were also affected for some time as these trains were left stranded at Nathtang and Gurpa stations respectively.
New Delhi Ranchi Rajdhani  Special however finally departed from Nathganj at around 8.16 am for koderma while New Delhi Rajdhani Sealdah Express departed at around 8.20 am from Gurpa station.
Rajesh Kumar, Chief Public Relation officer of East Central said, "At 5.17 am Permanent Way Inspector of Gujhandi reported the incident, due to which Loco (engine) of Ranchi Rajdhani special was damaged."
Notably, the 22 km Gurpa Gujhandi section  which is 10 away from koderma is a slope where the Koderma plateau gradually meets the Gaya plain, making it one of the most vulnerable section of Dhanbad division to landslides..
 As a part of monsoon preparation drive, Dhanbad division besides carrying out regular patrolling in landslide prone areas to anticipate felling of boulders and rocks on the tracks, also implements drain cutting in a bid to avoid water logging which may cause damage to the track.
The coal ore spilling down from the racks of goods trains contaminating the trackbed on which railway sleepers are laid are also cleared by railway as part of monsoon preparation to avoid damages.
This apart cess repairing work or the embankment repairing work by putting ash bag, sand bag or even stone chips near the railway track is carried to fill the gap between the tracks to avoid flow of water beneath the track.