Ranchi civic body revives abandoned park in 75 hours
Situated near the Raj Bhavan, it had turned into a space for throwing waste and had dense wild shrubs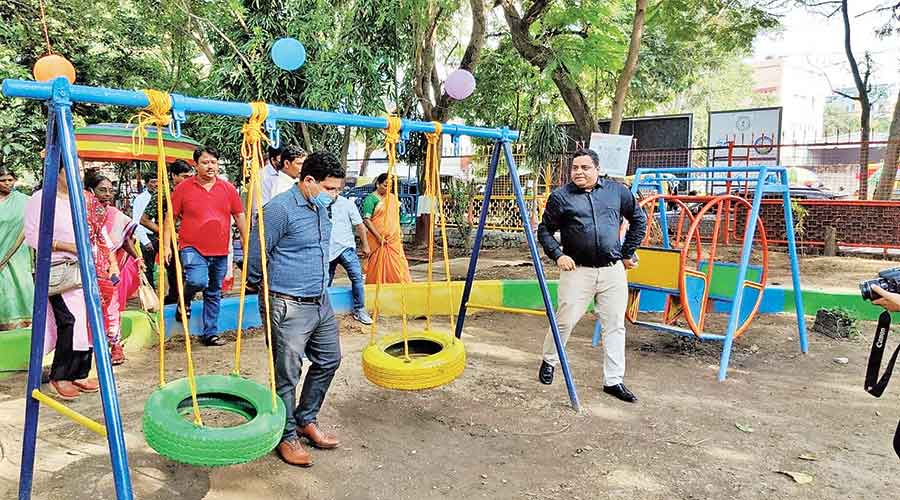 RMC commissioner Mukesh Kumar (right), along with others, take a look at the renovated Zakir Hussain Park in Ranchi.
Manob Chowdhury
---
Jamshedpur
|
Published 08.10.21, 12:08 AM
|
---
Ranchi Municipal Corporation, the civic body of Jharkhand capital Ranchi, revived a park abandoned for over eight years in only 75 hours in a rare instance of alertness.
The modification of the park situated near the Raj Bhavan which had turned into a space for throwing waste and had dense wild shrubs, into a recreation park was done following the directive of Jharkhand chief minister Hemant Soren in August.
The decision to transform the park into a clean, modern, breathable, relaxing place full of amenities within 75hours was taken on August 15, 2021.
Sunil Yadav, a local ward member, said: "This park used to be a place of attraction in the area. It is close to the district collectorate and district court premises and is the posh address of the capital city. People coming from different parts of the district to get their work done at the collectorate or court used to come and relax in the park. However, due to lack of maintenance and neglect, the park was abandoned. Gradually it became a dumping place of waste and had wild shrubs growing all over. After a while, no one would want to come and the park was closed and deserted."
The local ward member further said this park was selected for development as Dharna Sthal.
"However, this would have disturbed the local residents as it would have only been used for agitation. We are grateful to the RMC officials for transforming the park and restoring its beauty" said Yadav.
"On the occasion of 75th Independence Day, Aazadi Ka Amrit Mahotsav, we took this challenge to transform this deserted park into a place of activities within 75hrs. During the process, a part of the park has been developed as a spice garden, wherein, more than 100 saplings of 10 different types of spices have been planted. Waste materials like tyres, plywood and other scrap materials have been used in a major part of renovation work done inside the park," said RMC commissioner Mukesh Kumar.
"Apart from the cleaning, few parts of the park have been restored to its original condition, such as an old railway track of toy trains surfaced during the renovation work. We tried our best to restore it to its original condition. To make the park a child-friendly space, a colourful touch has been added in every corner. A dedicated play area has been created for children," said Mukesh Kumar.
Additionally, RMC also has plans to open up a space inside the park where guests can have some snacks and refreshments.
"We are planning on finding a way to ensure that the park remains a plastic waste-free space and sets an example for other parks in the city and state. This was a tedious target to achieve, but we worked on a mission mode to meet the deadline. More than 100 personnel were involved in the process. This was a joint effort of our officials, our support staff, our cleaning staff, everyone," said RMC commissioner.