Ranchi civic body dispensaries in a mess (and it eyes smart city tag)
3 dispensaries run by RMC at Kokar, Pathalkudwa and Pahari Tola have almost no manpower and infrastructure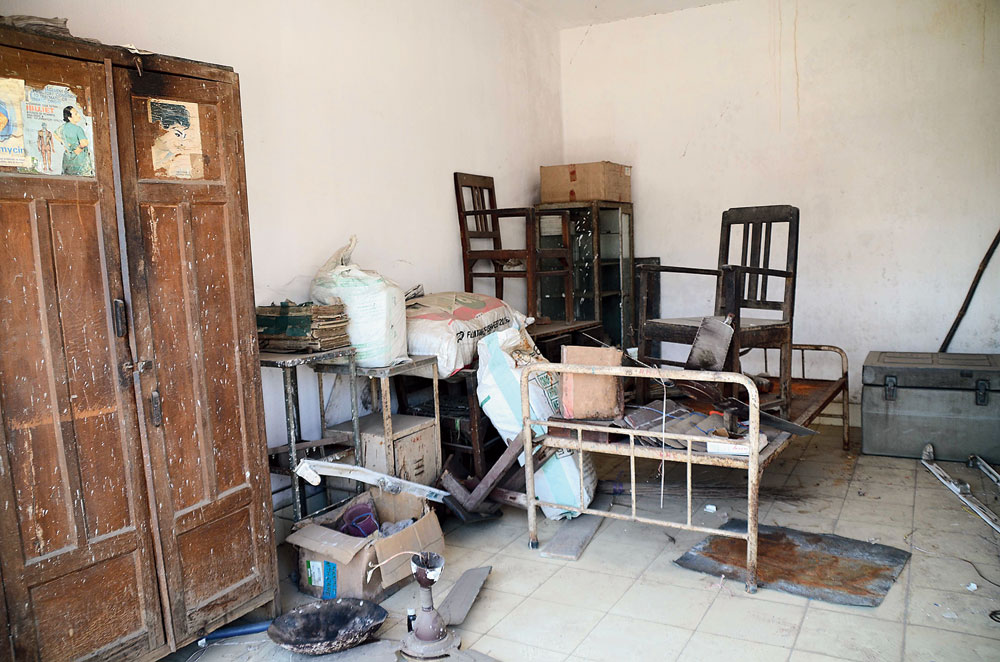 Ailing: The RMC dispensary at Pahari Tola in Ranchi on Tuesday.
Picture by Manob Chowdhary
---
Ranchi
|
Published 22.01.19, 06:37 PM
|
---
Dispensaries are ailing in neglect even as the municipal corporation in the capital is focusing on everything from roads and marts to toilets and drains under mission Smart City.
A close look at three dispensaries run by Ranchi Municipal Corporation (RMC), at Kokar, Pathalkudwa and Pahari Tola, revealed both manpower and infrastructure in tatters.
Dispensaries at Kokar and Pathalkudwa, 3.5km apart from each other, were found shut by this correspondent. Trader Karanlal Paswan, who runs a shop beside the shut dispensary at Kokar, told The Telegraph photographer on Tuesday that the facility had not opened in the last four years.
At Pahtalkudwa, locality resident Manoj Ekka called the dispensary a "haunted house". "It has not been opened for the last five years, but earlier people in the locality used to depend on it," Ekka said.
The dispensary at Pahari Toli was open but had a bed used a table. No doctor could be found.
"Except an ointment and some painkiller, you won't find anything. The building is being used as an immunisation centre, nothing else. I came here for medical advice after I noticed rashes on my three-year-old daughter's body but the doctor is not here. I was advised either to go Sadar Hospital or RIMS," resident Sangeeta Kumar said.
Asked, compounder Rajendra Kumar Mahto said, "The doctor comes here occasionally." He, however, was tight-lipped when asked when was the last time he'd seen a doctor here. "You talk to senior RMC officials about it. I am a small fry," Mahto said.
RMC medical officer Dr Kiran Kumar readily admitted the problem.
"RMC has a sanctioned strength of three doctors but except me there is no doctor here. As I have to do many administrative jobs besides providing medical services, we are not in a position to run all dispensaries. But the Pahari Tola dispensary is running and I often go there. For other two, I have asked municipal commissioner to arrange doctors," Dr Kumar said.
Municipal commissioner Manoj Kumar said he was making an effort to revive all the dispensaries. "I have decided to take help of Red Cross or any voluntary organisation to run the defunct dispensaries," he said.