Terminus gift-wrapped with trash
Rs 15 crore was spent on revamp in 2015, but pride of Jharkhand capital is an eyesore today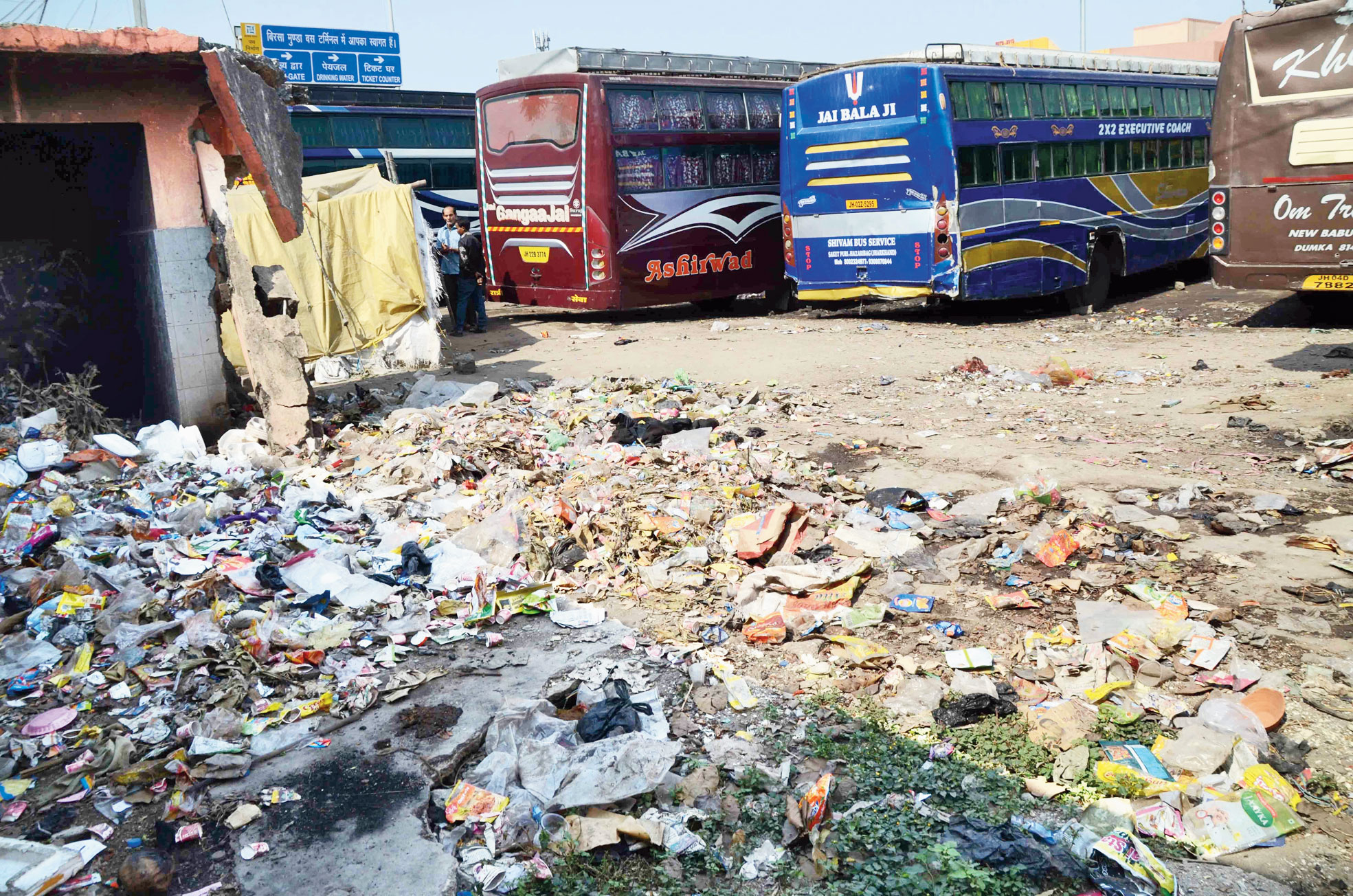 ---
|
Ranchi
|
Published 17.11.18, 06:25 PM
---
The state's biggest and most modern bus terminus in the capital — Birsa Munda Bus Terminus at Khadgarha — is grappling with mounds of garbage and defunct CCTV cameras.
The 18-acre terminus, revamped at a cost of Rs 15 crore and dedicated to the masses by chief minister Raghubar Das in November 2015, is littered with plastic, thermocol and rotting edibles all along the bus bays. Dirty water from nearby drains overflow on several stretches of the terminus.
At the control room on the ground floor of the G+1 building, of the 35 CCTV cameras installed by a private agency in January 2017, 10 don't work, making it easy for thieves to steal bus tyres from strategic areas, transport authorities said.
Over 400 buses for Bihar, Uttar Pradesh, Odisha, Bengal, Chhattisgarh and various districts of Jharkhand operate daily from the terminus where passengers are aghast to see the sea of dirt.
Shanti Devi, a homemaker from Kokar in Ranchi, who was at the bus terminus to board an AC bus to Muzaffarpur in Bihar on Saturday, said a dirty plastic bag flew in the wind and touched her. "I felt like vomiting, it was so unpleasant," she said. "I could see waste littered all along where the buses were parked. Authorities should ensure proper upkeep of such a beautiful infrastructure made with so much money."
Krishna Mohan Singh, president of the Ranchi Bus Owners Association, pointed out how tyres were stolen by thieves taking advantage of defunct CCTV cameras. "Also, ladies complain of eve-teasing. Without cameras, mischief-mongers feel emboldened," he said.
Bus owners rued that civic guardian Ranchi Municipal Corporation (RMC) did not monitor functioning of the outsourced agencies entrusted to repair CCTV cameras and clean the terminus.
"RMC charges Rs 100 daily from each bus plying from the terminus. Earnings would be not less than Rs 1.5 crore annually. But there is little monitoring by RMC officials on the activities of outsourced agencies for security and sanitation at the sanitation. We've brought the matter before RMC officials many times, but nothing has been done," Singh said.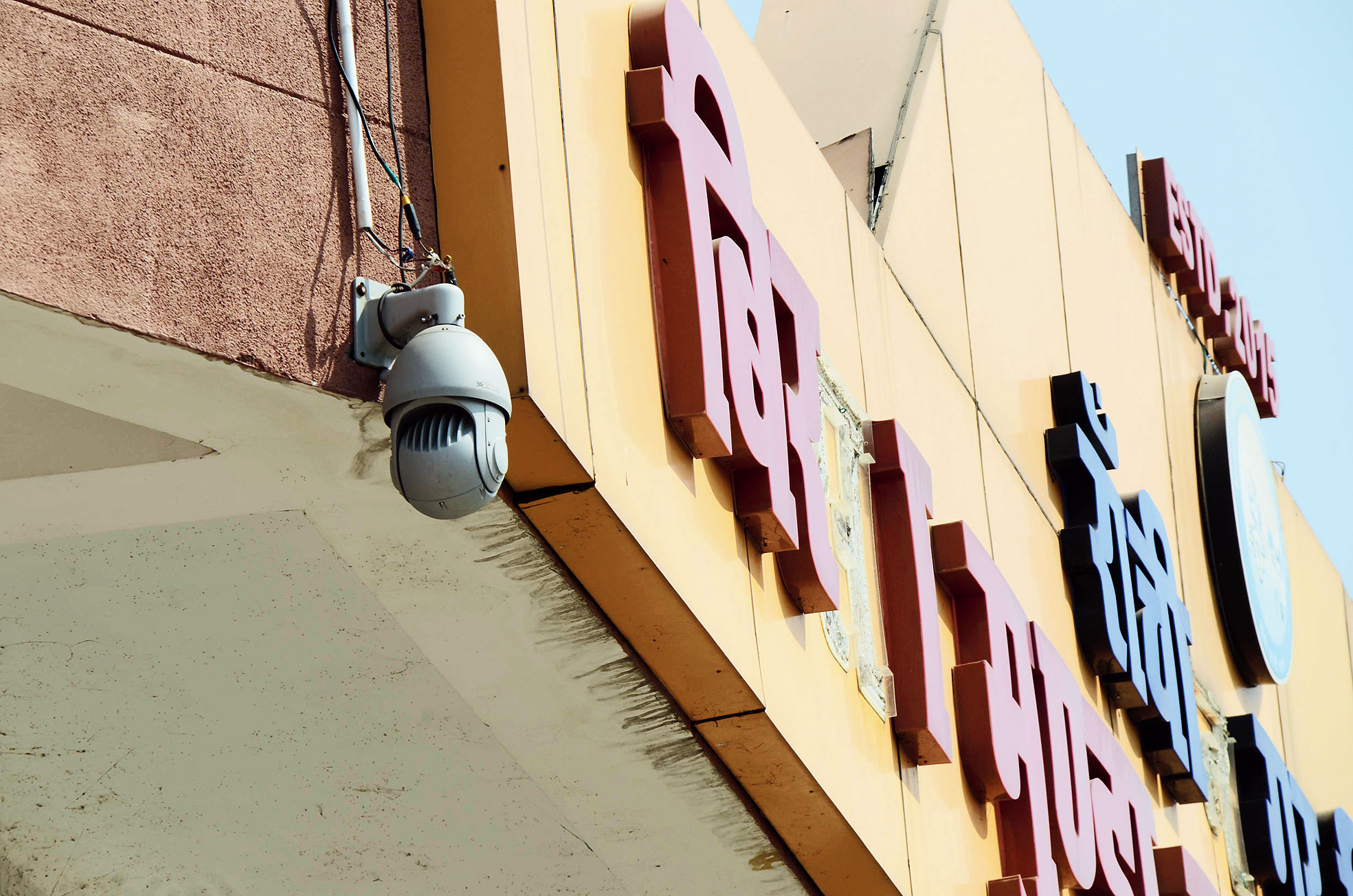 The ground floor boasts shops, a dozen booking counters, four ticketing windows, two enquiry counters, food plazas and drinking water kiosks each, and separate toilets for men and women.
Tier one houses dormitories and a Yatri Nivas. A total of 19 bus bays have been constructed at the rear of the terminus. But, as the number of buses is too huge, they are seen parked here and there and even on parking spaces meant for bus repair.
Asked, RMC city manager Vikas Shukla promised remedial measures. "We have received complaints about cleanliness and have asked outsourced agency to clean the waste on a war footing. Waste generation increased recently due to sudden spurt in passengers for Chhath. We will also crack down on unauthorized vendors and makeshift shops who litter the terminus with waste. Defunct CCTV cameras will also be repaired at the earliest," Shukla said.