Ranchi city bus service nears full stop
Operator likely to pull out next week over low fares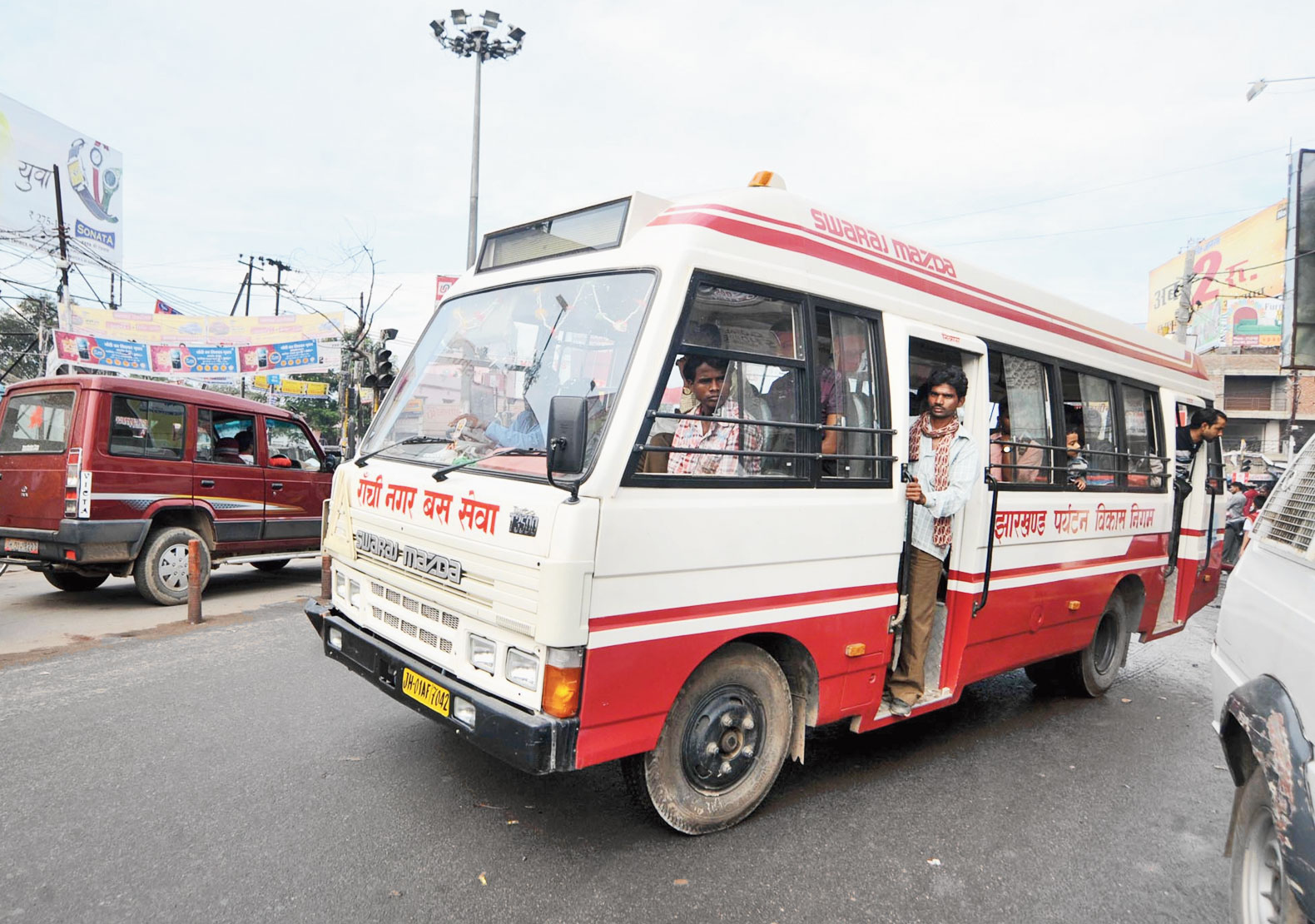 Last ride? A city bus on Kantatoli Road in Ranchi
Telegraph picture
---
Ranchi
|
Published 01.11.18, 06:40 PM
|
---
City bus service in the state capital may come to a grinding halt from November 6 because the private operator is unwilling to renew its contract with RMC, citing hefty losses in the wake of spiralling diesel prices and no respite in terms of fare revision.
KM Associates, owned by Kishore Mantri, runs a fleet of 25 rickety buses. The agency had sent a three-month notice to the corporation, seeking termination of the agreement. The notice expired on Wednesday.
Mantri said the RMC had requested them to continue the bus service till November 5 so that the corporation had time to reconsider their fare revision demand. On Thursday, the agency operated 10 buses, stating that the rest were in workshop for repairs.
"The bus fares have not been revised in the past three years. When we took over in 2015, the diesel price was around Rs 50 per litre. Now, it is Rs 75 a litre. For six months, we have repeatedly been requesting fare revision, but the RMC ignored our pleas," Mantri said.
On Wednesday, the agency boss visited the RMC office in Kutchery to return papers and seek final settlement of dues. "But, civic officials urged me to hold on till coming Monday," Mantri added.
KM Associates wants the corporation to raise the city bus fare by Rs 2 in each slab. Currently, the fare up to 6km is Rs 5; for 7-10km it is Rs 10; for 11-18km it is Rs 15; and the maximum of Rs 20 is charged for 19-30km.
On an average, 15,000 people use this cheaper-than-auto public transport lifeline every day. Their numbers swell during festivals. The RMC charges Rs 330 per day per bus while the operator is responsible for maintenance, repair, fuel and salary of drivers/khalasi/conductor.
"We are incurring heavy losses. Even when there is a bandh in the city or when festivals like Durga Puja affect services, we have to pay the RMC as per agreement. To compound our woes, the civic authorities do not provide parking space or garage for maintenance," Mantri complained.
As many as 70 buses were sanctioned for Ranchi in two phases since 2010 under the then Jawaharlal Nehru National Urban Renewal Mission (now known as AMRUT).
Of the 45 buses procured in the first phase, KM Associates is operating 25. The remaining 19 are lying defunct. In the next phase, 25 buses were procured. These have remained grounded because the RMC failed to find a suitable operator.
Assistant municipal commissioner Jyoti Kumar Singh confirmed that KM Associates had expressed its unwillingness to continue the contract with RMC. "The (municipal) commissioner is expected to take up the matter within a couple of days. The operator has demands, including fare hike. The matter will be looked into," he said.