Brawl at RIMS in Ranchi over post-exam party
Police step in to pacify seniors upset with celebrations by 2019 MBBS students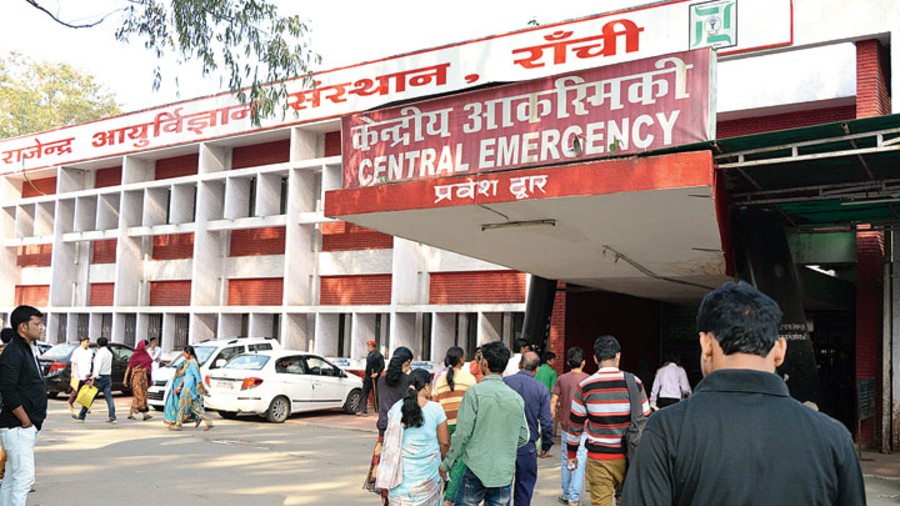 ---
Ranchi
|
Published 05.09.21, 04:10 PM
|
---
A brawl broke out between two groups of undergraduate medical students at Rajendra Institute of Medical Sciences (RIMS) in Ranchi on Sunday morning over an alleged post-exam celebration by junior students which became "too loud" for  seniors preparing for PG NEET, police said.
Cops from the Bariatu Police Station had to rush to the college campus and pacify the two groups of students and prevent the situation from escalating.  
 "Our PCR van was already in the RIMS campus when the scuffle started. Cops from our police station also rushed to the spot to keep the situation under control," said a sub-inspector at Bariatu Police Station, Pankaj Pramanik.
Police sources said that initially the two groups clashed when final year students allegedly ragged their juniors after getting disturbed by their loud celebrations. Later, a group of junior students demanded a formal apology from their seniors for allegedly harassing them, police said.
"Representatives of both the groups have held talks in our presence, and the situation was under control by afternoon," said Pramanik.
According to sources at RIMS, the brawl started between students of hostel number two-three and students of hostel number four. The junior students recently appeared for their supplementary papers and were on a celebration spree at the hostel, while the seniors were preparing for PG NEET, which is scheduled to be held on September 11, sources said.
"We were celebrating with our batchmates. None of us disturbed the seniors, so their attempts at trying to school us on maintaining academic environment at the hostel was uncalled-for," said a junior student.  
Even though the situation was under control by afternoon, police personnel were deployed at the hostel to prevent any further face-off between the two groups, police said. Local police also made regular announcements on loudspeakers, requesting the students to maintain peace.
Thisr is not the first time that junior and senior students have clashed at the state-run medical college. In 2019, a group of junior and senior MBBS students had reportedly clashed over a beer party organised by the juniors at the hostel.
A RIMS source said that alcohol consumption during such celebrations was common at the RIMS hostel, but went unnoticed. There was a brawl on Sunday because the senior students got disturbed by the loud celebrations and decided to give a piece of their mind to the juniors, he added.