Ranchi bans liquor, tobacco consumption at tourist spots
Tourism volunteers issue slew of safety guidelines ahead of Christmas and New Year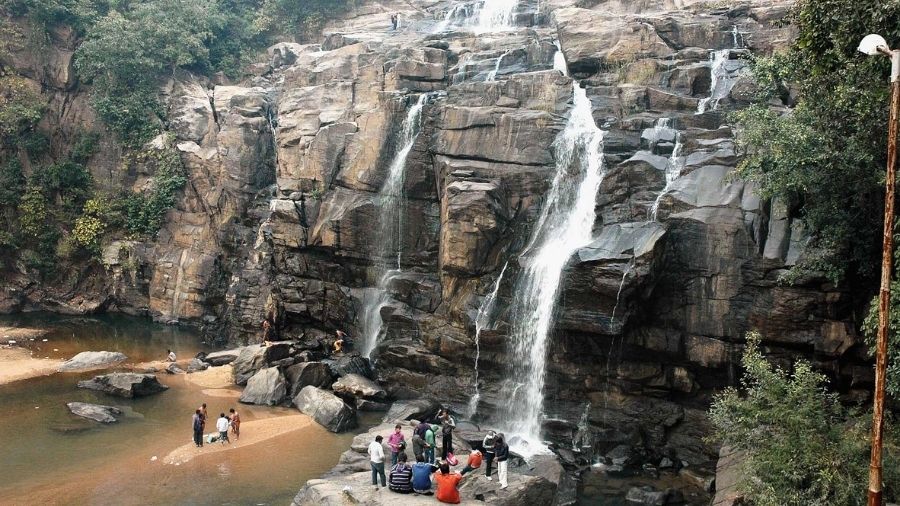 Jharkhand Paryatan Suraksha Samiti on Saturday announced that use of tobacco and liquor at popular tourist destinations such as the Hundru Falls in Ranchi will be banned from Sunday.
File picture
---
Ranchi
|
Published 19.12.20, 07:08 PM
|
---
Jharkhand Paryatan Suraksha Samiti announced on Saturday that consumption liquor or tobacco products will be completely banned across popular waterfalls around Ranchi from Sunday. The umbrella outfit of all the paryatak mitras (friends of tourists) deployed by Jharkhand Tourism Development Corporation also said that the entry of visitors to these tourist hotspots without masks will not be allowed.
Revelers will also be banned from using plastic or thermocol utilities on the spot and playing of loud sound systems will not be permissible, the committee announced.
The Jharkhand Paryatan Suraksha Samiti is responsible for the intenance, upkeep and overall safety of the tourist spots and those coming to the state. 
The announcement was made ahead of the upcoming Christmas and New Year that usually see a heavy surge of visitors to these places every year.
Committee president Raj Kishore Prasad said that the relaxation after the Covid-19 lockdown has made tourists visit almost all the waterfalls in Ranchi again.
"Since October onwards, we are now seeing steady turnout of visitors, who are mostly locals, visiting these picturesque spots to break their extended monotony of staying indoors for long," he said.
Prasad informed that these dos and don'ts have been announced following a meeting with the local police station and shop-keepers/vendors around the tourist places. With Christmas and New Year, we are anticipating heavy rush again for which we have announced certain curbs to prevent any untoward incident or situation of law and order problems because of any rogue elements," he added.
The president also informed that all vehicles will be checked before entering the tourist spots.
"All shopkeepers/vendors have been strictly asked to ensure no one sells liquor illegally, while paryatak mitras on the spots will be on the move to curb anyone drinking liquor on the spot," Prasad said.
"If anyone carries liquor on their own, they will be humbly asked not to enter the premises carrying them as none will be allowed to consume there," he added.
On punitive measures for violation of the norms, he said, "We will simply report them to local police."
Besides making masks compulsory for tourists entering the spots, to enforce Covid-19 guidelines, awareness boards have also been put up across the vicinity.
"Controlling the crowd or ensuring 100 per cent social distancing will literally be not possible at tourist spots neither by us or by district administration. Hence, everyone must follow individual social responsibility to not litter anything, spew only at designated spots, carrying their own masks and sanitisers et al," Prasad said.
Dharamnath Ram, ASI of Sikidiri police station too appealed visitors to follow norms to curb any chances of covid-19 infection or law and order problems. "Any violator will be taken to task under the relevant sections of IPC," he said.