Rally raises walker rights in Ranchi
Members of social outfit give pamphlets demanding road safety for pedestrians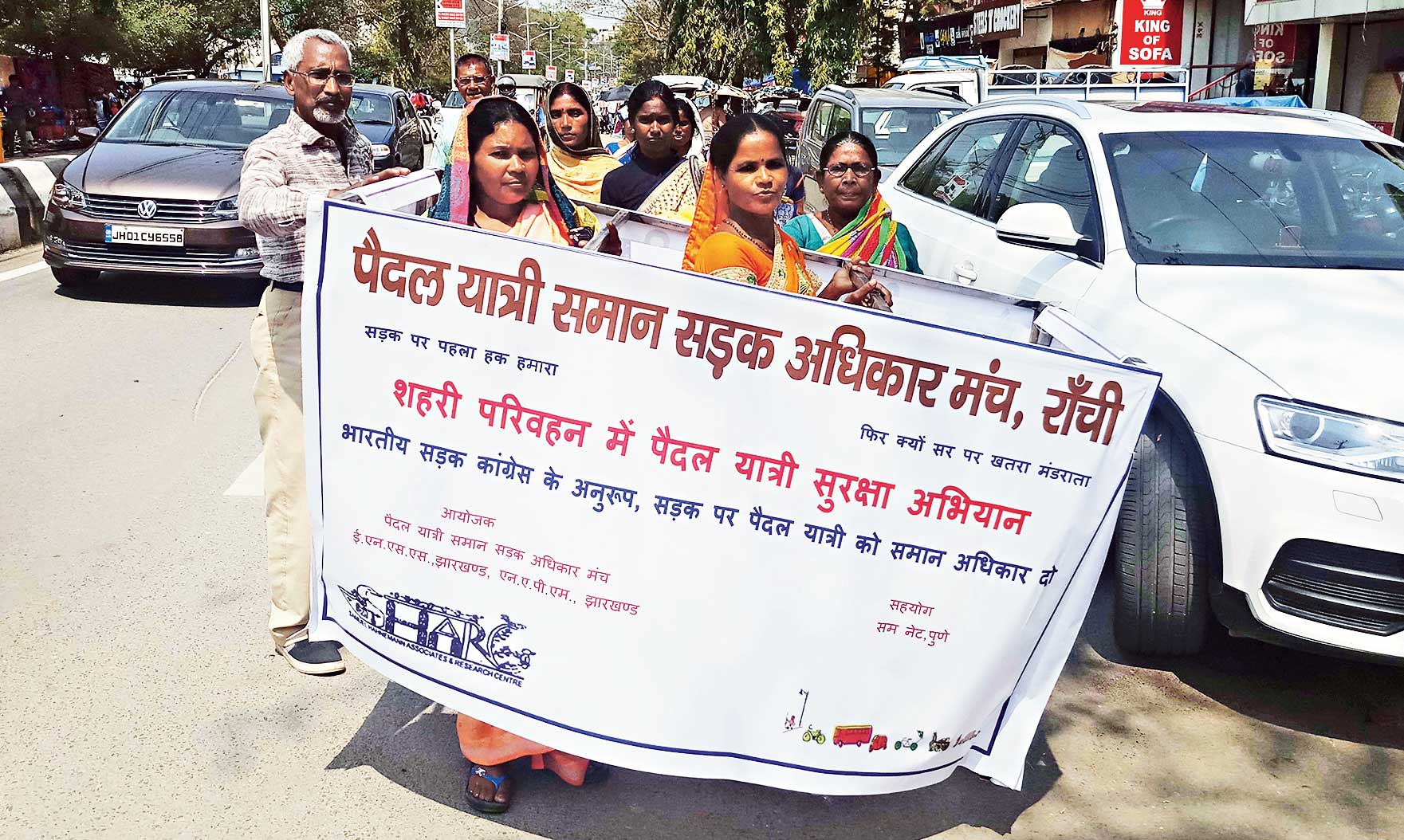 Women take part in the rally to fight for the rights of pedestrians in Ranchi on Saturday.
Picture by Vijay Deo Jha
---
Ranchi
|
Published 17.03.19, 06:50 PM
|
---
Do pedestrians have any rights or should they be grateful they have not yet twisted their ankle on a pothole or been injured by a passing bike?
A little-known social outfit Paidal Yatri Samaan Sadak Adhikar Manch, fighting for equal rights of pedestrians, on Saturday held their first rally for 7km from Morabadi grounds to Birsa Chowk from noon to fight for the rights of pedestrians in a "city of missing footpaths", as they put it.
Fifty people, mostly women, distributed pamphlets and requested passers-by to sign on a memo asking the government to protect the rights of pedestrians in Ranchi. Around 3,000 people from all walks of life did sign the petition after the members explained why pedestrians had the first right over roads, said outfit convener Vishwanath Azad, who added they were also going to colleges and schools to spread awareness.
He said theirs was an apolitical organisation established in 2017 in Ranchi that primarily demanded from the government and Ranchi Municipal Corporation that guidelines of the National Urban Policy and Indian Roads Congress standard code be implemented while constructing roads. "Ranchi is now hyped as a Smart City and good roads are being built all across the capital but there is no space for pedestrians," said Azad. "And, who are the pedestrians? Daily wagers, women, elderly people, people who can't afford vehicles. Is using roads safely not a part of their rights?"
A daily wager from Ratu and an active member of the outfit, Rita Devi said three years ago she lost her son who died after a speeding bike hit him.
"My son was not at fault, he was walking home from school and on the left side of the road. But, tell me is there any road in Ranchi where pedestrians can use the footpath? Either the government makes drains and parking bays or vendors sell wares on spaces meant to be footpaths," she alleged.
Azad said even information was lacking on work done for pedestrian safety. "Last year in February we had filed an RTI application, wanting to know whether the civic body (Ranchi Municipal Corporation) had any policy for road safety of pedestrians. how much money so far had been spent on footpaths and their existing status. The RMC did not reply to our RTI. Now we have filed an appeal before the State Information Commission," said Azad.
The rally seemed to have struck a chord. Akanksha Rai, a resident of Morabadi, said, "At least an outfit is talking about pedestrians, who risk their lives walking on the road. Recently, the Smart Cycle project was launched here, but show me cycle lanes."