Rajnath Singh counts citizenship bill & NRC gains in Jharia
Citizenship bill aimed at giving citizenship to the persecuted minorities in neighbouring countries: Rajnath Singh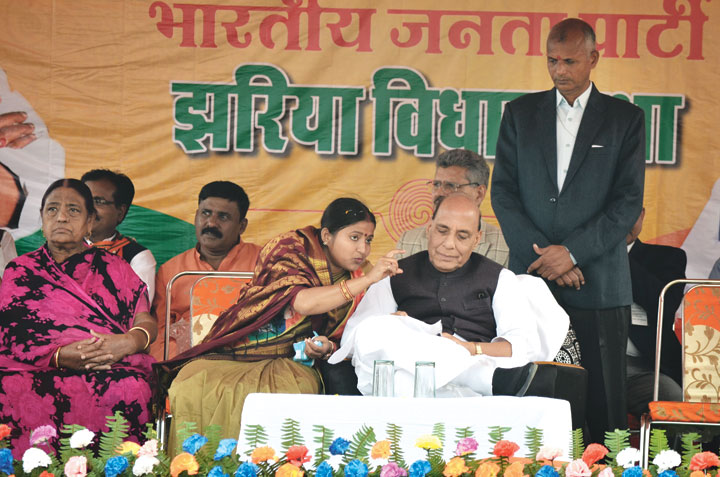 Jharia BJP candidate Ragini Singh talks with defence minister Rajnath Singh at the rally in Jealgora, Jharia, on Sunday.
Picture by Shabbir Hussain
---
Dhanbad
|
Published 08.12.19, 08:42 PM
|
---
Defence minister Rajnath Singh, who was here on Sunday to campaign for BJP candidate from Jharia Ragini Singh, raised the issue of Citizenship Amendment Bill to woo voters.
Addressing around 10,000 people at Jealgora Maidan in Jharia, Rajnath said the proposed bill approved by the Union cabinet would play an important role in shaping a strong defence policy for the country.
"Shouldn't be the Hindu and non-Muslim minorities being hunted down in the neighbouring countries be given Indian citizenship?" Rajnath asked the crowd.
"Yes," the crowd replied in a chorus.
The defence minister said the bill was aimed at giving citizenship to the persecuted minorities (Hindus, Sikhs and Christians) in Pakistan, Bangladesh and Afghanistan.
"We are not able to understand why the Opposition parties are against the bill, which is never aimed at giving any undue advantage to a particular community. BJP has never indulged in the politics of caste, religion or sect. It has always worked towards the development of a strong India," he said.
He said the BJP-led government at the Centre gave a befitting reply to the Pakistani forces in Kargil in 1999 .
"When Pakistan failed in its attempt, it started sending infiltrators in the form of militants," Rajanth said.
Referring to the destruction of a terrorist camp by the Indian army at Balakot in March this year, he said: "Our nation has grown stronger under the leadership of Prime Minister Narendra Modi. During my visit to different countries, I have witnessed that the opinion of the world towards India has undergone a positive change."
Rajnath said the BJP government was preparing the National Register of Citizens (NRC) to know how many people living in country were genuine Indian citizens.
"But the Congress and other parties are opposing our initiative. You tell me whether the central government is right in its decision on NRC?" the defence minister asked the crowd again.
Extolling the achievements of the central government, Rajnath said the Prime Minister had ensured the construction of more than 10.5 crore toilets and concrete houses under Pradhan Mantri Awas Yojana.
"By 2022, every family will get a concrete house," he said.
He also lauded the Raghubar Das-led state government of providing double LPG cylinders to each household.
"Former Prime Minister Rajiv Gandhi had once said that only 20 paise of every Re 1 disbursed by the Centre reaches common people. We have changed the system and introduced direct benefit transfer where the entire money is directly credited to the accounts of beneficiaries," Rajnath said.
The rally was also attended by Dhanbad MP P.N. Singh.