Rajnath chants PM name in Jharkhand rally
Home minister fumbles on local concerns, talks Balakot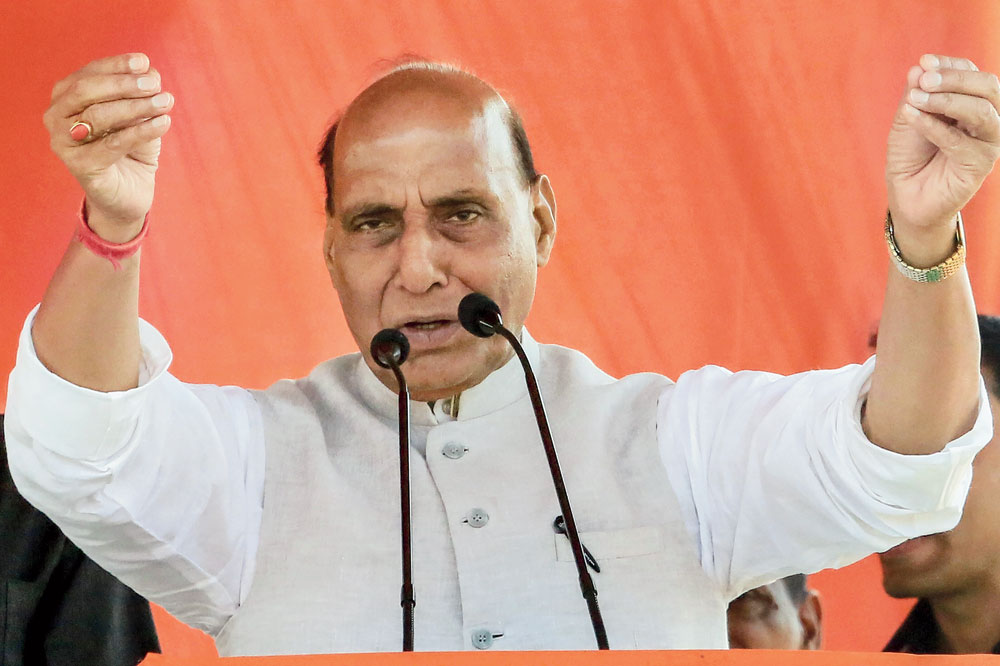 Union home minister Rajnath Singh at a rally in Chatra on Tuesday.
Telegraph picture
---
Daltonganj
|
Published 23.04.19, 06:41 PM
|
---
Rajnath Singh on Tuesday campaigned at Hussainabad for BJP party colleague and Palamau sitting MP V.D. Ram, seeking a fresh term, by piggybacking on the Narendra Modi charisma, but the home minister's homework seemed a bit off as he forgot he had come to Hussainabad in 2014 too.
Singh also mentioned Pakistan no less than half a dozen times in his less-than-30-minute speech and spoke about India's growing clout globally to evoke nationalist fervour among the crowd that filled to about half the capacity of Hussainabad's Karpoori Maidan, 80km from here.
From local issues such as Naxalism and Japla cement factory to issues that have shaped the BJP's election narrative such as Indian Army and Balakot, the home minister touched on all. But, the crowd, estimated a little over 4,000, responded with sporadic enthusiasm.
Hits & misses
"Kaan khole kar sun lijiye (Listen carefully)," Singh began, as he listed what PM Modi did in these five years for houses of the poor. Singh repeated what PM Modi said in Daltonganj on January 5, "The Congress could ready just 25 lakh houses from 2008 to 2014. After we came to power, from 2014 to 2019 we got ready 1.30 crore houses." Applause was not as enthusiastic as BJP workers and Singh would have liked, but it did come. Singh also counted the "tremendous success" of Ujjwala Yojana, the toilet mission and others.
But when the home minister said during Congress rule only 7km to 12km of national highways would be built in a day compared to their (BJP-led government) target of 32km, there was no applause. The reason was not far to seek.
A stretch of 22km of NH-98 between Chhaterpur and Harihurganj in Palamau is in a shambles despite protest roadblocks. This stretch falls under the jurisdiction of MP Ram.
Naxalism expiry date
The home minister said Naxalites would be rooted out of the country by 2023. Naxals have been almost eliminated in Jharkhand and their remaining pockets in the state will be wiped out soon, he said.
Sticky moment
Singh had come to Hussainabad in 2014 as the BJP's national president when he had assured people that the decades-old Japla cement factory would be reopened. Nor did this happen, the factory was auctioned in 2018.
However, Singh had no memory of his 2014 visit. When on Tuesday, he told the crowd that it was his first visit, the crowd reminded him he had come in 2014 as well and spoken about the Japla factory.
Wiping his forehead with a towel, Singh said, "The Japla (cement) factory has not been auctioned by the government but under court order." The crowd did not look satisfied.
Modi mantra
Flaying the Congress and other Opposition parties, he said they had only one agenda, "Modi ko roko". "But Modiji is unstoppable," the home minister said. "All other leaders are dwarfs compared to Modiji."
On the Balakot air strike, he said, "The Congress asks how many were killed. I have the exact figure but I will not reveal it now as this is no suitable occasion."
In another rally in neighbouring Chatra LS constituency for BJP sitting MP Sunil Singh, the home minister said garibi-mukt Bharat can only be possible only with a Congress-mukt Bharat. Singh also went for a rally in Itkhori.