Railway services disrupted for six hours
A traffic-cum-power block was undertaken for construction of subway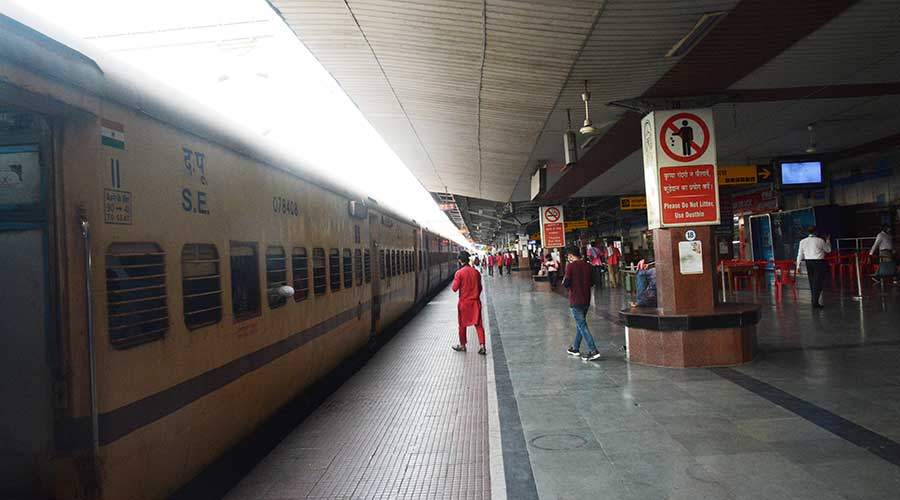 The Tatanagar railway station last week.
Picture by Bhola Prasad
---
Jamshedpur
|
Published 09.06.21, 07:38 PM
|
---
Train services were affected for about six hours in South Eastern Railway's Chakradharpur division on Wednesday due to a traffic cum power block between 9 am and 3 pm.
The traffic-cum-power block was undertaken for construction of a Limited Height Subway.
The subway was constructed replacing an unmanned level crossing between Rajgangpur and Sonakhan of Rourkela-Jharsuguda section under Chakradharpur division of the SER.
The six-hour traffic block resulted in cancellation of 68029/68030 Rourkela-Jharsuguda MEMU passenger train.
It also resulted in rescheduling of several long distance trains including 08478 Yog Nagari Rishikesh-Puri Special, 03287 Durg-Rajendera Nagar Special and  08311 Sambalpur-Manduadih Special which travels via several stations of Chakradharpur division.
Duronto Special to resume journey
The South Eastern Railway on Wednesday notified running of Superfast Duronto Special between Howrah and Mumbai CSMT via Tatanagar railway station.
As per a schedule released by Garden Reach, the headquarters of SER the 02096 Howrah-Mumbai CSMT Superfast Duronto Special will leave Howrah every Monday, Tuesday, Wednesday and Friday with immediate effect from June 11 at 05.45 am and will reach Mumbai CSMT at 08.15 am, the next day.
In the opposite direction, 02095 Mumbai CSMT-Howrah Superfast Duronto Special will leave Mumbai CSMT every Tuesday, Wednesday, Thursday and Sunday with immediate effect from June 13 at 5.15 pm and will arrive at Howrah at 8.05 pm, the next day.
The train with one first AC, three AC-2 Tier and twelve AC-3 Tier coaches will have stoppages at Tatanagar, Bilaspur, Raipur, Nagpur and Bhusaval stations between the two destinations - Howrah and Mumbai CSMT.