Railway police seize 36 bottles of liquor headed for Bihar at Tatanagar station
Accused manages to escape, obscure CCTV footage makes it difficult for the cops to trace the smuggler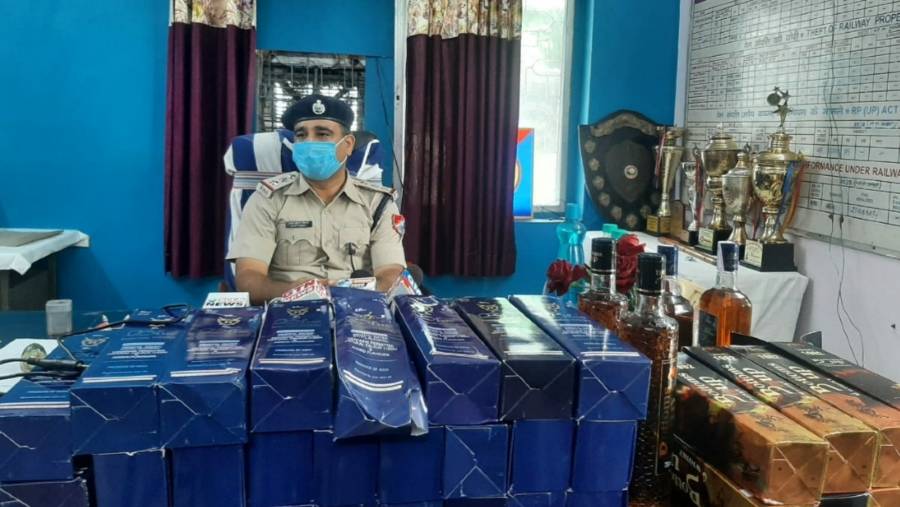 RPF inspector Sanjay Kumar Tiwari with the the seized liquor at Tatanagar station on Monday.
Animesh Sengupta
---
Jamshedpur
|
Published 05.07.21, 05:36 PM
|
---
Railway police seized 36 bottles of whiskey that a man was trying to smuggle by boarding a Bihar-bound train from Tatanagar station on Monday.
The liquor consignment was seized when the suspect was asked to scan his luggage at the scanner installed at the entrance of the railway station.
However, the man sneaking in the liquor into the railway premise, escaped from the spot, the moment the cops realised that he carrying liquor in his luggage.
Talking about the breakthrough, Sanjay Kumar Tiwari, inspector, Railway Protection Force (RPF), Tatanagar said that the man, in his early thirties had first tried to sneak into platform No 1. He was carrying a heavy bag.
"The man appeared suspicious. One of the RPF officials who spotted him stopped him from entering the platform and asked him to get his luggage scanned. Reluctantly, he put the bag in the scanner. But by the time, the scanning was through and it was detected that there were liquor bottles inside the bag, the man fled from the spot leaving the consignment abandoned,"said Tiwari while talking to The Telegraph Online.
The RPF inspector maintained that that they found 36 whiskey bottles of two different brands in the luggage.
Tiwari reiterated that it is illegal to carry liquor bottles in train. He even out that the man wanted to take the consignment to Bihar as sale of liquor is prohibited there.
He said that the Jharkhand Excise department officials have been informed about the liquor seizure so that the seized consignment can be handed over to them to initiate the necessary investigation.
According to sources in the Tatanagar RPF post, the railway police had tried to trace the liquor smuggler by taking out CCTV footage at the railway station, but due to obscure image in the footage, the man could not be traced.
"If the man could have been nabbed, then we would have interrogated him so as to know if the act of liquor smuggling to Bihar was attempted for the first time beside other angles to the issue," said one of the RPF officials while talking to this website.