Raghubar Das attacks Hemant Soren, calls him 'incapable'
STATE DIGEST: Maoists shoot woman 'informer'; BIT Sindri students selected for TCS Digital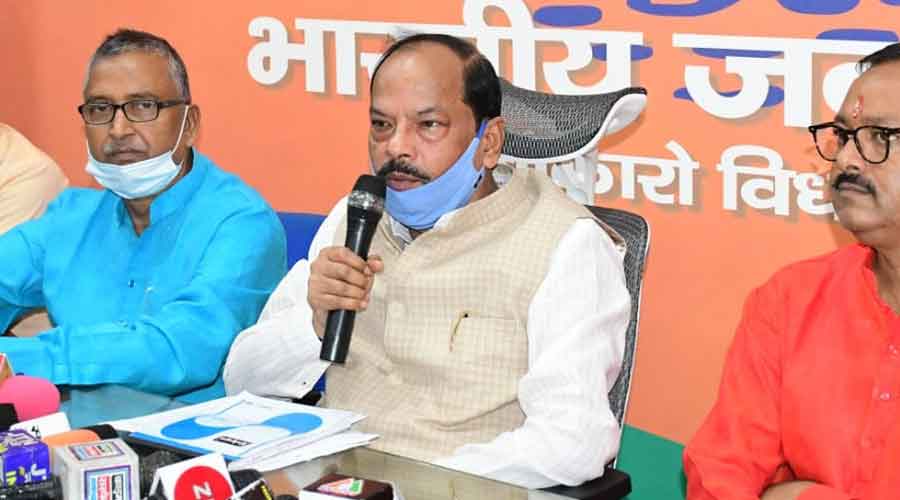 ---
---
BJP national vice-president and former chief minister Raghubar Das on Sunday targeted Hemant Soren on his recent remark that the union government is attempting to destabilise the financial health of the state on DVC issue.
Das stated that his former government has paid around Rs 13,000 crore to Damodar Valley Corporation under the Uday Yojana scheme in its five-year tenure.
"I want to ask from Hemant Soren that when he had left the CM's chair in 2014 had the state exchequer was full. He should tell the residents that when the JMM government had left 2014 what was the position of state exchequer and what was the due amount of DVC. We have run a transparent government and paid Rs 7000 crores to DVC and Rs 6000 crores in Uday Yojana in our five years tenure," said Das, waiving the documents of payment made to DVC in his tenure.
Soren had recently registered his protest against centre's decision to auto debit 1417.50 crore from the state consolidated account in the Reserve Bank of India for payment of outstanding dues to the DVC.
Das was addressing a press conference in Bokaro on Saturday while on an election campaign for BJP candidate Yogheshwar Mahto in Bermo by-election.
Das said that Soren is the most 'incapable chief minister' as he has no vision, no policy, no wisdom and also no mentality to do anything better for the state. He also hinted that after this by-election in two assembly seats the political scenario in the state will change.
Das said, "though we cannot achieve the magical figure to form the government this time, the residents have accepted our ideology. In the last held 2019 assembly election, BJP has scored 33 percent votes alone while alliance parties JMM, Congress, RJD and Communist parties have got 35 percent. We lost as AJSU-P cut 6-7 percent votes separately. However this time AJSU-P is strongly supporting us in the by-election."
Das also took a dig at Soren for his non-performance in controlling Covid-19 virus from spreading. "See one of JMM's government ministers Haji Hussain Ansari left us and now state education minister Jagarnath Mahto is battling with life after getting infected with the virus. Mahto's condition would not have deteriorated if he would have been shifted to some big medical centre in Delhi. Soren failed in saving his minister what he will do to save the residents."
He also pointed out that over 13 lakh migrant workers who had arrived during lockdown in Jharkhand have not got any job. They are returning back from where they had come. He asserted, "If Soren cannot able to run the government, he should give resignation from the post."
Maoists shoot woman 'informer'
Maoists shot a woman in her forties in Lalkimati village in Pathalgaddha block of Chatra on Sunday evening.
Police have recovered a Maoist pamphlet claiming responsibility of the incident and branding the woman as a police informer.
Subdivisional police officer Vachandev Kujur said raids were on to nab the culprits. The woman has been sent to Hazaribagh medical college and hospital.
17 selected for TCS Digital
17 Btech students of BIT Sindri on Sunday cleared the TCS digital recruitment process of which three received TCS Digital offer of Rs 7 lakh per annum while 14 other secured TCS Ninja offer of Rs 3.36 lakh.
Training & Placement Cell in charge of BIT Sindri Ghanshyam Rai said," Altogether 216 students appeared for the test conducted earlier this month out of which 17 were selected."