Quiz crown for Loyola School
Over 400 students from 40 cradles take part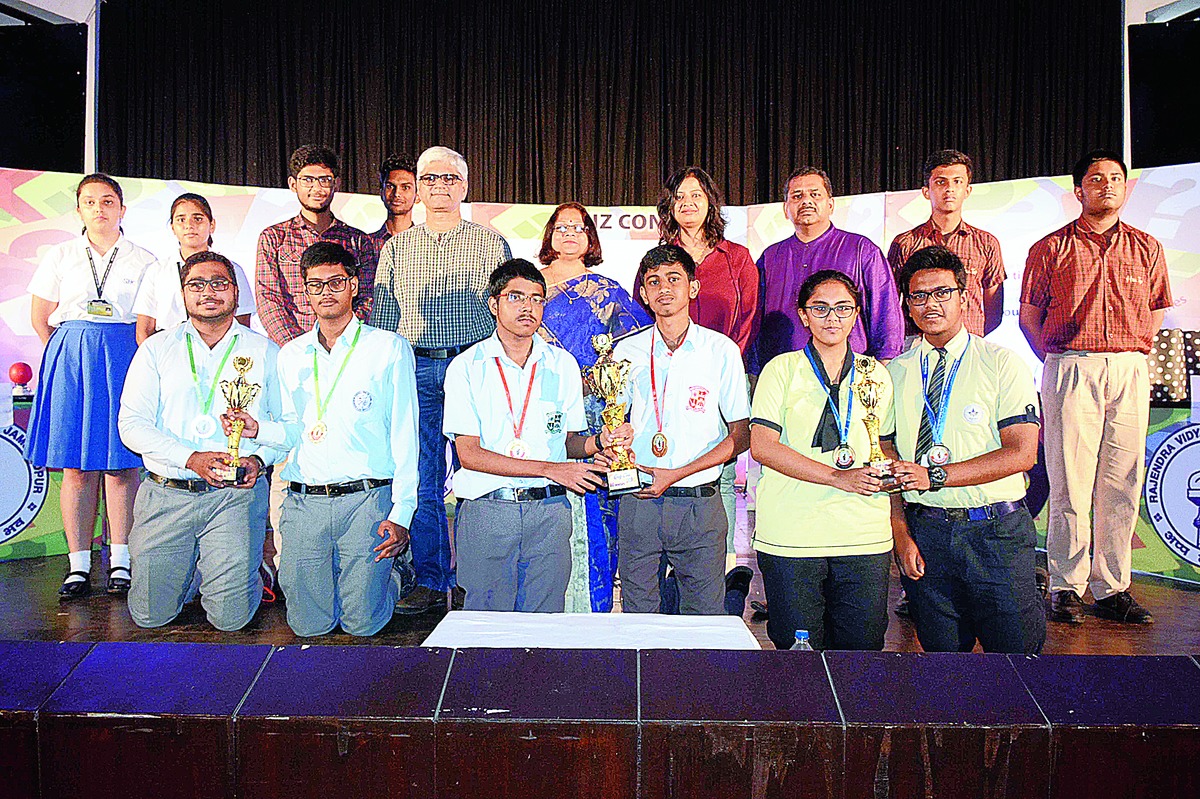 ---
---
Jamshedpur: Did you know the Philippines has two national flags - one when the country is in a state of war and another when the country is peaceful?
Were you aware of the fact that Nur Surya Binte Mohamed Ambiah is the only non-celebrity to have a wax statue at Madame Tussauds representing Singapore Airlines?
Such interesting facts came to the fore during QuizCon, the inter-school quiz organised by Rajendra Vidyalaya at its auditorium in Sakchi on Wednesday.
Over 400 students of Classes IX to XII from 40 city schools took part in the quiz, hosted by well-known quizmaster Giri Balasubramaniam from Bangalore.
The team from Loyola School emerged the champions defeating Narbheram Hansraj English School. The second runner-up was Mount Litera Zee School. All the winning teams received trophies, medals and gift hampers.
School secretary Vivek Anand Prizes was the chief guest on the occasion while prizes were handed over by S.K. Singh, vice president of Bihar Association.
Six schools - Mount Litera Zee School, Loyola School, Narbheram Hansraj English School, DAV Public School Bistupur, Sacred Heart Convent School and Hill Top School - qualified in the finals defeating 388 students from 194 teams in the written preliminary round.
The quiz comprised of five rounds including Across the World, general questions from round the world; Magical Insights, a visual round; Rapid Thoughts, a rapid fire round; Out of the Box, a clue round and Who am I where students had to identify acclaimed personalities. Besides the participants, students from the audience also got to answer questions and won gifts.
"Quiz is not just about knowledge but it also improves your communication skills. Knowledge gives you the power to communicate better," said Subramaniam.
Principal of Rajendra Vidyalaya, Rakhi Banerjee said that it was the first time the school had organised an inter-school competition. "The quiz turned out to be immensely successful. Children learnt a lot from the questions asked," said Banerjee.
Students too thoroughly enjoyed. "The questions were really tough but we learnt a lot. There were answers that was out of our imagination but overall it was fun," said Shishir Lal, a Class X student of Mount Litera Zee School.