Quiet start to Puja in steel city, stay-at-home the mantra
Festival marked by simple pandals, smaller idols and strict social distancing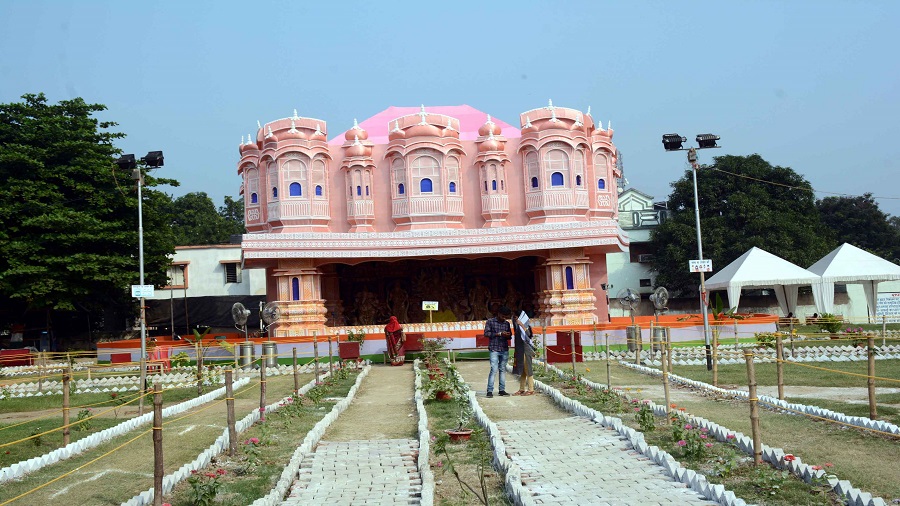 ---
---
This year's Durga Puja -2020 will be like no other. The festival got off to a quiet start on Thursday, Shasthi, with organisers appealing to all to stay at home and be safe.
Most of the 320-odd Pujas of the steel city, except for Adityapur's Jairam Youth Sporting Club whose patron is former Ichagarh MLA Arvind Singh, have decided to go simple with ordinary pandals and idols of 4 feet as per government guidelines. Some Pujas, like the one in Northern Town and Circuit House Area and Beldih Kalibari, have done away with idols and pandals to avoid a rush.
Like every year, Jairam Youth Sporting Club hired artisans from Bengal for the beautifully decked up pandal and idol of Goddess Durga.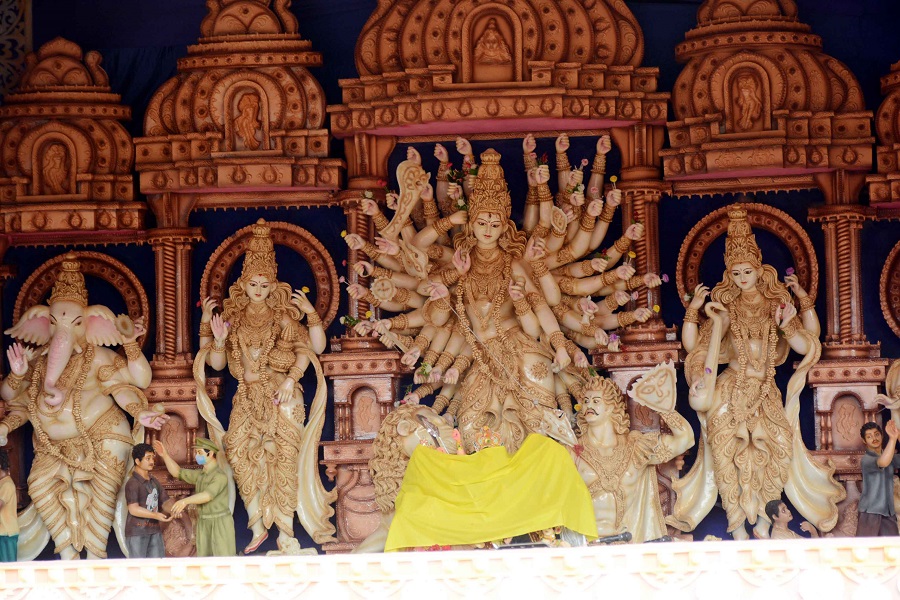 "Masks are mandatory for people visiting our pandal. We have also procured around 5,000 face masks for distribution among visitors. Moreover, we have also installed automatic sensor-based sanitizers at all gates of the pandal," said Praveen Singh, a senior executive member of Jairam Youth Sporting Club.
Of the major crowd pullers, both Beldih Kalibari and Circuit House Area Pujas, have decided to give it a miss this year because of the pandemic.
While Beldih Kalibari will organise Kalash Sthapana and other rituals in a simple manner on its premises, the posh Circuit House Area Puja has shifted rituals to the Sakchi-based Durgabari to prevent a rush.
Steel city residents will also miss Kumari Puja, one of the major attractions of Navami, at the Beldih Kalibari.
Thakur Pyara Singh Thurandhar Singh Club in Kashidih, which used to make splendid pandals, spending several lakhs, opted for a simple pandal and idol this year as per government specifications. "We decided to make it a simple affair because of the pandemic. We will carry out all necessary Puja rituals. We are also appealing to people to stay at home. Next year, we will opt for a grand Puja celebration," said patron Abhay Singh.
Cinema Maidan at Sidhgora, known for pandals that depict the year's most memorable event, has also decided on a no-frills Puja this year. The committee has erected a simple open pandal and is using small idols. Likewise, pandals in other areas of the steel city, like Telco, Sakchi, Baridih, Golmuri, Sonari and Kadma, have also embraced simplicity.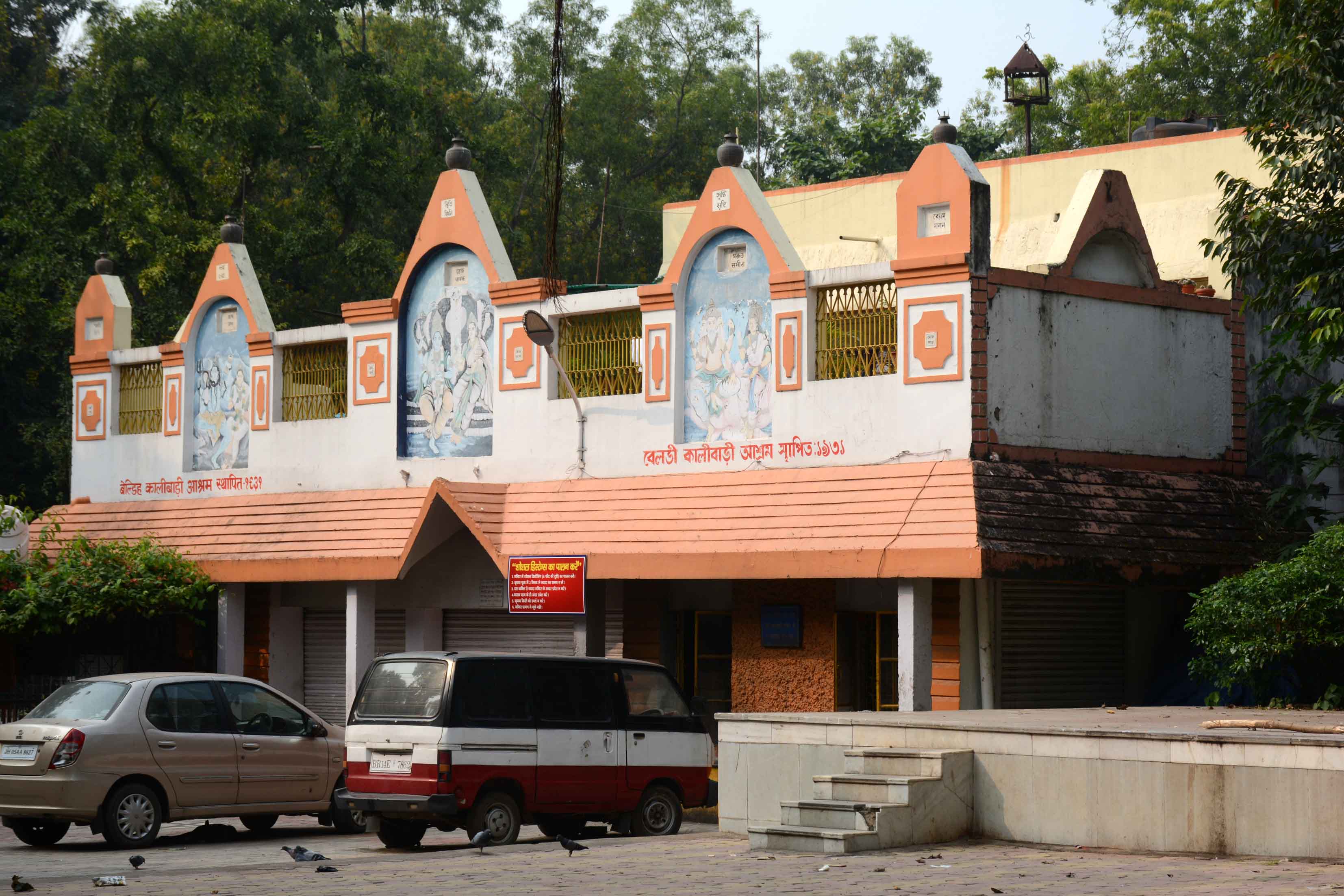 Several puja committees have planned live streaming of Pushpanjali over Facebook.
"For several years our Puja has been among the top five crowd-pullers of the steel city. Our attempt every year has been to be Number One in terms of visitors. But this year, nothing is happening because of the pandemic," said a member of Sonari Central Durga Puja Committee.
With the state government issuing fresh guidelines on Wednesday, priests can now be heard chanting mantras over loudspeakers. However, no pre-recorded music is being allowed.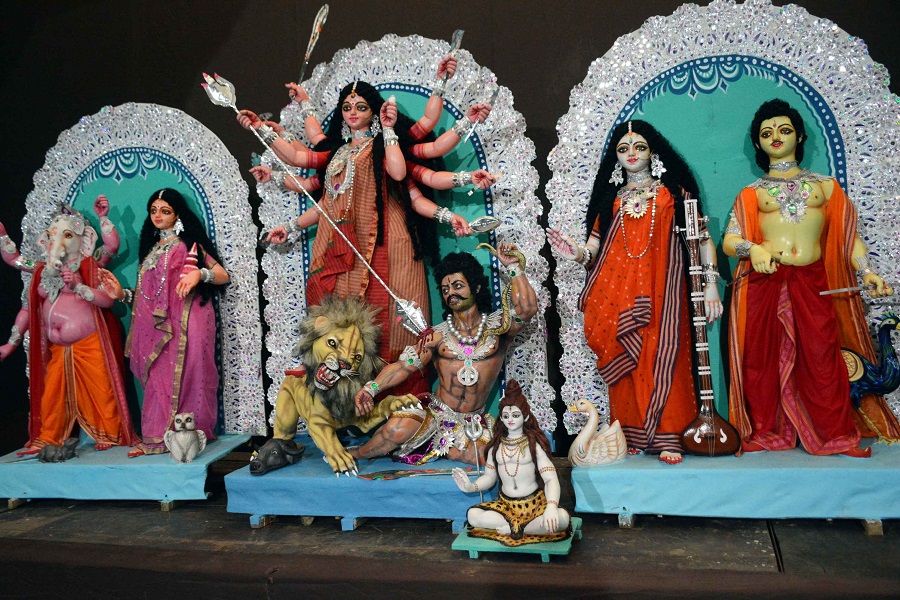 But residents felt that the state government should have allowed pre-recorded dhak to be played. "Nothing will feel like Puja this year. At least residents could have shut their eyes and enjoyed the rhythms of the dhak," pointed out Kajal Das, a resident of Telco Colony.
Till last year, thousands would enjoy a heart lunch of bhog at pujas. This year, however, bhog has been disallowed by the state government.