The old terminal of Birsa Munda Airport on Saturday afternoon reverberated with "Bharat Mata ki Jai", "Jab tak sooraj chand rahega, Vijay Soreng tera naam rahega" amid shocked anger over Thursday's audacious Pulwama bombing as an MI-17 chopper carrying the body of the CRPF cop from Jharkhand, martyred in the attack, landed around 3.45pm.
The body of the 45-year-old Vijay Soreng, a head constable of CRPF's 82nd battalion, was taken outside the terminal by Union minister of state for aviation Jayant Sinha, accompanied by CRPF personnel, where crowds numbering over 1,000, including women and children, waited. Many held the national flag, hardly an eye was dry.
Wrapped in the Indian Tricolour, the martyrs body was kept for some 30 minutes outside the terminal to enable people in the state capital to pay their last tributes before the chopper went to Basia in Gumla, Soreng's native place.
Soreng's widow Carmella, dignified and resolute, was the first to offer her wreath, governor Droupadi Murmu and chief minister Raghubar Das followed her. CRPF personnel, police officers, political leaders, citizens young and old also paid floral tributes. Then, CM Das, along with CRPF personnel, shouldered the coffin to a car which again ceremoniously took the martyr's body to the same chopper for its final destination, Basia. It has been learnt that the body reached Basia around 5pm.
"I am proud to have shouldered the body of a martyr from Jharkhand," the chief minister said later. "Jharkhand has history of sacrifice."
On his opinion about action against Pakistan for harbouring terrorist organisations believed to have plotted the Pulwama terror attack that killed 40 CRPF personnel, Das said: "We have defeated Pakistan three times and are ready to defeat it once again."
State president of Congress Ajoy Kumar, accompanied by his party member and former Speaker Alamgir Alam and Ajay Nath Shahdeo, Alok Dubey, Deepika Pandey and workers, were at the airport. When asked what he had to say on the course of action against Pakistan, Ajoy Kumar said: "We Indians stand united on protecting our nation from any outside attack. There is no question of any politics on the issue. We need to give a befitting reply to our enemy."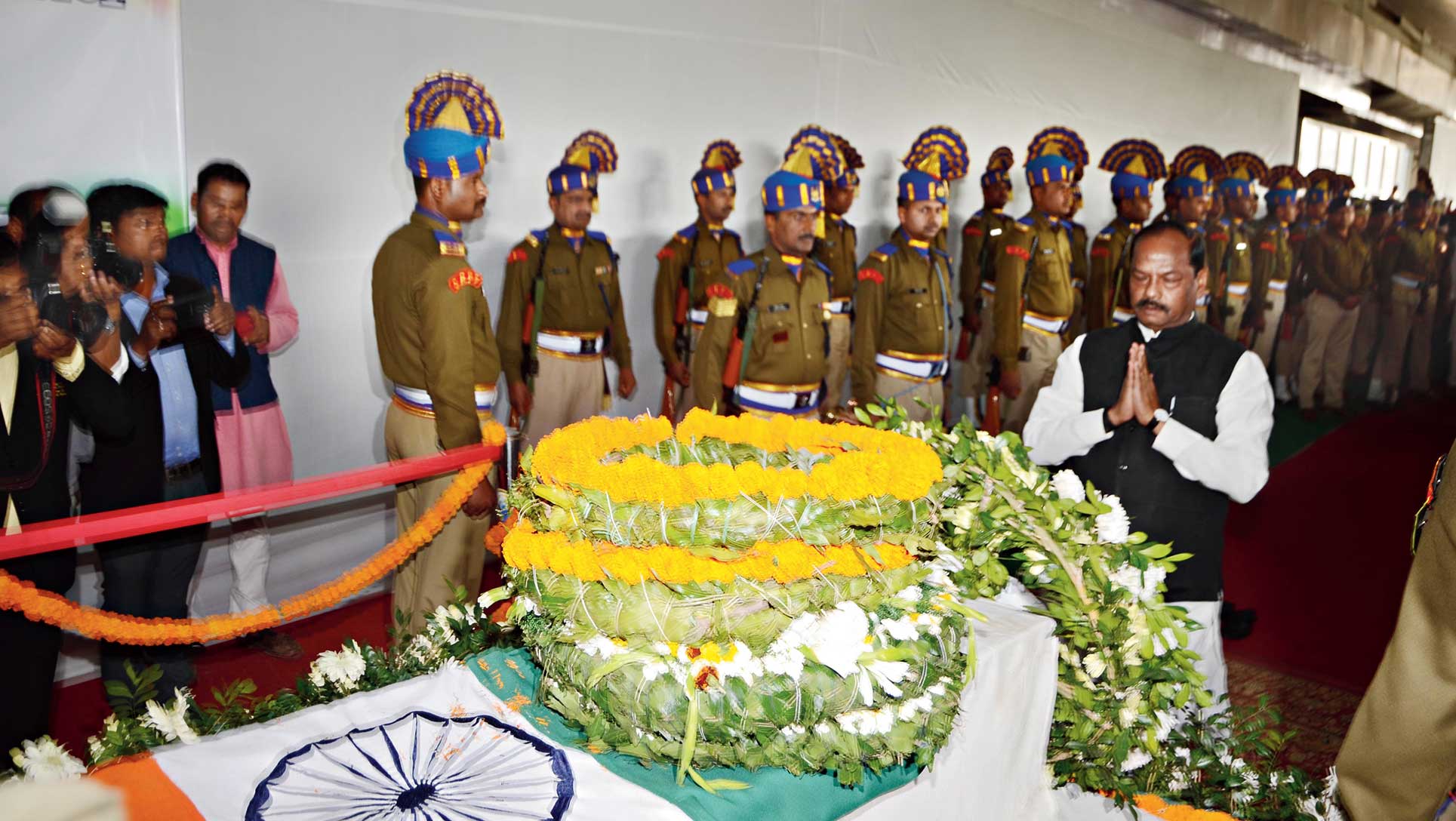 Chief minister Raghubar Das pays his last respects to martyr Vijay Soreng at Birsa Munda Airport in Ranchi on Saturday. Picture by Prashant Mitra
People had been milling outside the airport for Soreng's body to arrive since 8.30am following information from CRPF to the Ranchi district administration in this regard. But the body arrived late. It was expected that Soreng's body would reach Birsa airport by an AN-32 aircraft of Indian Air Force after dropping the bodies of two more martyrs in Patna, but a technical glitch delayed matters, the commandant of 133 battalion of CRPF Sanjay Singh said.
"The aircraft expected here at 8.30am took off from New Delhi at 8.30am and landed in Patna after two hours. Before it could take off for Ranchi, it developed a snag. Attempts were made to fix it. When it could not be possible, an MI-17, provided by the Centre for anti-Naxalite operations to the CRPF, took off for Patna from Ranchi and brought the body of martyr Soreng here. A chopper takes one hour and 15 minutes to reach Patna," Singh said.
Though Carmella, surrounded by police personnel, could not be contacted for her comments, mayor Asha Lakra who had been with her later told the media, "She (Carmella) is satisfied with the arrangements the government has made."
CM cash pledge
CM Das said all Jharkhand cabinet ministers would donate one month's salary and each state government employee one day's salary to the martyr's family.