Public issues back in Jharkhand state Assembly
Saryu Roy raised the issue of alleged corruption in the purchase of equipment in Jharkhand Milk Federation and the Incab case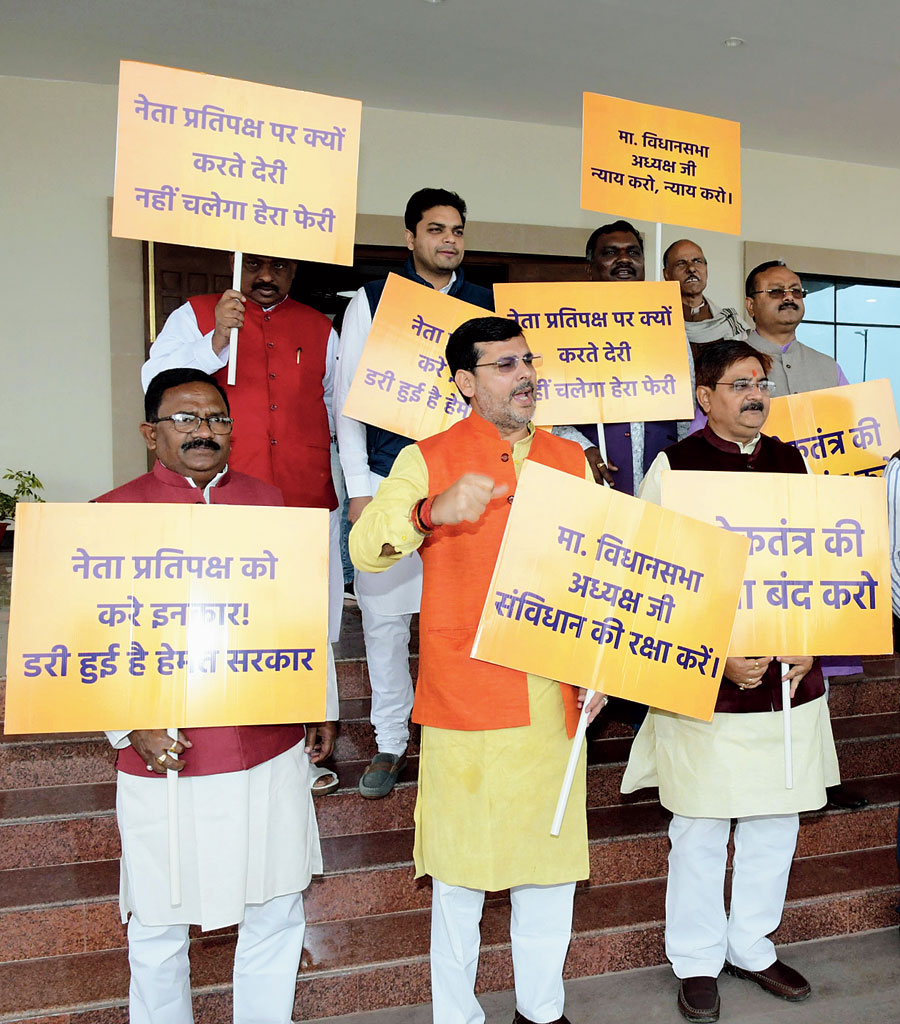 BJP MLAs demonstrate on the Assembly premises in Ranchi on Thursday.
Picture by Prashant Mitra
---
Ranchi
|
Published 12.03.20, 07:36 PM
|
---
Issues of public interest were discussed on Thursday as part of the ongoing budget session of the state Assembly, in a departure from the ruckus of the past few days.
The change transpired as Babulal Marandi, whom BJP MLAs made their leader of the Opposition on February 24 after the merger of JVM in the BJP, but did not get this recognition from the Speaker over doubts on the merger's technical validity, spoke up.
Marandi assured the Assembly that there would be no BJP protests in the house over the leader of Opposition.
"Public issues are not getting attention due to repeated disturbances on this issue," Marandi said in the morning. He asked Speaker Rabindra Nath Mahato to choose "anyone from the ruling side" as a temporary leader of Opposition to ensure serious discussions on public-related issues took place. He reminded the house that the Election Commission had approved the merger.
Speaker Mahato, while appreciating this gesture, said he would take a decision soon after taking legal opinion.
Issues of public interest took up the rest of the day. MLA Saryu Roy raised the issue of alleged corruption in the purchase of equipment in Jharkhand Milk Federation, and later, the Incab case pending before the NCLT in Calcutta.
Ajsu MLA Lambodar Mahto, supported by CPI(ML)'s Vinod Singh, raised the alleged starvation death in a Bokaro village and asked for action against bureaucrats who did not facilitate ration.
MLA Pradeep Yadav drew notice to Jharkhand Public Service Commission (JPSC) exams, whose latest edition has been put on hold over a rethink on the reservation quota. CM Hemant Soren said that government would soon make a rule for proper functioning of JPSC exams to ensure that no one was deprived of rights.
In the second half, discussions took place on the budget allocation of Rs 6935.80 crore to rural development (rural development division), Rs 2616.26 crore for the same department's rural work division, and Rs 1884.67 crore for its Panchyati Raj division, Rs 691 crore for building construction department and Rs 39.06 crore for road construction department, after CPI(ML) MLA Vinod Singh supported by MLAs Roy and Narayan, brought cut motion. The grant demand was approved by voice vote after Singh withdrew the cut motion.