Protesters for scrapping Netarhat range
Jerom Gerald Kujur, the secretary of the Kendriya Jan Sangharsh Samiti, welcomed Hemant Soren's gesture but resolved 'to continue struggle until the project is scrapped'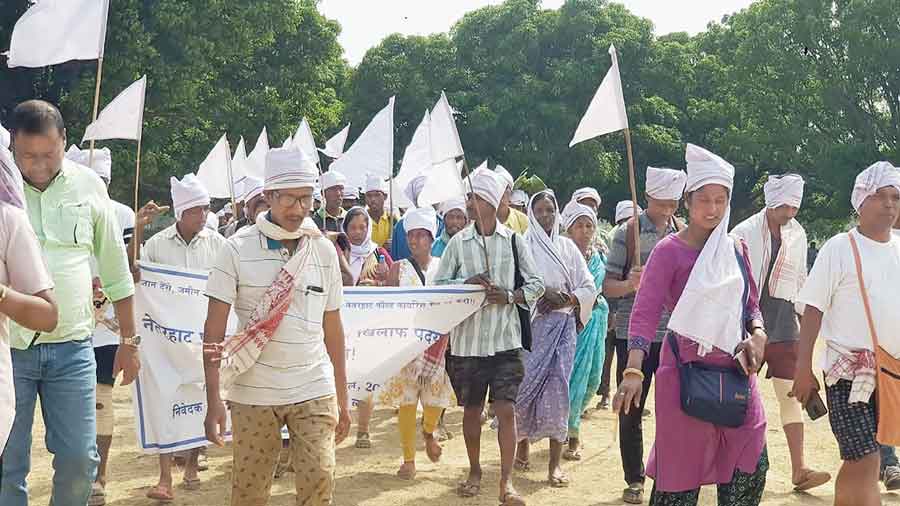 Villagers march to Ranchi in April.
Sriram Dalton
---
Ranchi
|
Published 22.08.22, 01:19 AM
|
---
The Netarhat field firing range project has not been scrapped but just put on hold now. Jerom Gerald Kujur, the secretary of the Kendriya Jan Sangharsh Samiti that spearheaded the movement for scrapping the project, said this in a social media post after Jharkhand chief minister Hemant Soren announced on August 17 that the state government would not further re-notify the firing range project as the validity of earlier consent given by the erstwhile Bihar government had expired in May this year.
Kujur, who could not be reached on phone on Sunday despite several attempts, further said in his social media post that Hemant's gesture was "certainly a step forward" but "we have to continue struggle until the project is scrapped". 
While thanking the chief minister for his gesture, the samity also, in a letter signed by Kujur and some others, urged Hemant "to approach the Prime Minister and the Union defence ministry for issuing a notification for scrapping the project".
Their first victory was when the army unit that had arrived in Netarhat for field firing practice had to postpone their exercise after facing resistance by local people and returned on March 22, 1994, Kujur further said in his post.The gram sabhas of 39 villages also resolved not to allow use of their villages for field firing. Villagers marched to Ranchi, about 170km away, for handing over the resolution to Jharkhand governor in April this year.
"The scrapping of the project is absolutely necessary as another government that may rule the state in future may agree to such a proposal if it again comes up that time," said Sriram Dalton, a national award winning documentary filmmaker who hails from Daltinganj but works in Mumbai and has been attending the protest day every year since 2014 and also participated in the march to Ranchi."I was really very impressed with the spontaneous support of the people who join the protest every year, so much that I took a cue from them and built up a scene depicting an agitation in Spring Thunder, my recent feature film," he further said. Earlier, when the army practised field firing in the area, people would suffer a lot as they would be evacuated from their villages for few days and this prompted them to protest against the firing range project 29 years ago, a samiti member reminisced.