Protest at steel city hospital over death of mother and newborn
100 agitators create ruckus alleging negligence by doctor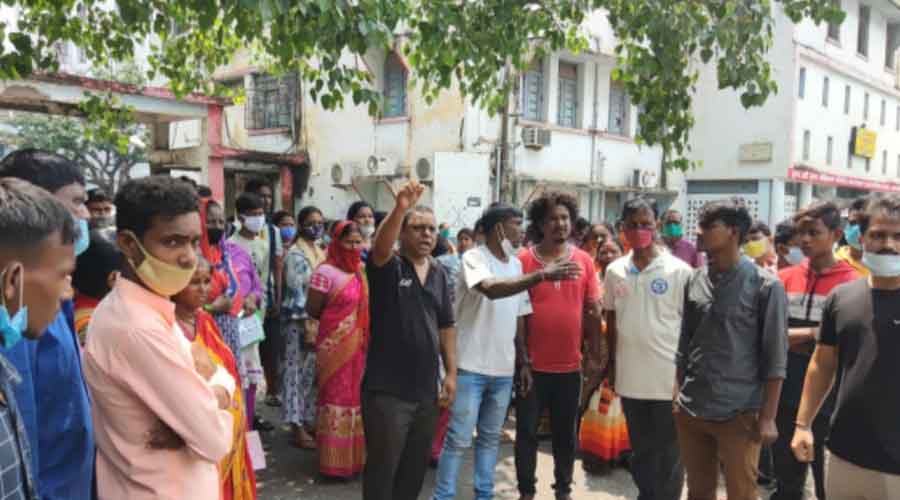 Agitated Bhalubasa residents stage a protest at the MGM Medical College Hospital on Monday.
Animesh Sengupta
---
Jamshedpur
|
Published 19.07.21, 06:42 PM
|
---
About 100 protesters created a ruckus at the MGM Medical College Hospital after the mother and her newborn died at the hospital on Monday morning.
The fracas continued for about two hours from 9am against alleged negligence by the doctor and nurses posted at the Gynaecology department of the hospital. 
The woman who died of post-delivery complications was 23-year-old Guddi Mukhi, wife of Bimal Mukhi. 
"I got my wife admitted at the medical college hospital on Sunday afternoon after her labour pain. She gave birth to a male child at about 5.30 am today but the child died a few minutes after his birth.  Subsequently, my wife was shifted to the maternity ward where she complained of acute pain in her abdomen. I approached a doctor and nurses to attend to her. But despite repeated requests neither the doctor came nor any of the nurses. Ultimately, my wife succumbed to her pain at 6.10 am," narrated Bimal while talking to this website. 
The bereaved man pointed out that, whereas a doctor said to wait for her visit, three nurses who were in the gynaecology department were busy with their smartphones. 
The protesters, including family members of the victim, were demanding the hospital superintendent to take immediate action against the doctor and the nurses allegedly responsible for the deaths of mother and child.  They were also demanding compensation to the members of the bereaved family. 
The protest was so intense that the hospital administration had to call in police who tried to disperse the mob. But as the protesters defied the police's attempt to get them dispersed, the hospital superintendent, Sanjay Kumar turned up before them and assured of necessary action against the doctor in question and nurses after carrying out a probe. The protesters who had come from Bhalubasa Harijan Bustee, the locality the deceased woman hailed from, had dispersed. 
"It was my wife's first child delivery and this is why I was taking utmost care despite my poor financial condition. But due to the medical negligence I lost my wife, " Bimal, who works as a sanitation worker under Mango notified the area committee. 
Superintendent, MGM Medical College Hospital, Sanjay Kumar said,"I am aware about the alleged medical negligence death of a young woman today. I have ordered an inquiry. If the allegation is proved, I will definitely take necessary departmental action against the guilty staff," said Kumar to The Telegraph Online.