Probe must decide Akbar fate
Union minister calls for colleague's resignation if guilty of harassment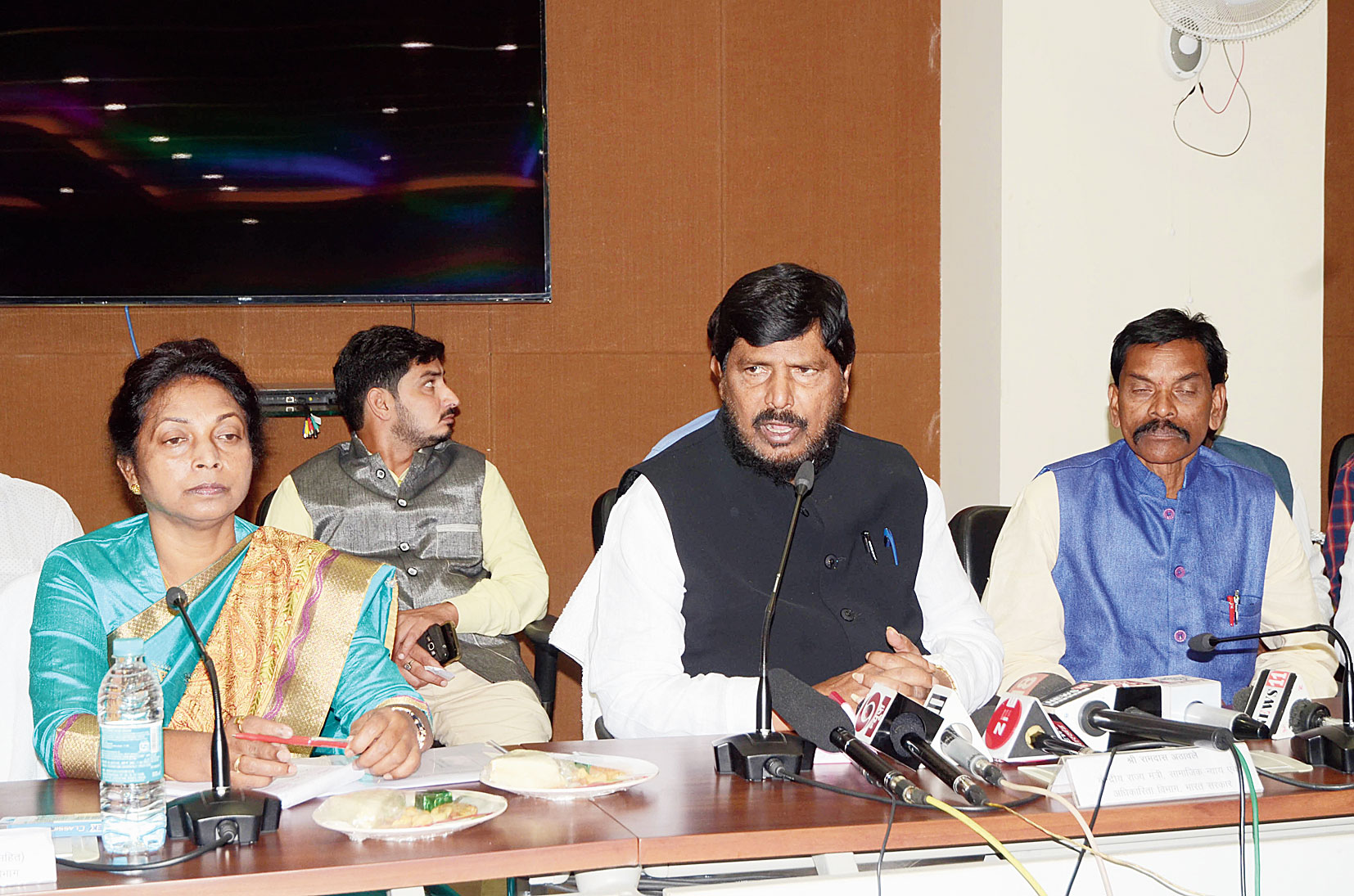 Minister of state for social justice Ramdas Athawale (centre) with state social welfare minister Louise Marandi in Ranchi on Friday.
Picture by Prashant Mitra
---
Published 12.10.18, 06:42 PM
|
---
Minister of state for social justice and empowerment Ramdas Athawale on Friday made clashing statements on the sexual harassment allegations against Union minister M.J. Akbar amid the snowballing #MeToo movement.
Athawale, in Ranchi to review functioning of the state department, told reporters at Project Bhavan that Akbar should resign if allegations against him were indeed true. "Nobody has the right to play with the dignity of a woman, be it a common man or a minister."
The member of the Republic Party of India, an NDA ally, also said, "Right now, he (Akbar) is out of country. As soon as he returns, the party (BJP) will hear his side of the story and take a stand."
Athawale, however, quickly switched tone and said that no conclusion would be drawn without a proper probe. "Allegations are being made 15-18 years later. Such claims can be used as a tool to tarnish image of political leaders," he added.
Akbar, a former editor, himself has not responded to the multiple accounts of sexual harassment made public by women journalists who had worked under him. A Twitter regular, the last time he posted a message on the microblogging site was on October 6, two days before the first allegation was made.
The visiting Union minister spoke on a host of other controversial issues. He said the government was in favour of extending caste-based reservation to 75 per cent even though the SC had set an upper quota limit of 50 per cent.
"We want to accommodate more OBCs who are voicing their demands in various parts of the country, like Kurmis in Jharkhand and Patidars in Gujarat. The apex court has fixed an upper limit, but Parliament will soon bring about an amendment," he said.
Athawale asked the state government to increase the contribution in case of inter-caste marriages to Rs 1 lakh from the existing Rs 50,000. He also announced old-age homes for all the 24 districts and said as of now, work had begun in 10.