Priyanka hurls back dare at 'Prime Minister of batwara'
She said the BJP was a master of propaganda but a dud in performance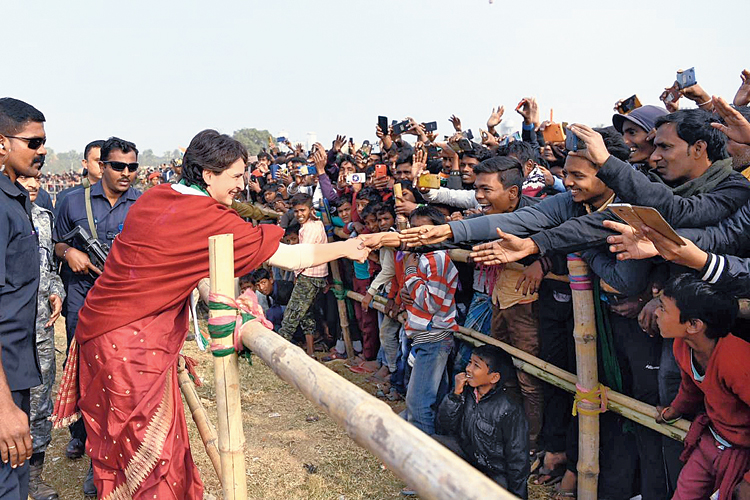 Priyanka Gandhi Vadra greets people during the election rally at Barharwa block in Sahebganj district on Wednesday.
Picture by Manob Chowdhary
---
Ranchi
|
Published 18.12.19, 09:16 PM
|
---
Congress general-secretary Priyanka Gandhi Vadra on Wednesday sought answers from Narendra Modi on joblessness, starvation deaths and attempts to change laws protecting tribal land in Jharkhand, her dare coming a day after the Prime Minister threw challenges to the Congress on citizenship, Article 370 and triple talaq.
Priyanka was addressing a rally at Shrikund ground at Barharwa block of Sahebganj district, part of Pakur Assembly seat that is one of the 16 constituencies that will vote in the final phase of the state elections on Friday, around 380km north-east of Ranchi.
"From Bhognadih, Modi ji threw some challenges at Congress. From here, on behalf of the people of Jharkhand, I would like to challenge the Prime Minister," she said.
"Modi ji, speak about Santhal Pargana (Tenancy) Act; speak about starvation deaths in Jharkhand; answer about unemployment; talk about rape of women.... talk about corruption....
"For whom are you Prime Minister? Are you Prime Minister of the country or batwara ka Prime Minister (Prime Minister of divisiveness)? But you don't have answers to these questions," she added.
Modi had on Tuesday dared the Congress to announce if it would give every Pakistani the Indian citizenship, re-introduce Article 370 and repeal the law against instant triple talaq.
Equating Modi with a student who makes up excuses for failing in school, Priyanka said: "The Prime Minister makes excuses for his government's failures — be it failures on the economy, strengthening farmers or providing security to women — and blames the Congress.
"The BJP government spent Rs 1,600 crore in the name of the NCR (National Register of Citizens) in Assam, which failed. Now the government has come with CAA (Citizenship Amendment Act) over which protests have erupted in Delhi and even in remote villages. The government is using force to gag the voice of people," she added.
She called the BJP anti-farmer and anti-tribal, pointing out that the state government tried to tamper with the Chotanagpur Tenancy Act (CNT) and the Santhal Pargana Tenancy Act (SPT) meant to protect tribal land.
"These are the laws meant to protect your land and culture for which your forefathers sacrificed their lives. But the BJP always tried to abolish such laws. In the case of CNT and SPT the government could not do anything because of your protests. The BJP government in Jharkhand is grabbing your land in the name of land bank. The BJP always tried to damage your culture. Land, forest and water are your treasures and they must be protected at any cost. The Congress always remained committed for you and this is in our blood. Indira Gandhi always fought for you," she said.
She alleged the BJP government in Uttar Pradesh tried to occupy land of tribals in Sonbhadra district.
"Tribals were murdered and I was prevented from visiting families of victims. I was kept in an isolated place but I had decided that I would not return without meeting these families. And I met them. This I learnt from Indira Gandhi. Protecting your land and culture is part of our commitment," she said.
She said the BJP was a master of propaganda but a dud in performance.
"The BJP failed to provide employment, farmers are committing suicide, the economy of the country has collapsed and the Modi government is trying to sell off profit-making undertakings like the railway," Priyanka said.
She said chief minister Raghubar Das's government had denied para teachers and anganwadi workers their rights.
"We have our government in Chhattisgarh where 27 per cent reservation to OBC (other backward classes) was fixed. Have you got it in Jharkhand?" she said.
Chhattisgarh chief minister Bhupesh Baghel, JMM working president Hemant Soren, state Congress president Rameshwar Oraon and state Congress in-charge RPN Singh also addressed the rally.
"People want roti, not Modi," Hemant, the Opposition alliance's chief ministerial candidate, said in his address. "People want rozgar (livelihood) not Raghubar. The BJP is creating communal disharmony across the country. This is an unusual Assembly election. Gangs of looters are contesting with election symbols like lotus (BJP), comb (JVM) and banana (Ajsu Party) and all of them are one. The BJP and the Ajsu Party are like cow and calf. The Ajsu Party is under control of Amit Shah and after December 23 you will find the Ajsu Party outside the residence of Raghubar Das."